Resort 2013: Bottega Veneta
Kicking off Resort 2013 in New York with a bang, Bottega Veneta's cruise collection was all about the colors. The luxury brand's designer, Thomas Maier, didn't go with the typical brights though. Instead, he found inspiration in the frescoes of Tiepolo and Veronese, opting for a sophisticated palette of subtle shades of yellow, peach, mint green and grape. The colors were concentrated in monochrome looks finished with pumps and handbags in matching shades. Trench coats paired with wide-leg trousers were refreshing in pale yellow; pantsuits with double-breasted, elongated blazers were delicate in a creamy peach; and light coats combined with knee-length skirts and blouses were prim and proper in an understated purple.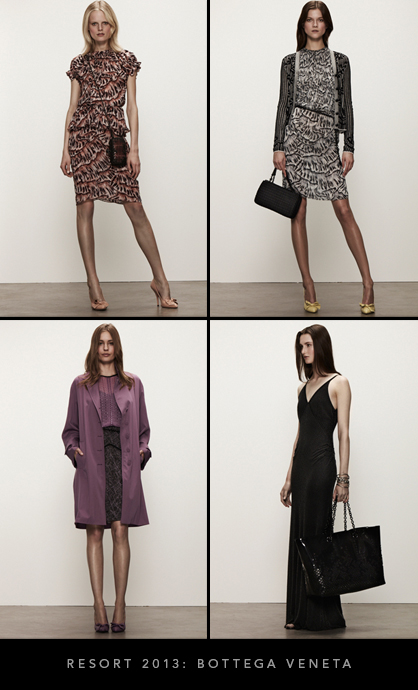 LadyLUX via Style.com
Jersey gowns, presented in the same uncolored manner, found interest as they were fused with tiny beads, rather than embroidered. Black dresses even had large beads knitted directly into the seams. Daydresses were stunning with technically crafted ruffles forming the silhouette.
For a more relaxed occasion, Maier designed color-blocked tracksuits styled with pumps – naturally.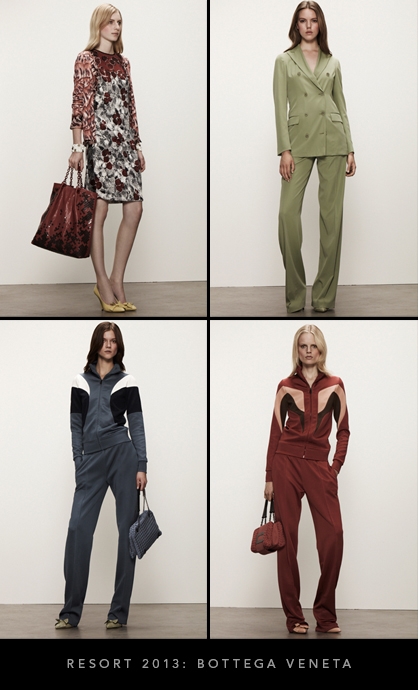 LadyLUX via Style.com
While Bottega Veneta is known for its signature leather goods, Maier doesn't shy away from unique materials. To make a statement, slim clutches were crafted from silk leathers that the brand favored in the '70s, while classic Bottega Veneta Intrecciato bags were woven from a Japanese paper and metal. Additionally, the large Cabat bag was reinvented with organic black rubber and aluminum embellishments. Discussing these unusual choices with Style.com, the designer said, "If you don't want a leather bag, I don't understand why you want a fake leather bag."
Tagged in: new york, new york, runway, resort 2013, bottega veneta, cruise collection, thomas maier,