Resort 2013: Chanel
It wouldn't be a Chanel fashion show if Karl Lagerfeld didn't go all out with an extravagant location, a complex runway or over-the-top displays. Last Fall's oversized crystal display was without a doubt impressive but he still managed to step up his game. For Resort 2013, Lagerfeld kept the show close to home in Paris but he didn't hold back by staging it around three enthusiastically spouting fountains at the Palace of Versailles.
The collection of 71 looks – there's no shortage of ideas with Lagerfeld – was a quirky interpretation of a girly punk rock Marie Antoinette complete with blunt wigs in black or candy-coated colors and platform brothel creepers. Combining the old and the new, formal eighteenth-century silhouettes of poof skirts, panniers, fichus and court dresses were recreated with modern day materials including plastics, chambray and tech denims. Looks were made dressy with frothy layers of lace ruffles and cuffs but were paired down with shorts and trainers.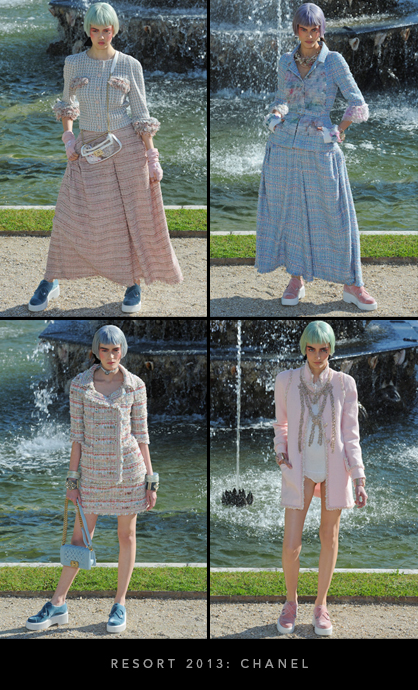 LadyLUX via Style.com
Lagerfeld gave Marie Antoinette's new punk style a full range of wardrobe options from sweet tea dresses, court jackets with button details paired with loose trousers, button down collared peplum tops, leather pant and jacket sets and knee length shorts combined with waistcoats. Even Chanel's iconic tweed jacket appeared in the lineup, boasting light airy shades. The classic jacket, in blazer and crop styles, coupled with matching mini skirts or voluminous floor length maxis.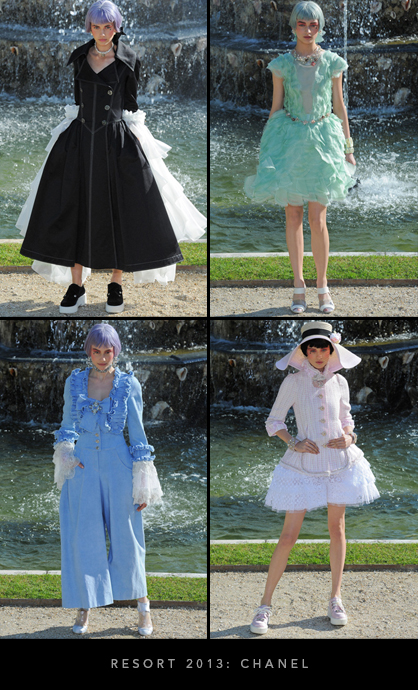 LadyLUX via Style.com
As reported by WWD.com, "It's serious revolt," Lagerfeld teased. "It's not at all 18th century. It's very rock. You can hardly recognize the girls."
The eccentric, youthful collection could easily be interpreted as disaster or genius – depending on the audience – but it's this fine line that Lagerfeld teeters on so well that makes him the latter. Only he could make punk rock look sophisticated.
Tagged in: paris, runway, chanel, resort 2013, karl lagerfeld, resort wear, versailles,