Resort 2013 must-have apparel trends
For Fall 2012, designers channeled Rooney Mara to seduce us with an edgy darkness that combined gothic motifs, renaissance opulence, erotic equestrian themes and enough leather to style a small fashionable army. But just as we've mapped out a fury of monochrome black ensembles complete with knee-high boots and menswear jackets, the storm has passed and designers are seeing the light again in Resort 2013. Deep tones were traded in for pastel shades, while previously heavy silhouettes explored a light airiness. It was a breath of fresh air to see prints and patterns enter a new category and expand beyond florals. And while Fall may have seen styling techniques layering skirts over pants, Resort ups the ante and works the dress over pants. It was a season of optimism that perhaps resulted from more designers getting on-board with interim or the abundance of non-cliché trends, or both. Regardless, Resort is going to make you want to get dressed.

Kaleidoscope prints
Prints get dizzy this season with kaleidoscope patterns exploring a full range of color and fractured effects. The new pattern works especially well on minidresses and are contrasted with panels of color for a framed appearance. Herve Leger by BCBG Max Azaria and Just Cavalli went for the boldest of looks with structured, fitted styles, while Rebecca Minkoff took a more casual route.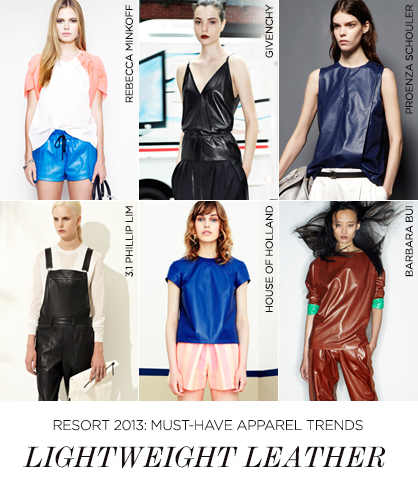 Lightweight leather
Leather takes a turn for the sporty side with a lightweight version. Still edgy as ever, the material is soft and supple on chic T-shirts, tanks, drawstring shorts and even overalls. Get inspired from Barbara Bui and don't be afraid to pair leather on leather. Take it there.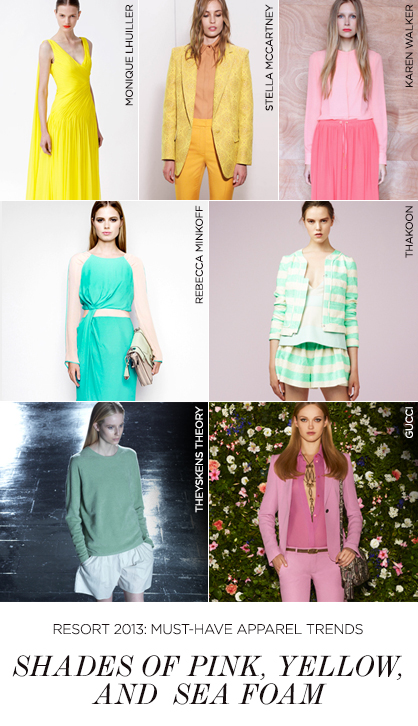 Shades of pink, yellow and sea foam
Pink, yellow and sea foam are no strangers to the revolving palette of colors these past seasons, but for Resort, various shades of the colors are on point. Monochrome dressing slips into a multitude of shades with pale pink pairing with dusty pink or mustard combining with apricot and honey pot yellow. It's not about perfectly matching but rather creating a spectrum.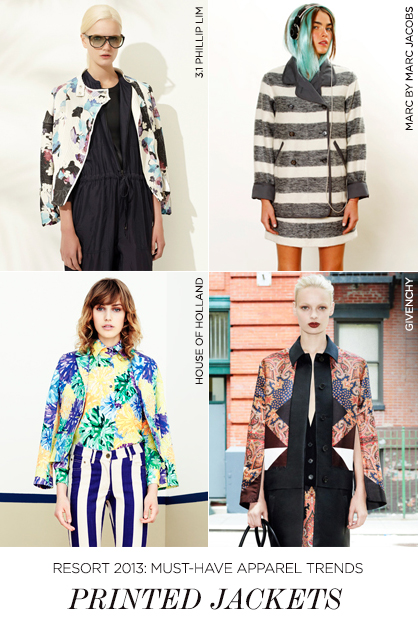 Printed jackets
There are printed tops, pants, and dresses, so why not jackets? Sophisticated and playful, designers fancied up outerwear by adding stripes, florals or paisley motifs. The reinvented jacket works well as a pop of fun with monochrome ensembles as in 3.1 Phillip Lim, or even against contrasting patterns, as seen by House of Holland.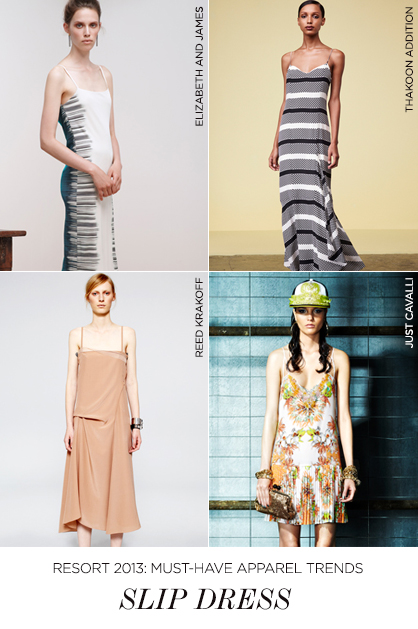 Slip dresses
With a '90s throwback attitude, the slip dress is simple and effortlessly chic. The delicate style with thin spaghetti straps also hints at lingerie, while colorful versions are just begging for a sunny vacation. The dress embodies column or fit-and-flare shapes at every length.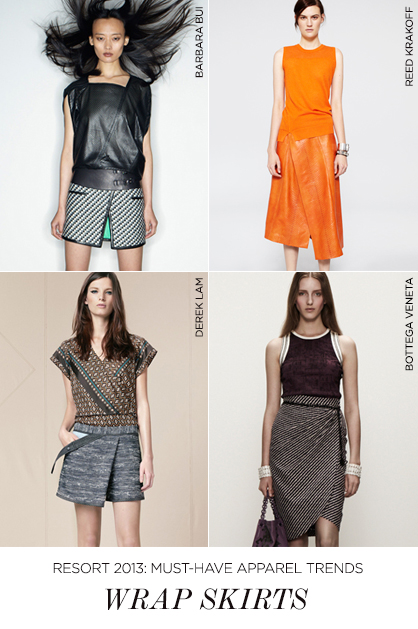 Wrap skirts
The wrap skirt is the skirt of the season with draped and A-silhouettes. From mini to midi-length, it can go from sport to sophisticated with the change of a top. Designers gave the wrap skirt some interest with nubby wovens, broderie Anglaise and smooth leather.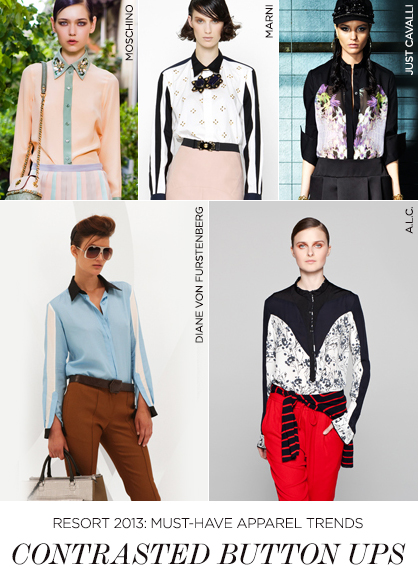 Contrasted button-ups
Uptight crisp white button-ups are replaced with playful, detailed versions this season. Marni and Diane von Furstenberg striped their sleeves; A.L.C. and Just Cavalli mixed patterns and solid panels; and Moschino amped up the blouse with duo-tone cuffs and collars. Say hello to your new staple.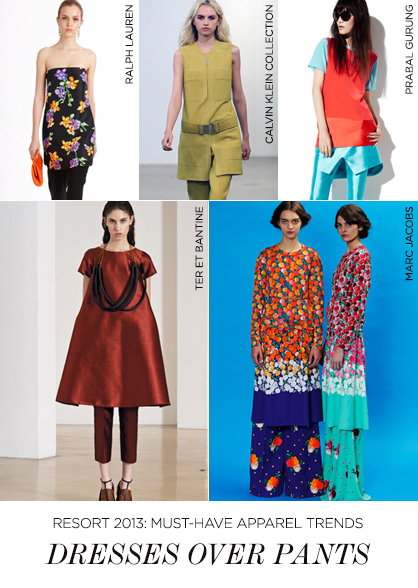 Dresses over pants
Styling dresses over pants is the latest effort in layering. Ralph Lauren, Calvin Klein Collection and Prabal Gurang still maintained clean, streamlined silhouettes while Ter et Bantine and Marc Jacobs went extreme. Ter et Bantine emphasized volume with fitted cropped trousers. Jacobs, on the other hand, went full on drapey. Dare to be different and embrace this play on layering.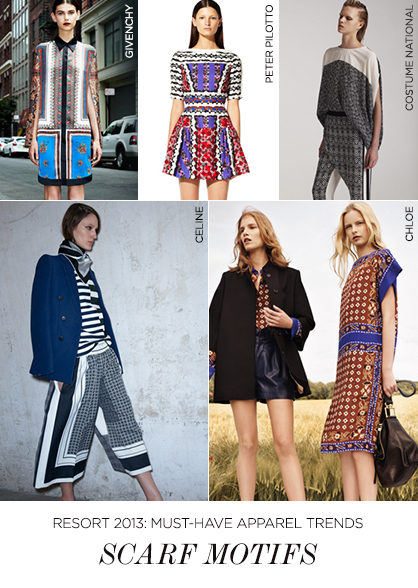 Scarf motifs
Paisley prints and scarf motifs carry on for another season with dresses, matching sets and cropped pants. This season's adaptation is digitized, oversized and joined with more prints or panels of solid colors.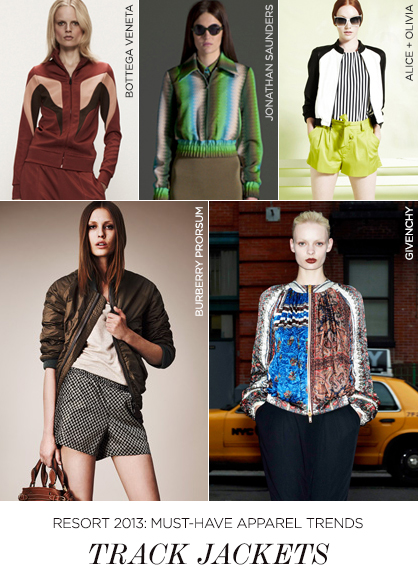 Track jackets
Designers are not out of their athletic moods yet and track jackets in Resort prove it. The jacket goes beyond the varsity look and turns sophisticated with scarf prints and psychedelic stripes, as seen by Jonathan Saunders and Givenchy. Sport styles remain relevant with nylon and mesh. Slouchy or cropped, the track jacket makes for an easy everyday look.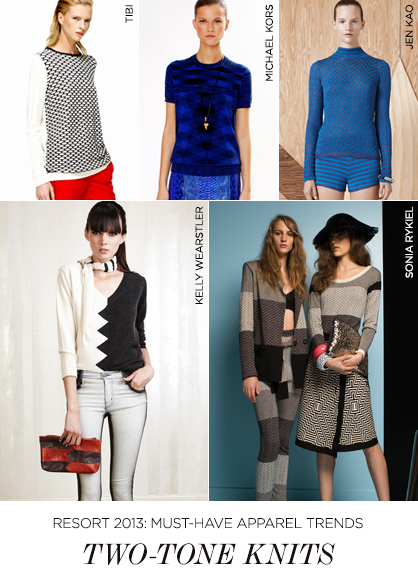 Two-tone knits
Knits go two-tone and patterned for Resort, hinting at a '70s vibe. Fresh to the runway were intarsia motifs with all-over effects, zigzag repetitions and techno patterns. Matching knit sets were popular, as were pairings with pops of color.

Read more Resort 2013 coverage.
Tagged in: trends, leather, resort 2013, runway trends, pink, yellow, resort trends, sea foam green, scarf motifs, printed jackets, wrap skirts, dresses over pants, track jackets, kaleidoscope prints, slip dress, resort apparel trend, two-tone knits, contrasted button-ups,