Resort 2013 must-have handbag trends
With Resort 2013 presentations over, apparel trends of kaleidoscope prints, two-tone knits, printed jackets and sweet candy-color shades have set the tone for exciting handbags. The bags we've come to know as classics have been made-over with vivid colors and unpredictable materials and adorned with studs, jewels and charms. It's not about the basic or black this season, but about having fun with your handbags.
Top-handle bags
The top-handle bag was reintroduced in Fall 2012 as a key item and continues into Resort. Color was important with this style as designers played with shades of green, yellow and blue. Alexander Wang chose a deep green while Valentino went monochrome with lime studs on lime and Versace shined with yellow. Shapes remained boxy and structured.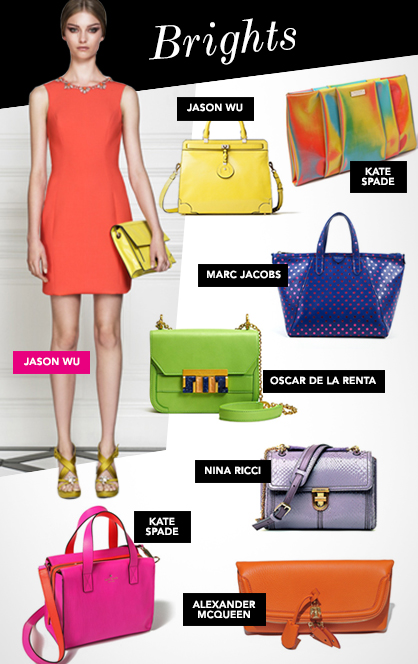 Brights
Speaking of color, fantastic bright handbags will jolt you out of somber winter days and lift your spirits. Inspired by the full spectrum, blues, purples, oranges, pinks and yellows in light or pungent tones offered a burst of energy. Styles were shown in all-over color or contrasted.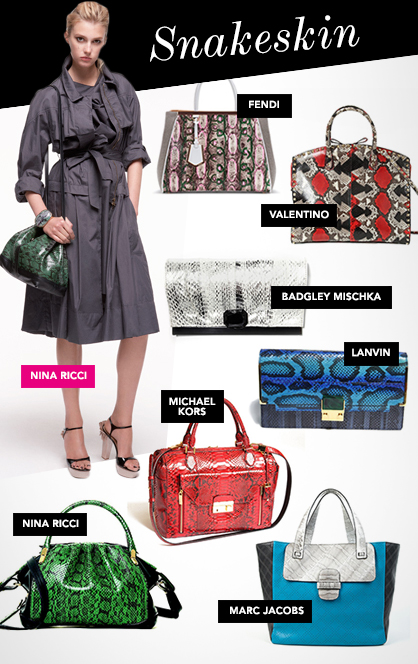 Snakeskin
There's always a battle between snakeskin and crocodile and this season, it looks like snakeskin is winning. But it's not just any snakeskin; we're talking about colored snake. Fendi, Lanvin and Nina Ricci infused red, green, pink and blue to the exotic skins for an extra lux feel. From clutches to totes to top-handle bags, snakeskin was relevant in every way.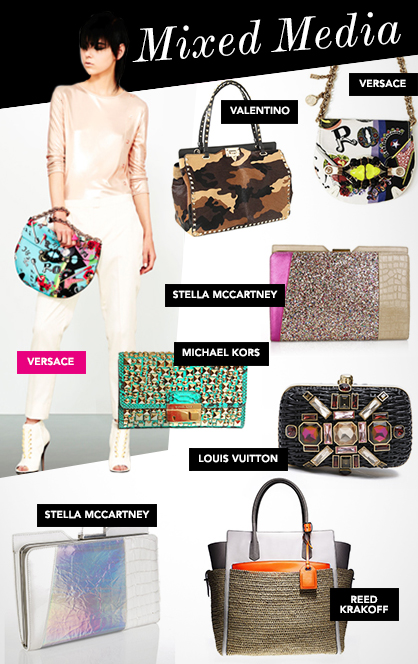 Mixed media
There's nothing boring about Resort handbags, especially when designers combine various elements. Stella McCartney blended croco with iridescent foil; Valentino crafted a stud-trimmed camouflage; and Versace had chains, charms, prints, gems and all. The mixed media bag makes for an excellent statement style that can complement any look. More is more is the way to go.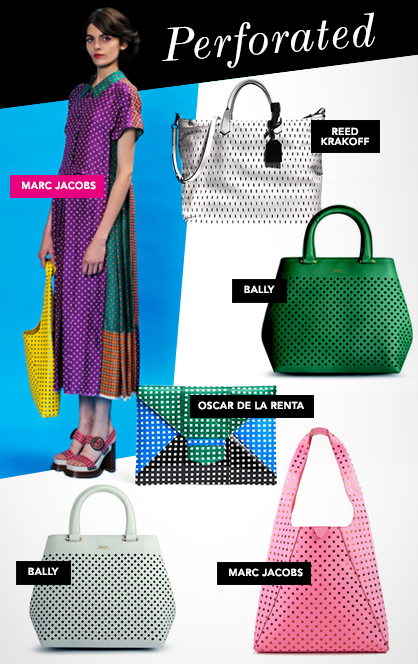 Perforated
Active-inspired apparel and accessories have been trending for a few seasons now and it's not about to stop. Handbags jump on board with perforated options. Ladylike and refined styles from Bally become casual-chic in the sporty material, while slouchy shapes from Marc Jacobs and Reed Krakoff feel like they were made for the gym. The material has typically been seen in black and white, but pink and green were added to Resort's selection.
'70s Shoulder bag
The beloved cross body bag has evolved into the shoulder bag inspired from the '70s – or maybe it was the other way around? Regardless, this season the shoulder bag is rectangular with a minimalist feel. Designers offered interest through material like Balenciaga's croco or Chloe's perforated versions. It's the new must-have bag.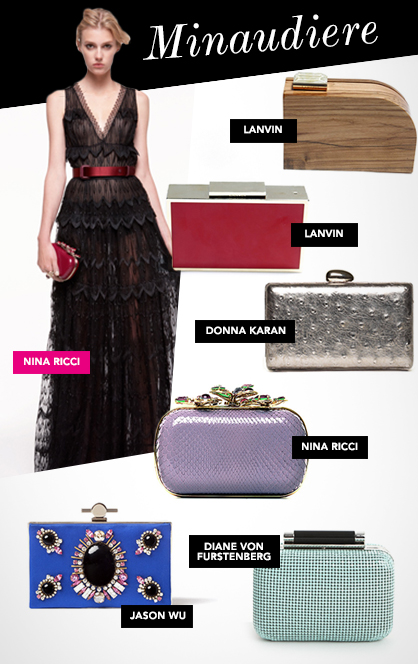 Minaudiere
In moments when a handbag is just too much, the minaudiere feels just right. Resort's updated styles were sleek in rectangular shapes. It was about architectural lines rather than the whimsical shapes of Fall. Again, designers heighten the style with unique materials including wood finishes from Lanvin, chainmail from Diane von Furstenberg and ostrich from Donna Karen. Minaudieres go lux in every possible way.
Read more Resort 2013 coverage.
Tagged in: trends, handbags, alexander wang, resort 2013, runway trends, handbag trends, minaudiere, resort 2013 trends, perforated handbags, snakeskin handbags, bright handbags, mixed media handbags, top-handle handbags, '70s shoulder bags,