Resort 2013: Oscar de la Renta
Oscar de la Renta had a little inspiration help for the Resort 2013 collection. This season, the designer welcomed outside ideas and concepts by creating an online digital inspiration board where fans were invited to upload images or videos. Embracing the site's "don't tell me, show me" philosophy, devotees posted a vast range of fresh stimulation from pictures of nature to wild graphics to hand-drawn sketches.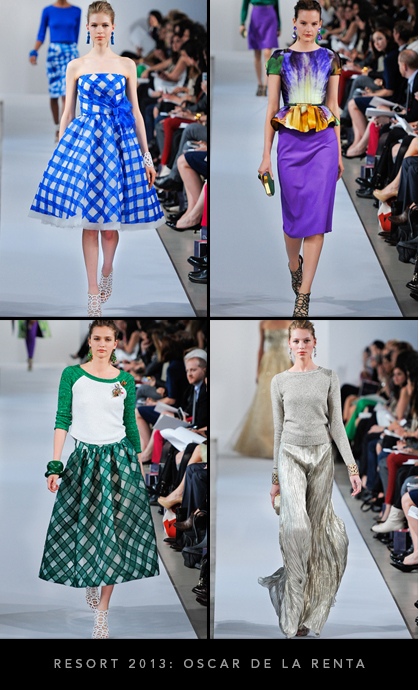 LadyLUX via Style.com
Shuffling through the inspiration, de la Renta crafted a pretty Resort collection that could easily jolt anyone out of the winter blues. In a vibrant palette of purple, green, pink, blue and metallics, classy silhouettes of pencil skirts, cropped ankle pants, high-waisted wide leg pants, peplums and billowy skirts paraded down the runway. He injected a bit of excitement with blown-up floral photo prints and playful patterns of geometrics, gingham and stripes. Full gingham skirts were paired with baseball tees glammed up in sequins, peplum printed tops combined with pencil skirts and knitted blazers were teamed up with flirty hot shorts. In typical de la Renta fashion, there was no shortage of ruffled textures, precise details, color and innovative materials such as lasercut tops.
The runway show finished with a grand finale of gowns and dresses, a tradition for the brand. The designer created red carpet worthy pieces including one-shoulder goddess styles, a strapless silk number with a flared peplum, printed column dresses that tied in with the floral theme and a Cinderella gown modernized in black and white gingham.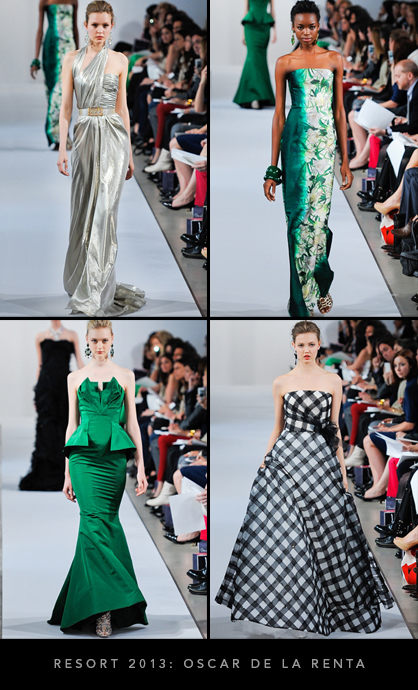 LadyLUX via Style.com
It isn't clear where the inspiration from the online board came into play, but the site stirred some buzz for the brand. More importantly, it opened a new realm with endless possibilities for designers to directly communicate with their fans and customers. Fashion and technology collaborations are in.
Tagged in: new york, new york, runway, apparel, resort 2013, oscar de la renta, ready-to-wear, digital inspiration board,