Resort 2013: Rachel Zoe
Celebrity-stylist-turned-designer Rachel Zoe has her design aesthetic down cold after only six seasons. Zoe's womenswear collections and personal style have consistently revolved around '70s silhouettes integrated with sharp tuxedo tailoring and hints of '60s mod. The Rachel Zoe Resort 2013 collection was nothing short of the tried and true formula.
This season, Zoe dipped into the color palette for delicious, bold shades, marking a departure from the monochromatic Fall 2012 runway presentation. Pink, blue, chrome yellow and red made their way into the resort wear along with a few creative prints. Her signature wide-leg flares shined in the brilliant yellow hue and coupled with a matching tuxedo blazer and oversized floral print blouse. The jovial print also appeared in a floor-length tiered gown and fitted ruched sheath dress. In keeping with the florals, a stained-glass-like red rose print was chic yet relaxed in a button-down dress and long-sleeve blouse.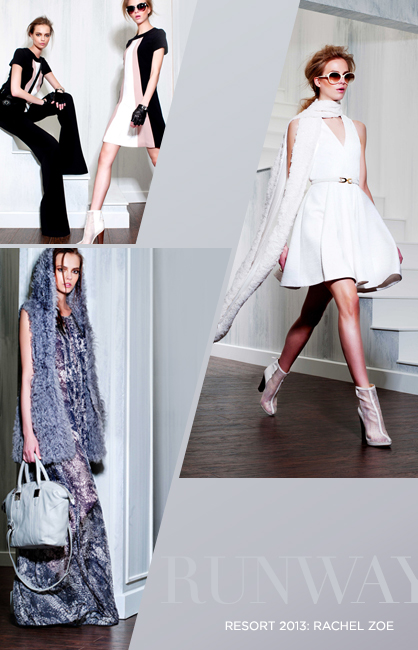 LadyLUX via Style.com
Zoe's tailored dressing for Resort was full of options: cropped and elongated blazers, slim-cut pants and flared skirts easily pairable with blouses. All were versatile staple pieces in black or white.
Mini mod-dresses and gowns completed the assortment with evening and nighttime wear. Mod-dresses were printed or sequined and styled with ankle boots – a natural combination for the designer. Zoe's gowns, easily the most noted pieces of the collection, dazzled with a shocking pink, floor-length, bib-pleated gown and a passionate red ruffled and tiered dress.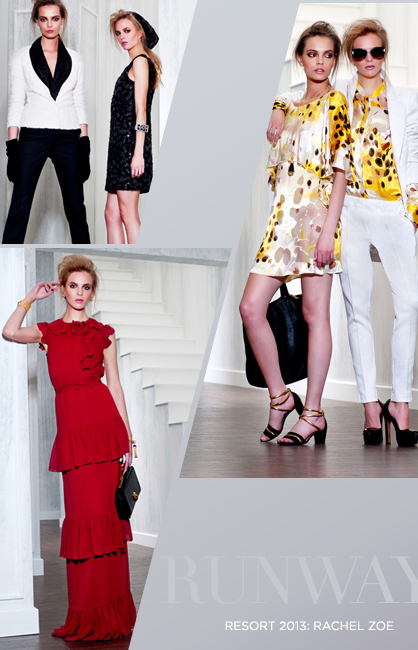 LadyLUX via Style.com
While the collection was concise, Zoe offered her girl everything from weekend brunching options to workwear to red carpet stunners. She's got it covered.
Tagged in: new york, new york, runway, rachel zoe, resort 2013, resort wear, rachel zoe collection, resort collection,