Romantic Getaways for Valentine's Day
There's nothing more luxurious than a spur-of-the-moment trip to an exotic resort or locale. Add Valentine's Day into the mix, and it's the perfect recipe for romance.
Since Valentine's Day falls on a Friday this year, it's ideal for an extended weekend getaway. Here are a few of our favorites.
The Waldorf Hilton, London, England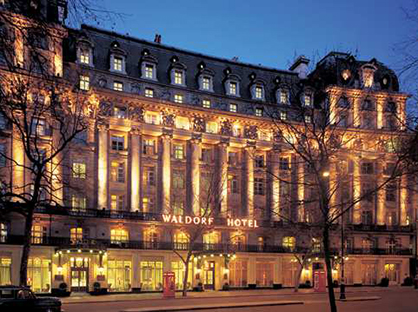 Don't limit yourself. Dig out your passport and visit one of London's most iconic hotels, The Waldorf Hilton. This famous hotel has created a sparkling romance package in keeping with the famous maxim, "diamonds are a girl's best friend." The package includes an overnight stay in one of the hotel's beautifully refurbished 1920s inspired suites and champagne, strawberries and caviar. Guests will also receive an in-room gift of a £100 Tiffany voucher and a specially selected floral bouquet. Pulling out all the stops, couples will also enjoy a fine-dining dinner for two in the stylish Homage Grand Salon followed by a champagne breakfast in bed.
Homewood Suites by Hilton Cambridge/Waterloo, Ontario, Canada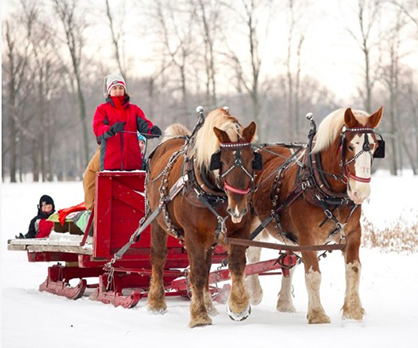 Make it a homey holiday celebration at the Homewood Suites by Hilton Cambridge-Waterloo, Ontario. The romantic rustic wagon ride and getaway package features nearby Riverbend Acres Farm, where you and your sweetheart can take advantage of a unique opportunity to enjoy a sleigh ride with two Belgian horses through the farms' fields, bush and along the beautiful Nith River.
Blair House, Wimberly, Texas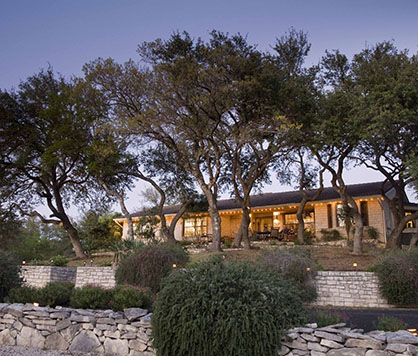 Go for romance, Texas style, at the Blair House in the village of Wimberley, Texas. This charming bed and breakfast has a casual and charming elegance. There are fresh flowers and chocolates and lovely hill country views. Couples can rejuvenate with a tailored massage at the spa or spend the day relaxing poolside. The Blair House also offers a Valentine's Day hands-on cooking experience at the Cooking School that's previously been featured on The Food Network. The Blair House is also known for it's outstanding art collection.
Fairmont Southampton - Bermuda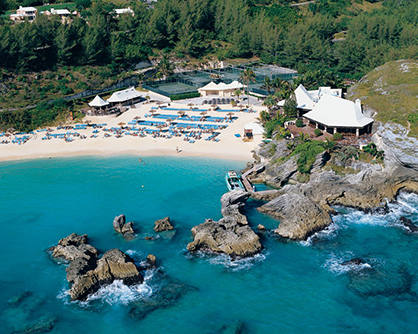 Sun and sand make the perfect addition to Valentine's Day, and there's no better place than the Fairmont Southampton in Bermuda. The hotel offers a range of packages, from diving to pampering at the spa. Relax on the beach with a cocktail, and luxuriate in the absolute romance of this vacation getaway.
Canyon Villa, Sedona, Ariz.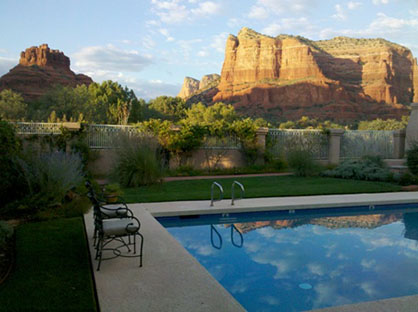 Explore the famous red rocks of Sedona, Ariz. while you and your honey stay at the Canyon Villa. There's a plethora of hiking and off-road jeep tour options to please your guy, and plenty of spa treatments as well. The stunning red rock views from the guestrooms are nothing short of breathtaking. Go sightseeing in nearby Oak Creek Canyon or, if you have yet to find that perfect Valentine's Day gift, visit the oft-quirky shops downtown Sedona where the turquoise and silver selections are second to none.

Four Seasons Hotel, Washington, D.C.
The magic begins as soon as the sun sets at the Four Seasons Hotel in Washington, D.C. The hotel's Night Spa experience will give you and your sweetheart after-hours access to the spa's pool , and the pool deck will be transformed into your own private, romantic spa. There's also an option to dine poolside with cuisine from Michael Mina, and a complimentary bottle of house wine or champagne is included.

Madonna Inn Resort & Spa, San Luis Obispo, Calif.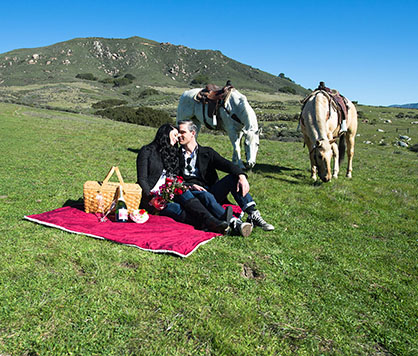 There's nothing like a spectacular setting to get couples in the mood for love. Get a little boost from Eros with the Cupid Special at the Madonna Inn Resort & Spa in San Luis Obispo, Calif. The package includes a three-course meal for two at the resort's steakhouse, and a bottle of sparkling wine and chocolates. The romance special includes a couple's massage.
Walk on the Wild Side, Albuquerque, N.M.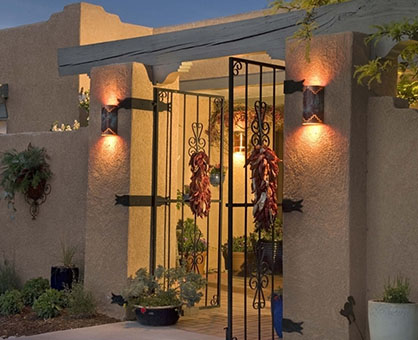 Head to Albuquerque for a fun, and different, holiday. Start off your adventure with the Historic Corrales Carriage Ride package from the Chocolate Turtle B&B in Corrales, N.M. This is a quaint little village on the outskirts of Albuquerque. Next, enjoy the That's A Moray late night Valentine's Day tour at the ABQ BioPark Aquarium. This opportunity for a romantic escape under the sea allows you and your date to learn more about the amorous animals of the aquarium. Finally, head over to the New Mexico Museum of Natural History and Science for a Wild Wild West Valentine's Day Celebration. There will be live music, a best western costume contest, food truck creations and luscious cupcakes. The museum's observatory will be open to peek at the stars as well as the planetarium's Star Crossed Love show.
Read more Travel.
Tagged in: luxury, travel, romance, valentine's day,