Same Sky: Jewelry that makes a difference
Same Sky, jewelry made from HIV-positive Rwandan artisans, started with a thought from Francine LeFrak: "What if I could help the ones that suffered the most?"
Francine LeFrak, the producer of the Peabody award-winning HBO film "Shot Through The Heart," made a living giving light to the plight of the less fortunate. Her films focus on women in prison, the Bosnian war and the struggles affecting those HIV-positive in America.
After a film on Rwanda fell through, LeFrak could not get the women of the war-torn country out of her mind. She discovered during her research that the Rwandan Parliament is made up of more women than men and found that these women, who had been so brutally abused during the genocide, were able to reclaim peace and justice.
"I said I really want to do something," LeFrak said.
Although women have attained political power, for some, the genocide will follow them for the rest of their lives. A great number of women were raped during the war, LeFrak said, and about 70 percent contracted HIV.
"I decided if I found the women that were HIV-positive, they were the ones not only scarred by the war, but also shamed by the war," she said.
They were the ones, she said, that would make the biggest jump forward if she could figure out a way for them to have a business.
A face regularly seen at charity events, LeFrak wanted to do something different from the other nonprofits: Trade, not aid.
"I believe if you give people sustainable work, they really can shine and have dignity," she said.
Friends had always told LeFrak that she was good at making jewelry. After creating her own designs and not getting the feedback she anticipated, she knew she needed to keep looking.
Mary Fisher, an HIV-positive artist, had a line of jewelry that stood out to LeFrak. LeFrak was inspired by her pieces and decided to go a similar route.
"You want every color, and it has good energy," she said.
Mary Fisher's ABATAKA Collection of bracelets benefits the female artisans of Zambia.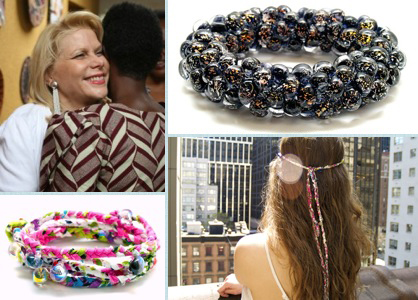 Now Same Sky not only sells its signature glass bead bracelet, but also vends fabric wraps and glass bead necklaces, which are handmade by the women. All of the net proceeds from sales go toward hiring, training and buying materials to support HIV-positive artisans in Rwanda.
"We started out with four women and now we have over 50," LeFrak said. "Their T cells went from 80 to 800. You wouldn't even know they were sick."
LeFrak explained that Same Sky has boosted the women's quality of life in more ways than one. The nonprofit offers them hot food to take with their HIV medication. Many of them were getting very sick because they weren't able to eat, which is necessary when taking the drug.
They also have other "firsts" to account for.
"For the first time in their lives, (the women) opened a bank account, they talk about social issues, their kids have mattresses (and) they can afford schooling for them," the founder said. "The change is so dramatic. That was my dream. I never would have hoped or imagined that it would have come to life like it did."
Although many women are pinching their purse strings during the recession, LeFrak points out that it's guilt-free shopping at its best.
"Know when you buy (the jewelry) that you're actually making a difference in somebody's life," she said. "It's a double gift."
Each glass bead bracelet includes the signature of the artist. To learn more about the artists, you can visit the website at samesky.com and even send them an e-mail.
Celebrities such as Goldie Hawn, Halle Berry and designer Donna Karan proudly flaunt Same Sky designs. DKNY is an enthusiastic supporter of Same Sky and is selling pieces at a number of its locations.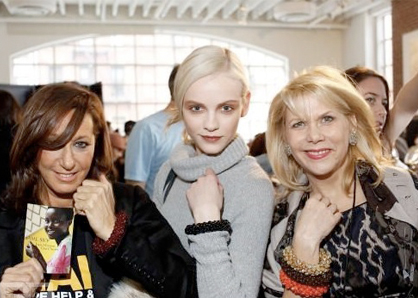 Donna Karan and Francine LeFrak at DKNY Fall 2010 show in New York (via Life)
Tagged in: lux exclusives, charity, nonprofit, philanthropy, same sky, francince lefrak, mary fisher,