SATC2: Raid Carrie's Closet
Everyone at LadyLux is very excited for the upcoming film, Sex and the City 2, which opens in theatres on May 27. Fans are not only flocking to the film for the witty banter, relationship drama (is Aiden coming back!?) but also for the wonderful wardrobe that the four famous women will be rocking while on their exotic trip to Morocco. Now dressing like Carrie, Samantha, Miranda or Charlotte isn't just a dream-come-true, but a reality! The SATC2 team put together an amazing shop site that takes you from Carrie's closet directly to the retailer! Love her gold braided belt or sequin pumps? Don't fret, the web site has every fashion need covered so when you hit the town next week, you'll arrive in style just like our favorite ladies on the screen.
Some of the star's styles include: Samantha's sassy night number featuring lots of gold and a python bag, Charlotte's Grecian goddess frock, Miranda's marvelous mustard dress and Carrie's classic white hot look.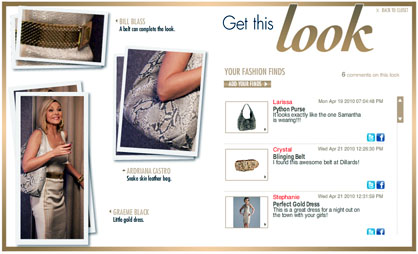 Check out Carrie's closet on the web site at SexAndTheCityMovie.com/Closet.
Tagged in: sarah jessica parker, charlotte, carrie bradshaw, sex and the city 2, miranda, samantha,