Sephora remodels four New York City stores
Sephora, the popular cosmetics chain, initially opened its first United States location in SoHo in 1998 and now, the store along with three other Manhattan locations are receiving full makeovers, as reported by WWD.com.
The original SoHo store unveiled its new look last week which now boasts a 30-foot Beauty Studio ready to conduct express services of customized makeup applications, a private Personal Beauty Advisor room, a separate fragrance room that allows clients to explore scents in an immersive environment and an art installation by Eric Daigh comprised of pushpins.
In June, the Union Square store will be next up for the remodel, followed by Columbus Circle and Times Square locations by the end of the year. Along with the stores, Sephora uniforms will be updated by New York designer Prabal Gurung.
"We have 16 stores in Manhattan, and 15 of them are not yet state of the art," said David Suliteanu, president and chief executive officer of Sephora Americas, adding that the Meatpacking District store, opened in September 2011, was the exception. "We've learned a lot from the Meatpacking store that you will see in upcoming stores. Our philosophy is to pilot on a small scale, learn from it, and roll it into more locations. We got on the map in 2011 with a state-of-the-art Meatpacking store, which featured completely new thinking. And 2012 is going to put a big exclamation point on it as we overhaul our four largest Manhattan stores."
The makeovers will elevate Sephora's customer experience and pave the way for further updates throughout its North American locations. Stores will incorporate new fixtures, a larger and easier-to-shop footprint, tech-based checkouts, expanded beauty services, dedicated event space and additional beauty brands. The updates will be modified according to each location and its needs.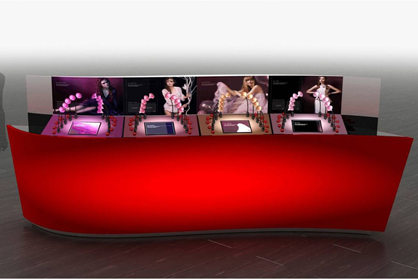 Photo Courtesy of WWD.com
The Union Square location will be expanding into an adjacent vacant storefront, totaling the store's square footage to an impressive 8,530. The modernize space will include a Fragrance Flight Bar, inspired by Sensorium, a temporary installation Sephora did with Firmenich in Fall 2011. In its own private room, the Fragrance Bar is stocked with unbranded fragrances in flame atomizers, broken down into four scent families: addictive, casual, playful and chic. Fusing in technology, an iPad will explain olfactory families and then allow customers to smell the unbranded scents to choose their favorites. The iPad will then reveal the scent, explaining its olfactive characteristics and offer more information about the product, including prices and ancillaries.
"What we love about the concept is that we're engaging guests in a sensory-emotional context, apart from the brand name and marketing," Suliteanu said. "There is an important commercial side to the fragrance world, but there is also an underlying sensory experience that isn't being told properly. We want to supplement, not replace, with the sensory part. It opens the doorway into new fragrances, and we think it's a potential retail game-changer."
With nail polish becoming such an important part of the business, Sephora's Ready Set Polish fixturing is dedicated to the category.
"Nails have become such a significant business for us over the past few years," he said. "The pace of innovation is accelerating, as is our business. At Union Square, for instance, we will add eight play stations, which will showcase one look, offer a video tutorial on how to use it, a flat surface with testers that allows you to try it and product nearby to buy it. It's a wonderful enhancement to our basic nail business." BB creams are another exploding category, and Suliteanu thinks the next big thing for Sephora could be the foundation category. "A number of brands and products are getting into that space," he said. "It feels like the beginning of something."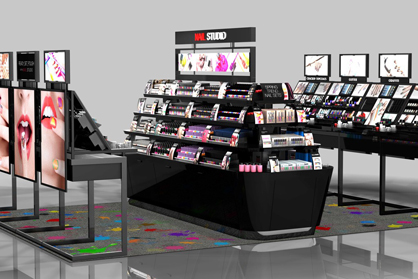 Photo Courtesy of WWD.com
As for personal services, Suliteanu believes in the "teach a man to fish" theory when it comes to beauty.
"I see the teaching element becoming more front and center," he said. "Our personal beauty advisers will spend up to two or three hours with a client, and the fee is redeemable in products. We're focused on how we can impart that objective expertise to consumers."
In addition to the updates to the stores, Sephora plans to invest in hiring and properly training employees.
"It's one thing to put a lot of capital into a building and bring it up to current thinking," he said. "But if your service commitment isn't just as aggressive, you're only ticking half the boxes."
Tagged in: new york, new york, cosmetics, sephora, times square, soho, fragrance flight bar, store revamp, remodel, union square,