Katharine Sise discusses book 'Creative Girl'
Katharine Sise saw it as an epiphany. One minute she was a bartender dropping a bottle of expensive champagne on the way to Robert DeNiro's table, the next minute she was realizing she wanted a different way to pay the bills.
Skip a couple of years later to 2004, and she had bitten the bullet and become a jewelry maker – and soon, a very successful one. Now with her new book "Creative Girl," Sise aims to help struggling creative girls in the same predicament as she once was: Women who know they want a creative livelihood, but are not sure how to get one.
Sise showed up in New York City in 2002 at age 22 with $200 in her pocket; a love of acting, writing and jewelry; and a dream.
"To me, there was never another option," Sise said. "I always wanted to find a way to make (a creative career) work."
The idea of a book came about in 2008 after Sise realized creative women don't get as much guidance as other professionals. She envisioned the book as giving advice on how to pursue a creative career path, including suggestions regarding freelancing, entrepreneurship and corporate jobs.
"I thought it would be really exciting to get that all in one book that would be out there for women, whenever (in their lives) they decided to work creatively," Sise explained.
She describes the book after its subtitle: "an all-inclusive guide for turning talent and creativity into a real career and livelihood."
It is practical, featuring interviews and workbook-style pages with checklists and assessments– and, of course, a healthy dose of advice: discovering how you want to work; what your next move will be; how to launch a career or new business; how to market yourself; and more.
"It's all about making a creative career work for you," Sise said.
After moving to New York City, she soon discovered she couldn't make ends meet by acting alone and that bartending and waitressing would only get her so far.
"I was 24 and thought there has to be a way to do this," Sise revealed.
Her solution? Start her own line of jewelry. Despite never having made jewelry before, Sise was confident.
"I just decided, 'Okay, I'm going to try this,'" she said.
Her first sale was a collection on consignment to a boutique in New York City named Dernier Cri in 2004. Lucky for her, the store had a lot of high-brow traffic, and her pieces quickly attracted the attention of magazine editors.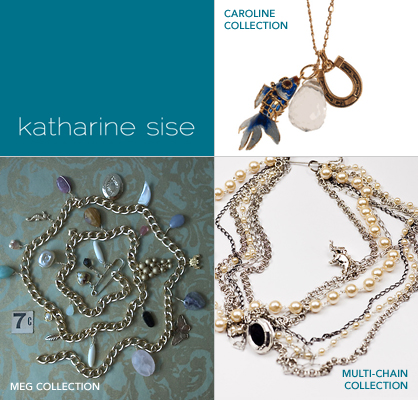 "They seemed to really like it … and started to feature me in different magazines and from there it all snowballed," Sise said.
All the positive press led to more deals with boutiques, and Sise looked up one day in 2005 to discover jewelry was no longer a sideline operation: It was her full-time income. She began to appear on television as a style expert, found herself an agent and wound up hosting a jewelry show on the shopping network.
"That's when I started thinking about getting a book together about these things and these types of ways of making a living," she said.
She eagerly signed up for writing classes, searched for an agent and researched publishing.
Her approach soon sprouted success: Her agent took the book to various publishers and it ended up at, Sise believes, the "perfect publishing house." The book was published in 2010.
The guide draws on Sise's personal experiences as well as being a learning experience for her, featuring many examples and interviews with other women who have achieved creative careers.
Out of all her interviews, Sise was most captivated by the story of Poppy King, the owner of a cosmetic company called Lipstick Queen.
"It was fascinating to hear from someone who has been so successful," Sise explained, "and how she makes her decisions based on what she values … and what's important to her."
Because of her core value of making women feel good, King never uses models in her advertising, instead opting for bright colors and vibrant graphics that, she hopes, will make women feel beautiful.
Sise's number one piece of advice for her readers is to work hard.
"Really work your fingers to the bone. Don't be afraid to work," Sise said. "You know, say, you want to write a screenplay, then sit down and write a screenplay. All the women in the book that I interviewed … they were all really, really hard workers and willing to dedicate all this time to their craft."
She is motivated by her desire to teach and inspire others. "I wanted (women) to know they can do it and it is possible," Sise declared. "I did my best to show how it's possible, as much as you can show it's possible by writing it."
Sise's next project is a fiction novel. She is dreaming of keeping her jewelry business going – more boutiques, more collaborations and new pieces featured in the magazine Lucky – and excited over her recent jewelry collaboration with Castor Pollux.
For more information, visit www.katharinesise.com.
Tagged in: lux exclusives, book, career, creative, creative girl, katharine sise,