Smart Glass Jewelry: A smart way to save the planet
These days, it's all about going green. No one knows this better than Kathleen Plate, founder of Smart Glass Jewelry, a line of eco-friendly jewelry and home décor made from recycled glass. Each one-of-a-kind piece, handcrafted in Plate's studio, is shaped from recycled soda, beer and wine bottles.
Plate didn't always know that she wanted to go into jewelry making. While pinching pennies during her graduate years pursuing a Ph.D. in literature, she found herself in a bind for a birthday gift. Having grown up with a crafty mom who had taught her to solder glass, Plate fell back on her skills and made her first pair of stained glass earrings.
"Everyone at the party loved them and wanted me to make them for them," Plate said. "Next thing I knew, I was in business."
A few local festivals, craft shows and small boutiques – and a lot of raves – later, Smart Glass Jewelry was born.
Her big break, however, came when Aveda, impressed with a necklace made from one of its bottles, commissioned her for a huge order.
In 2006, she really hit the big time when Coca-Cola asked her to do a line featuring recycled Coke bottles.
She now boasts nationwide demand.
It is clear the designer has discovered beauty in surprising places. Delicate, simple and original, her collections offer something for everyone – and for every occasion. From cuff links and earrings to necklaces and pendants, her art features a signature organic look.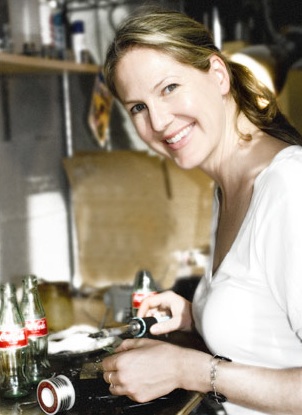 Plate admits the path was a big leap for her.
"I had no idea that was the road I was going to go down. I didn't know that making jewelry out of recycled beer bottles could ever be a proper job," Plate said. "It never crossed my mind. I thought I had to be a professor or something like that."
Going into a green business, however, was less a jump.
"It's funny. People always ask me when I became an environmentalist," Plate said. "I was an environmentalist before I even knew what that word meant."
She grew up in an environmentally friendly home—complete with solar panels, an organic garden and composting.
"I just thought that was how everybody did it," Plate said. "I thought everybody washed out their Ziplock baggies and reused them."
Plate looks at her work as 50-percent great design and 50-percent being green.
"You really need to be backed by good design. First and foremost, it has to be beautiful and desirable and a little bit amazing," Plate said. "Then the fact it's green is the bonus. (It's) the cherry on top."
Just like Plate's designs, her message is also simple: Be conscious of what you're doing and always make the better choice.
Quickly becoming a recognized name in the industry, Plate is always excited to see people on the streets in her designs.
While traveling in Seattle, she passed by a woman wearing a pair of her earrings. Plate approached her and told her she was the earrings' creator. The woman was thrilled – and Plate was inspired.
"I love to see people out in the world wearing something that passed through my hands," she said.
The next evolution, a line of home décor she started in 2009, has allowed her to branch off into dangling chandeliers, cocktail dresses, wall hangings and curtains – and to do pieces for restaurants and hotels.
Plate's fame has even reached the necks of Jennifer Anniston, Katherine Heigl, Amy Smart and Christina Applegate – all who have been spotted wearing her necklaces.
Although it has been hard for her to be an entrepreneur, she reports that her journey has been an amazing experience.
"I've learned a lot. More than I ever would getting a Ph.D.," Plate said. "First and foremost, it's been fun."
So what's next for the designer? She is looking toward 2011: some great new bottles with new colors, a patent pending on making her circles, chandeliers for a Calif. restaurant, an installation in Nashville and more.
For more information about Kathleen Plate and Smart Glass Jewelry, visit her website at smartglassjewelry.com/smartglassjewelry.php.
Tagged in: jewelry, environment, kathleen plate, glass, coca-cola, smart glass jewelry, eco-friendly,