Sports Stylist Cindy Whitehead talks skateboarding, styling and Olympics
Whether or not you recognize the name Cindy Whitehead, you've seen her work. Whitehead is the Sports Stylist®, a term she coined, behind numerous campaigns by Nike, Powerade, Adidas, Levi's, Gatorade and more. Throughout her extraordinary career, she's styled some of the most talented athletes and Olympians, including Kobe Bryant, Tiger Woods, Keri Walsh, Michelle Kwan and Yao Ming, but fashion wasn't where she got her start. As a teenager, Whitehead was one of the first female skateboarders in the U.S., ranking as the #1 female for pool riding and the half pipe at the age of 17. As she spent her days riding, she not only helped push skateboarding into the sport that it is today, but she paved the way for female athletes and inspired women to take over the world with her bold attitude.
When Whitehead retired from the sport, she discovered her passion for styling and translated it into a long-term career. She brought the same determination from skating to the set, and once again, paved a new path in the industry. This time around, Whitehead set the bar and created a niche for herself with sports-related styling, which combined both her loves. LadyLUX sat down with Whitehead to get the scoop on how she became the leading sports stylist, what's next and her plans for the London 2012 Olympic Games.
LL: You were one of the first girls to start skateboarding. How/when did you start the sport? What influenced you to start?
CW: I started skateboarding back when I was 15 years old. I tried to do every sport my older brother did and was never quite as good or as fast as he was – he was 4 years older so that may have had something to do with it! When I started skateboarding I realized that not only was it something I loved immediately, but I surpassed him very quickly. Being highly competitive pretty much sealed the deal.
LL: You were a pioneer in the sport, but did you have any role models that you looked up to?
CW: There were about maybe 10 girls who came up the ranks before me and were featured in the magazines doing mainly freestyle, which I started out doing as well. Then I moved into riding pools, pipes and parks, concentrating on anything with vert. At that time with vert becoming the popular thing to skate, there were very few girls period. By the time I turned pro, the girls I looked up to as role models had begun to leave the scene so I never really got to know them. Now with Facebook, we have all connected, they have welcomed me with open arms, and I consider them all wonderful friends. I only wish I had been skating a few years earlier as it really is an amazing, core group of rad women and I am really lucky to know them.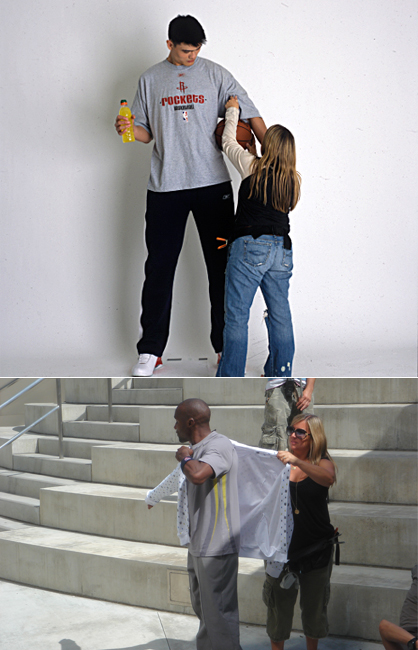 LadyLUX via Cindy Whitehead
LL: You turned your skateboarding career into a styling career – how did you make that transition? What initiated the new career?
CW: When I skateboarded I did some TV stuff and photo shoots for ads and editorial and I would ask people on the crews (small as they were) what they did. At one point I really wanted to become a television sports reporter or stuntwoman. When skateboarding died down, I had to get a "real" job so I ended up working in the photo department of Mattel Toys. From there I got a job up near San Francisco at a magazine and traveled the world shooting and styling models on exotic beaches in places like Greece, Morocco, Spain, Jamaica and Mexico. I basically learned styling on the job and read Elle Magazine religiously as they were doing swimwear and resort wear shoots that I thought were very fashiony and brilliant.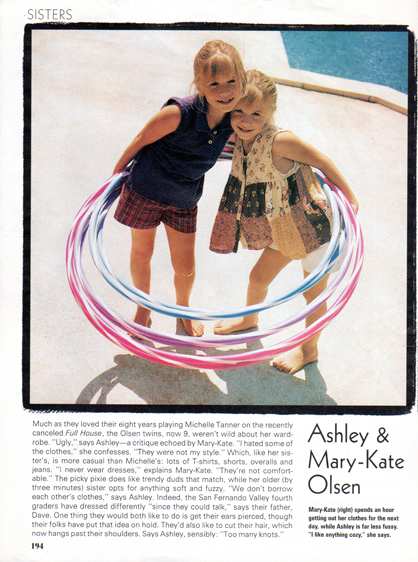 Photo Courtesy of People Magazine

Mary Kate and Ashley Olsen
LL: When you began styling, what was your first job?
CW: After coming back to Los Angeles and signing with my first agency I did fashion styling for celebrity and mainstream advertising shoots. One of the first ones I worked on was with Mary Kate and Ashley Olsen (back when they were still on Full House) for "People Magazine" as well as a shoot with Angelina Jolie when she was a teen.
LL: How did you "teach" yourself to become a stylist? What tricks have you learned along the way and how have you fine-tuned your craft now?
CW: I learned early on that it's not just about having a sense of what looks good; it's about knowing what translates well in a photograph or a commercial. It's also about having a very dialed-in kit, being resourceful, thinking on the fly, and being creative without alienating the client. I think one of the most important things to do as a stylist is be prepared – think head to toe, have many options, gain a complete understanding about what the client, ad agency, photographer or celebrity wants and really LISTEN. Conference calls and pre-pro meetings are usually key. Some people think that styling is just all about shopping or pulling some looks from PR firms but there is so much more that goes into each shoot.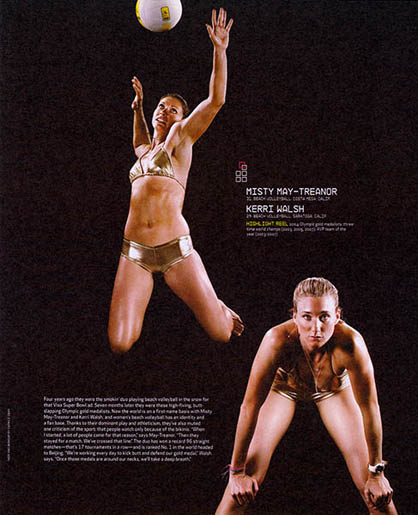 Photo credit: Patrik Giaradino
Kerri Walsh & Misty May in ESPN
LL: Did you ever imagine you would have such an important role in setting the tone for sports styling and fashion? Was it your intention to give women a stronger voice in the industry?
CW: I knew that it was an area that was new to the market and I wanted to specialize in it. I was told that there wasn't enough of that type of work back then to keep me as busy as I was doing other types of styling, but that advice proved to be very wrong.
I have been very lucky to work with some of the top tier female athletes in the world and I think it helps that I have some knowledge of them wanting to be seen as strong, beautiful women. I remember one shoot with a female Olympian and someone suggested having her wear "chicken cutlets" to enhance her breasts, but I knew by reading her face that she was very uncomfortable going that direction. So being able to understand that from a female athlete's point of view, and run some light interference made her feel comfortable that someone "got it" and understood that she wasn't being difficult, just very aware of her image and what she wanted young girls to see when they saw her picture.
So yes, I am very pro female and feel that sometimes women in sports need someone to stick up for them and say, "This isn't right." Case in point, a surf magazine that recently featured the top pro female surfers shredding on beautiful waves. But then they had a ridiculous article and captions with extremely degrading remarks about those rad women – obviously done to entice young male readers who may like that sort of thing. That is something I feel the need to speak out about, voice on my blog and tweet about. It's hard for these girls who are competing to speak up as their concerns are laughed off, or they are deemed difficult (I love how that word is used with women who have a strong vision!) but since I have been there and can speak out, I feel that I should. I have other ex-pro female athletes who do as well. These girls train and compete as hard as the guys and deserve the same respect.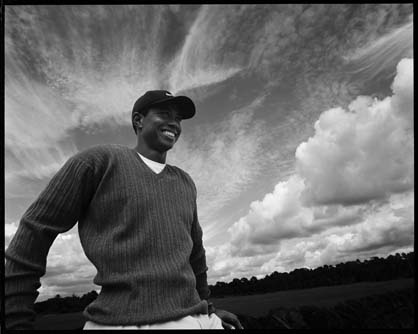 Photo credit: Walter Iooss
Tiger Woods
LL: You've worked with a lot of amazing athletes and companies. Which/who are your favorites? Who else would you still like to work with?
CW: I have so many great athletes and companies that I have worked with over the years, it's super hard to narrow it down, but I always enjoy working with female athletes and seeing them get their due. Bethany Hamilton (shark attack survivor and pro surfer), Michelle Kwan (Olympic ice skater), and Keri Walsh (Olympic Volleyball player) are three women I have really enjoyed working with many times over the years. I also enjoyed working with Tiger Woods for 6 years as his stylist on Nike Golf. Shooting rodeo champions (male and female) with Wrangler has been another interesting client I have had. I get to meet so many awesome athletes and see so many cool sports up close. I really enjoy every shoot.
I'd love the opportunity to shoot with Lolo Jones (track), Rhonda Rousey (MMA fighter), Holley Mangold (Olympic weight lifter with an amazing outlook on life) and any of the pro surfer and skateboard girls, as I always have a soft spot for them.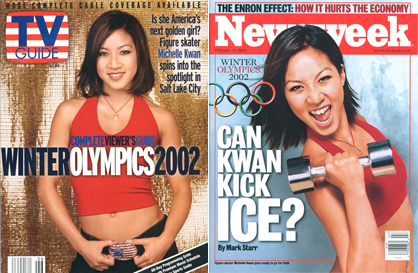 Photo credit: Isabel Snyder
Michelle Kwan in TV Guide and Newsweek
LL: As a stylist, you work closely with the products, tweaking pieces here and there. Have you thought about designing or creating a limited edition collection? What would it be like?
CW: I actually have! It's something that has been on my mind for a while now. We are working on finding the perfect collaboration opportunity and making that happen. It may be apparel but it also may be sneakers – I have some ideas I have been working on in that realm as well. It will be a combination of fashion times sport for sure!
LL: Your newly redesigned blog is Itsnotaboutpretty.com. What is it about?
CW: The new blog is about fashion, sports, female empowerment, travel, and being "in your face." I love a pretty fashion blog but felt that maybe some girls out there were ready for a blog that was a bit edgy, times a little anarchy times rad girls who are changing the way we think about beauty.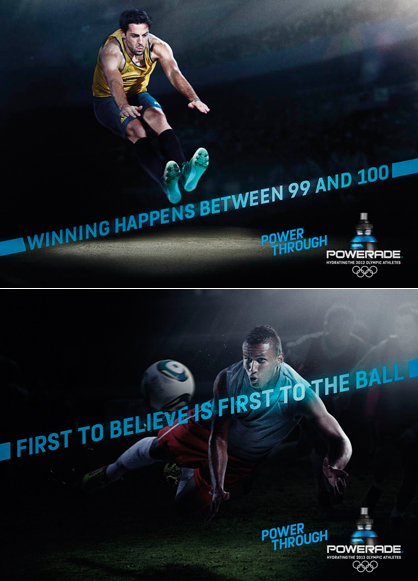 Photo credit: John Huet
Powerade for London 2012 Olympics
LL: Are you doing any projects for the Olympics or celebrating the games?
CW: I have a cover of Sports Illustrated that is coming out soon with one of the big Olympic athletes (I can't tell you who it is, but I'm pretty stoked) and the Powerade ads for the Olympics that I styled were just released, so that's exciting. The big showdown this Olympics is between Michael Phelps and Ryan Lochte – I have worked with both of them, so can I root for both? During the Olympics I have a lot of other shoots going on here so I will have my DVR set and be watching my Twitter feed as much as possible to get the results in real time. I am always celebrating when one of the athletes I have worked with wins a medal – that always makes my day.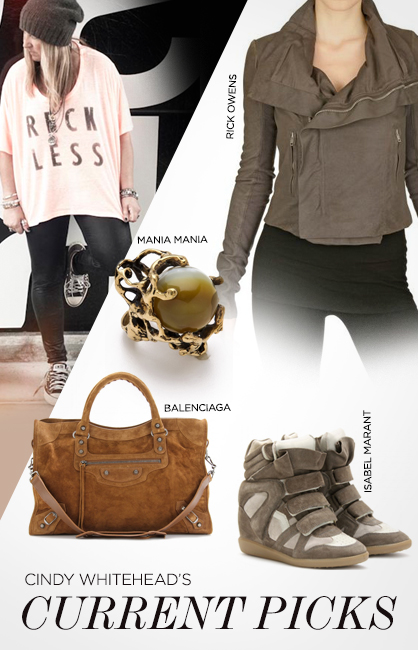 LadyLUX via Ian Logan, Shopbop, MyTheresa and Luisa via Roma
LL: What pieces are you obsessed about right now?
CW: This is a Fall "color story" of things I LOVE including the Rick Owens blistered biker nappa leather jacket, Mania Mania immortals ring, Balencia classic city tote, and Isabel Marant bekett suede wedge sneakers. Now I just need cool DSquared jeans or something.
Read more London 2012 Olympics coverage.
Tagged in: lux exclusives, nike, london 2012 olympics, skateboarding, stylist, cindy whitehead, powerade, sports stylist, kerri walsh, tiger woods, kobe bryant,