Spring 2012 Runway Trends: Accessories
Spring 2012 accessories ranged from simple, minimal choices to pure opulence. Designers may have maintained the edginess of past seasons in chokers and cuffs, but also looked to classic, traditional jewelry for a refined style. Belts became popular again as fitted looks returned, and ladylike hourglass silhouettes exuded femininity. While many bracelets and rings were still stacked in multiples, arm parties were toned down and focused on two to three key pieces.
Corset belts
Perfect for accentuating the ladylike figure, wide corsets with over-belt styles are looking chic this season. With both belted and laced-up versions, the statement belt looks fresh when layered over feminine dresses, structured jackets and trendy trench coats. Designers chose black leather options for a dark vibe, soft neutrals for a subtle look and wovens for an ethnic touch.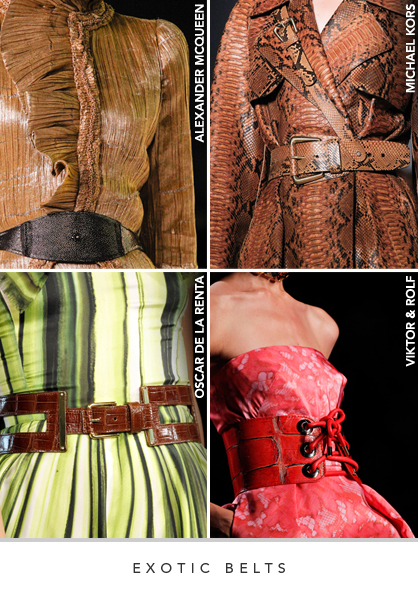 LadyLUX via Style.com
Exotic belts
This season's must-have exotic materials, crocodile and snakeskin, added luxury to belts. In wide, waist-cinching styles, exotic skin belts were shown in easy-to-wear black and brown basics or styled in monochrome materials. Alexander McQueen and Michael Kors selected simple, traditional belt styles, whereas Oscar de la Renta created a cutout pattern, and Viktor and Rolf completed looks with extra-wide, lace-up corsets.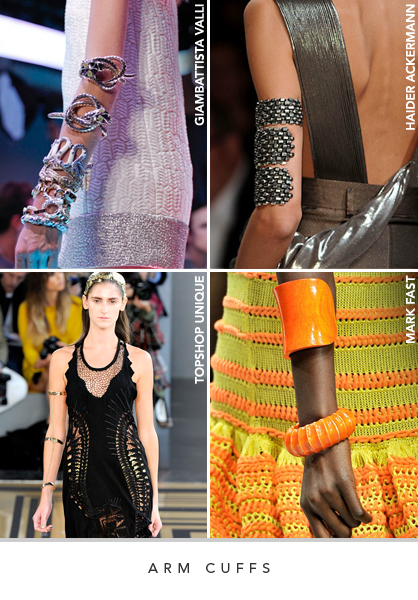 LadyLUX via Style.com
Arm cuffs
Edgy and eye-catching, arm cuffs gave Spring runway looks an extra oomph. Designers created thin, chunky or knotted wire styles in metals and smooth wood finishes. With a "more is better" attitude, designers such as Topshop Unique stacked two or three cuffs together or spread them from wrists to upper arms.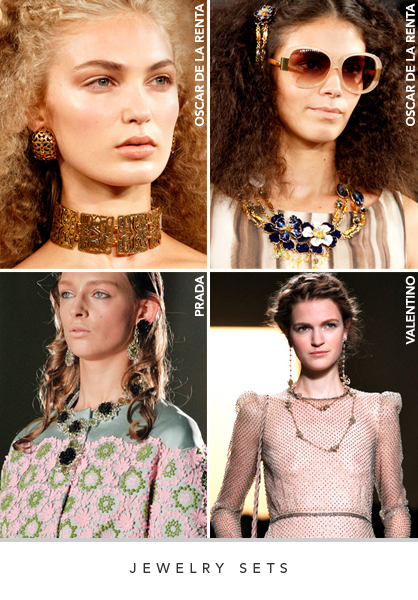 LadyLUX via Style.com
Jewelry sets
With the past seasons' focus on modern styling, designers returned to an era of prim-and-proper traditions by featuring jewelry sets. The catwalk showed matching extravagant bib necklaces, chains and chokers with chandelier, cluster or button earrings. Gold floral shapes recalled the vintage styles of royalty. Also reappearing with the sets, clip-on earrings were a popular choice.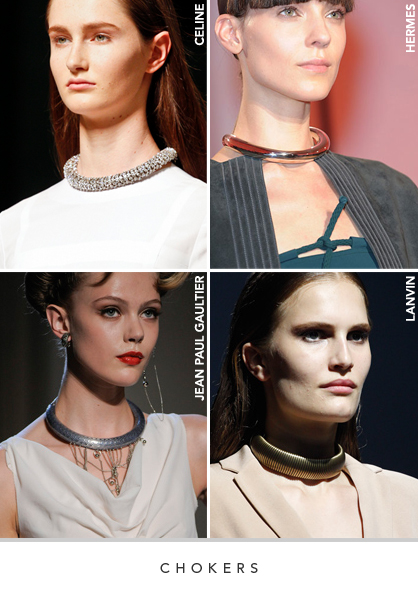 LadyLUX via Style.com
Chokers
Tubular chokers, or torques, are the season's biggest must-have accessory. Resting on the collarbone, thick torques are modern yet minimalist in silver, gold or pave styles like Celine chose. The necklaces can be styled with simple tops and structured blazers for a stunning look.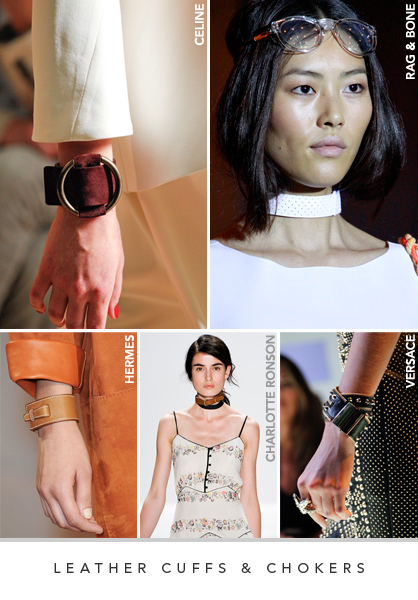 LadyLUX via Style.com
Leather cuffs and chokers
Taking inspiration from belts, leather cuffs and chokers were fashioned into mini versions of belts for the arm and neck. Simple options from Celine and Hermes had brass buckles or slide fastener closures. Featuring zipper trimming and studded with rivets, Versace's cuff was more intricate, wrapping around the wrist repeatedly.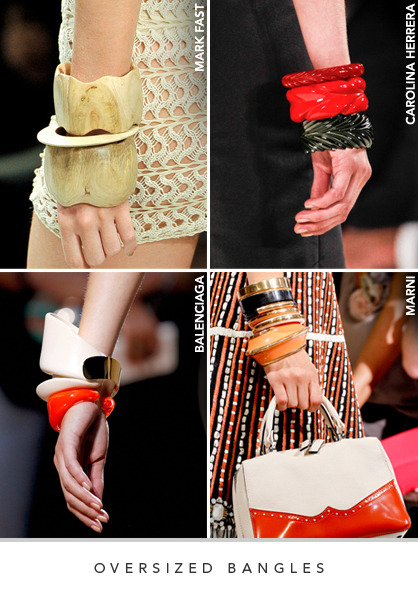 LadyLUX via Style.com
Oversized bangles
Chunky bangles made a statement with unconventional shapes stacked on the arm. In wood, plastic and Lucite, bangles had scalloped edges, cubic silhouettes, metallic trims and smooth or faceted exteriors. Varying widths and colors were styled together for contrast. Mark Fast's light wood pieces had an earthy vibe while Balenciaga's geometric numbers appeared futuristic.
This article was contributed Annette Tang of the Versastyle. You can follow Annette and her fashion adventures on Twitter at @theversastyle.
Tagged in: trends, accessories, michael kors, alexander mcqueen, spring 2012, runway, bracelets, versace, oscar de la renta, hermès, belts, hermes, chokers, celine, mark fast,