Spring 2012 Runway Trends: Apparel
Spring 2012 runways showed a full spectrum of looks inspired by the Roaring '20s, ladylike '50s and minimalist '90s. Designers brought fresh spirit to the catwalk with retro silhouettes, effortless details, mid-hemlines and reinvented styling. Making a surprising appearance, halter tops and turtlenecks were reborn with low-key attitudes and pajamas looks got luxe with silk materials. With new updates in every category, Spring dressing is definitely in full bloom.
Fifties daydresses
Bringing back the '50s, dresses with fitted bodices and pleated circle skirts danced down the runways this Spring. Designers updated the classic silhouette with skirt lengths ranging from above the knee to mid-calf, bright colors and belts to cinch the waist. Necklines varied with boatnecks, plunging V-necks or little Peter Pan collars as Jason Wu chose.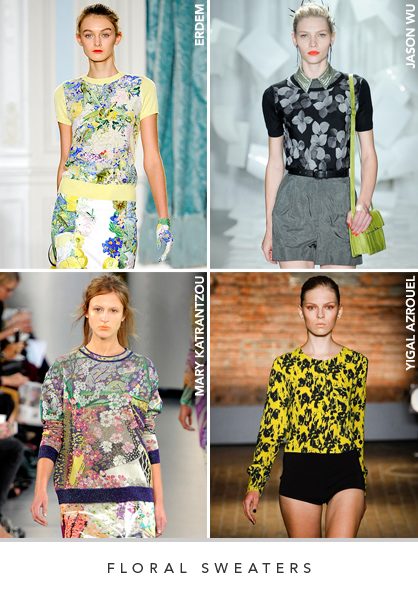 LadyLUX via Style.com
Floral sweaters
From chunky to lightweight, sweaters have been a favorite for several seasons. This Spring, sweaters freshened up with blossoming flowers. Designers were enthusiastic about all-over floral prints with watercolor effects or modern graphics. Floral sweaters are a must-have and look feminine when styled with a flared skirt or collared shirt.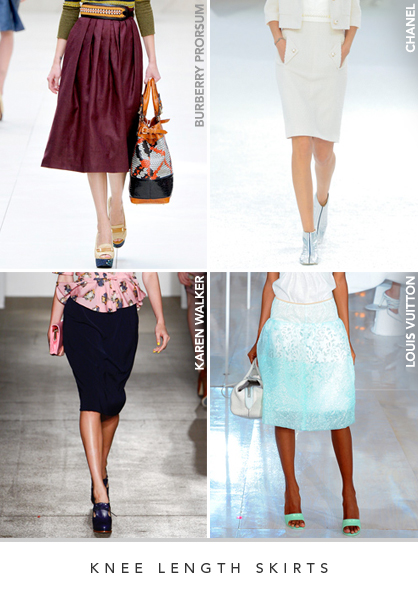 LadyLUX via Style.com
Knee-length skirts
Making a sophisticated note, skirts this season are grazing the knee. Straight pencils, pleated or bell-shaped skirts turned novel again in mid-lengths. Designers crafted classic black and white styles or selected trending bold or pastel tones. Try pairing knee-length skirts with minimalist sandals or simple pumps.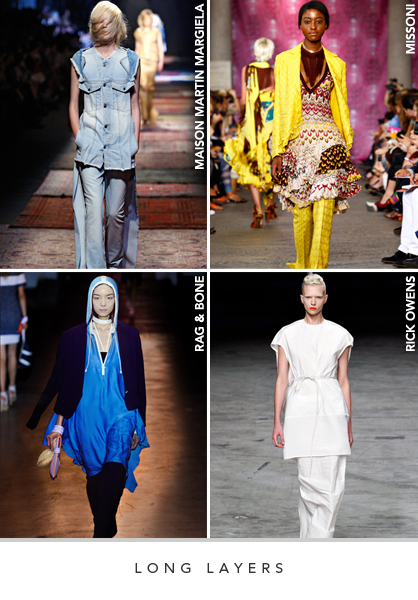 LadyLUX via Style.com
Long layers
Floor-length skirts and pants got a progressive style update with layers of elongated tops. Designers paired above-the-knee dresses or tunics with pants or skirts for streamlined, column looks. The long layers maintained the rules of proportion with straight, fitted tops or cinched-at-the-waist styles. Knee-lengths skirts also look perfect combined with long knits.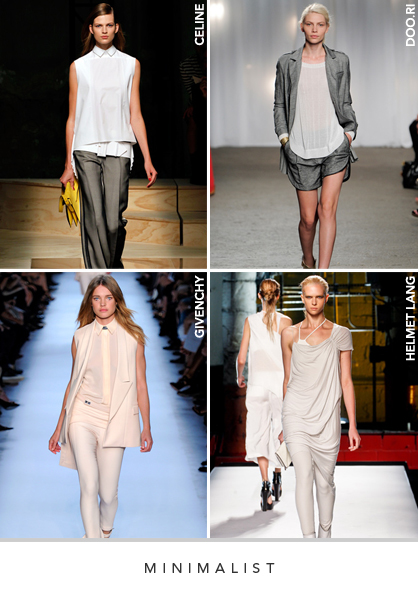 LadyLUX via Style.com
Minimalist
Keeping it clean and understated, Celine, Givenchy, Helmet Lang and Doo Ri stayed away from "fuss" this season. Looks took on sharp lines or featured quiet touches of draping. Givenchy and Lang showcased fitted pants with simple tops and vests while Doo Ri's relaxed shorts suit was just easy cool and Celine's wide-leg pants and blocked top appeared subtle. Minimalist looks steered clear of prints, patterns, accessories and all embellishments as downright unnecessary.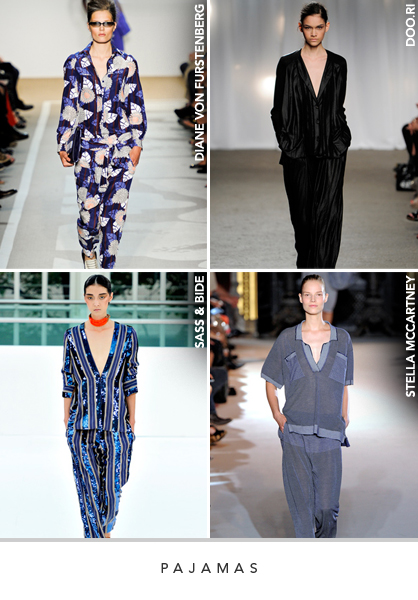 LadyLUX via Style.com
Pajamas
Monochrome suits gave way to matching pajamas sets – meant for eveningwear, not slumber parties. Easily dressed up with pointed pumps, the relaxed looks evoked avant-garde styling with all-over prints or stripes. With a hint of Hugh Hefner vibe, designers created slouchy trousers and button-ups in silk and soft knits.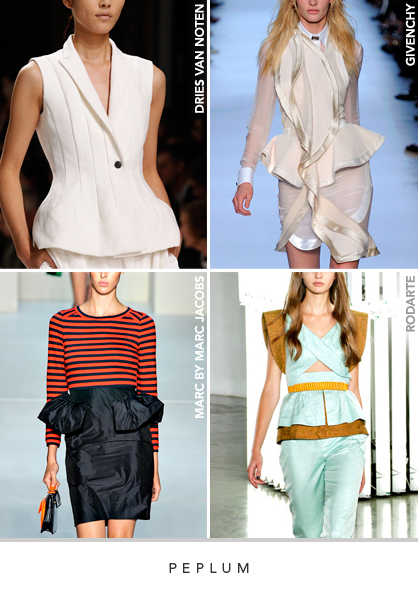 LadyLUX via Style.com
Peplum
Popping up everywhere on runways from New York to Paris, peplum silhouettes are a key trend for Spring. Feminine tops, vintage-style dresses, pencil skirts and even athletic-inspired outerwear adopted the flouncy flares. Designers got creative incorporating peplums with matching flared sleeves or vertical ruffles.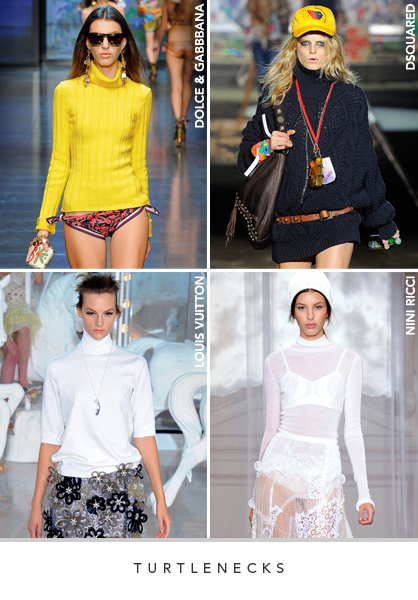 LadyLUX via Style.com
Turtlenecks
Embracing a '90s vibe, turtlenecks reappeared. From black-and-white stripes to sheers and vibrant colors, the turtleneck looks fresh again when styled with ladylike skirts or cropped cigarette pants. Restyled for a new season, the sweater went sleeveless or with three-quartered sleeves, shown in both slouchy and fitted styles.
LadyLUX via Style.com
Drop waist
Lengthening the torso, drop-waists silhouettes were popular with retro-styled dresses and skirts. Gucci brought back the roaring '20s with Art Deco references and the flapper dress with a drop waist. Other designers crafted the fitted waist, flared-at-the-hips look in flouncy, knee-length skirts. Drop-waist silhouettes pair nicely with blazers and simple tops for proper yet girly look.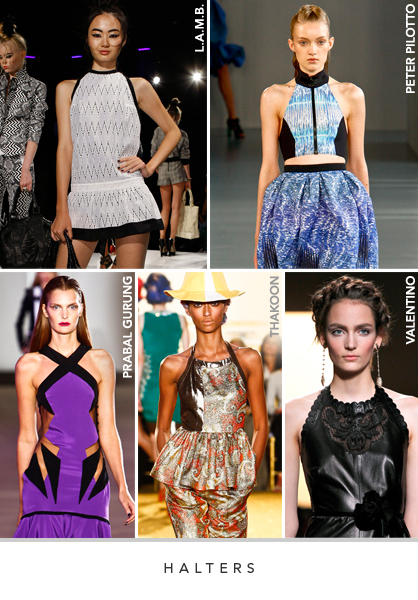 LadyLUX via Style.com
Halters
Joining in with the '90s takeover, halter tops were frequently spotted in Spring fashion shows. The sexy neckline highlights the shoulders and arms, just in time for sunny days. Designers chose simple, classic styles with back ties, but also ventured toward interesting criss-cross necklines and scalloped edging. Peter Pilotto's cropped halter had an athletic feel, while Thakoon's peplum version had a softer, flirter touch.
This article was contributed Annette Tang of the Versastyle. You can follow Annette and her fashion adventures on Twitter at @theversastyle.
Tagged in: trends, givenchy, runway, spring 2012, apparel, jason wu, thakoon, peter pilotto, helmut lang, celine, doo.ri,