Spring 2012 Runway Trends: Colors
Spring 2012 witnessed an incredible rainbow of new colors. From fresh, pale pastels to juicy bolds, apparel, footwear and accessories popped with eye-catching hues. This season, designers are excited about bright monochrome dressing – think orange from head to toe, using black or white as accents instead of the focus, and pairing pungent shades together for something refreshing. Energize your Spring wardrobe with a punch of color!
Green space
The breakout star of the runway, green is the new "it" color. Designers didn't pick just one shade, but all possible variations. Mint and sea foam captured the lighter side in breezy knits and sophisticated cropped jackets. Brighter tones made for flirtier options in cropped tops and flattering, cap-sleeved dresses. Lush forest green was introduced in Fendi's classic handbag silhouettes and Celine's matte leather tee. With an array of green in apparel and accessories, options abound to display this hot color.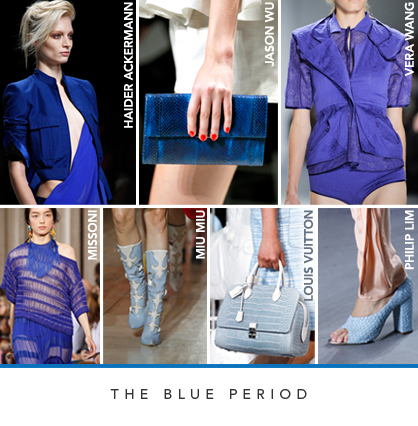 LadyLUX via Style.com
The blue period
Pastels have made a comeback, and baby blue is back on board. The light shade can easily be introduced into your Spring wardrobe with a pair of pumps or a satchel. Baby blue looks sophisticated with touches of white or metallic hues. For the truly daring, try Miu Miu's Western-flaired boots. Blue can go from powdery to super vibrant cobalt. The saturated hue appeared in tops with sheer materials or leather and makes for a fresh take on pants – wide or skinny – and cropped jackets. Add a cobalt clutch to a monochrome outfit for matched look or contrast it with neutrals.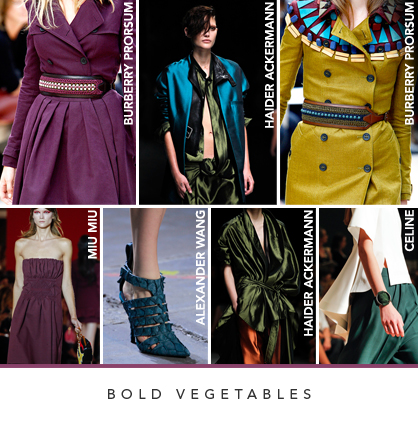 LadyLUX via Style.com
Bold vegetables
The warmer season invites a vegetable garden party. Purple, green, yellow and orange take on deeper veggies hues – imagine eggplant, leafy greens, squash and pumpkin. These rich tones looks stunning paired or layered together, just the way Mother Nature intended.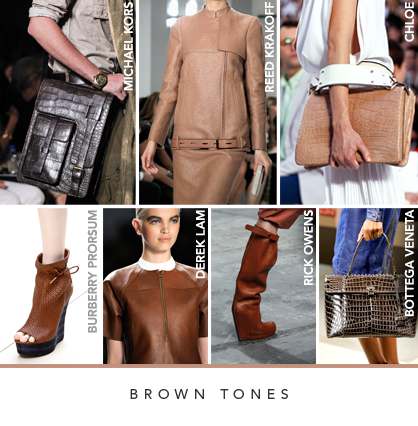 LadyLUX via Style.com
Brown tones
Black is facing some serious competition with rich brown tones taking over the runway. Starting with tan and working their way to dark chocolates, designers are embracing the browns once more. Crocodile and alligator skins in coffee and espresso make luxurious satchel bags or envelope clutches, as seen by Michael Kors, Bottega Veneta and Chloe, and can elevate any look. Need an update to the black basics? Try matte brown leather for boots, coats and boxy tees.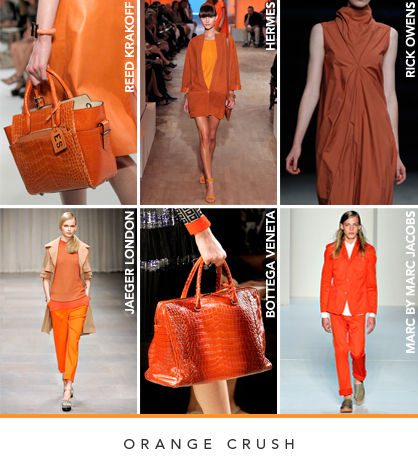 LadyLUX via Style.com
Orange crush
Perfect for pale or tan skin tones, fiery oranges is easier to wear than one might think. Having appeared on runways in New York, London, Paris and Milan, an assortment of oranges from rust to blood have made this hue a must-have for any Spring wardrobe. Hermes and Jaeger London paired various shades for a vibrant look, while Marc by Marc Jacobs created a monochromatic orange suit. Handbags featuring the bold bright can fuse different looks and complement this season's browns and reds.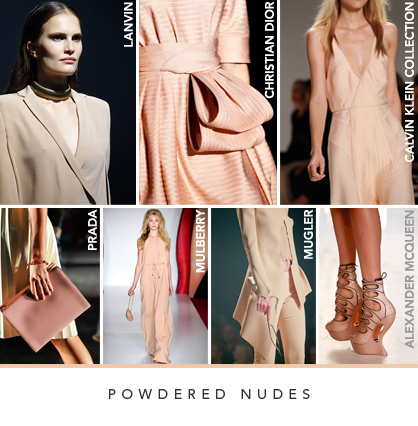 LadyLUX via Style.com
Powdered nudes
Because showing skin is so sexy, powdered nudes continue to create interesting looks that sometimes require a double take. Soft chiffon and silks form romantic, draped dresses that can be an easy alternative to the little black evening dress. Fresh for the office, pant suits in nude tones offer subtle yet tailored looks. Classic nude pumps transform this season into shimmery finishes on booties, wedges and platforms.
LadyLUX via Style.com
Code red
There's no doubt that red made its presence on the Spring runways. From ruby to burgundy to oxblood, the red palette has been updated with new deeper tones. Whether in platforms or handbags, red looks chic with black accents or paired against khaki for a unique pop.

This article was contributed Annette Tang of the Versastyle. You can follow Annette and her fashion adventures on Twitter at @theversastyle.
Tagged in: trends, michael kors, marc by marc jacobs, spring 2012, runway, chloe, chloé, runway trends, bottega veneta, hermès, miu miu, jaeger london, colors, hermes, celine,