Spring 2012 Runway Trends: Handbags
This Spring, handbags have been updated with classic ideas and modern twists. While cross-body satchels remained popular, hand-held and shoulder-strap bags made a return with boxy totes, lush duffels and classic '70s styles. Handbags aren't just for making a statement but also for functionality with compartments, shoulder straps and various easy-to-carry sizes. Updating your handbag is an easy trick to freshen your look for the new season.
Handle wristlets
To make clutching your clutch easier and more fashionable, designers created handle wristlets. The new handles are the freshest trend seen in bags, and with a whole new look, it made the clutch worth updating for Spring. Wide-strap handles – as seen by Balenciaga, Chloe and DKNY – gave the envelope and portfolio clutch a bolder, modern kick. Available in studded or contrasting colors and materials, how can any gal refuse?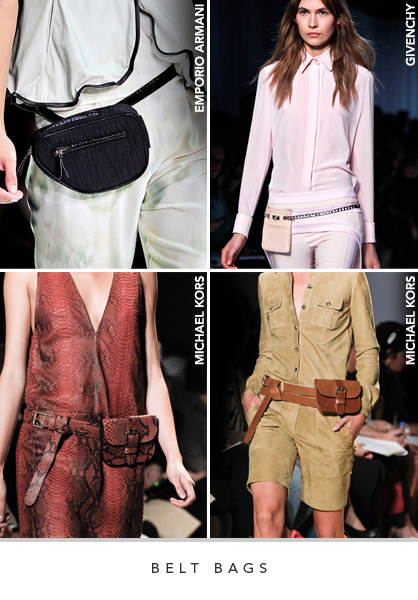 LadyLUX via Style.com
Belt bags
Reminiscent of the fanny pack but minus the nylon material, stylish belt bags are the easiest and chicest way to carry daily essentials such as a cell phone, credit card and lip gloss. Belt bags were loosely slung around the waist and varied from tiny pouches to medium, zipped styles. Michael Kors and Emporio Armani's tonal belts blended well with the bags, while Givenchy's chain belts gave a luxe touch. Belt bags are perfect for travel or a sophisticated means to keep your hands free.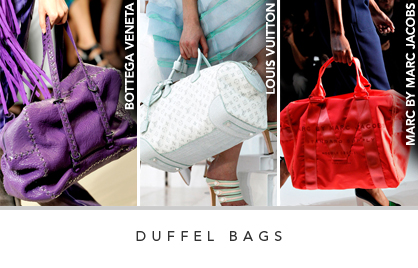 LadyLUX via Style.com
Duffel bags
Slightly oversized, these lavish duffel bags aren't made for the gym. Coming in exotics and canvas, Spring's zip-top duffels have an effortless cool appeal when carried with jeans and a trench coat or an anorak. Top handles and shoulder straps make the bag easy to sport around town.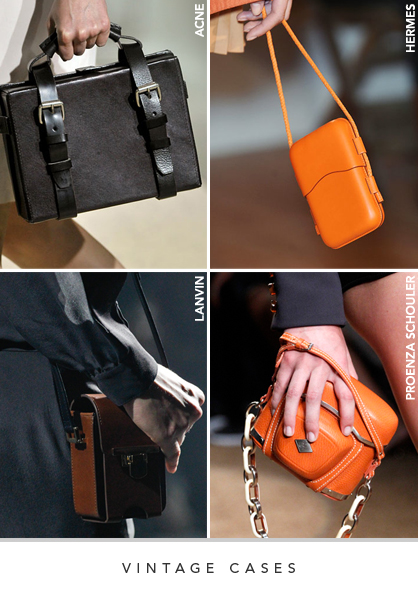 LadyLUX via Style.com
Vintage cases
Inspired by vintage cases for cameras and documents, designers re-created hard, structured bags for an old-world feel. Vintage cases were fashioned from nappa or pebbled leathers or exotic skins in black, tan and orange tones for a worn-out vibe. Acne's minicase recalled vintage suitcases, while Hermes, Lanvin and Proenza Schouler crafted variously shaped styles of camera bags.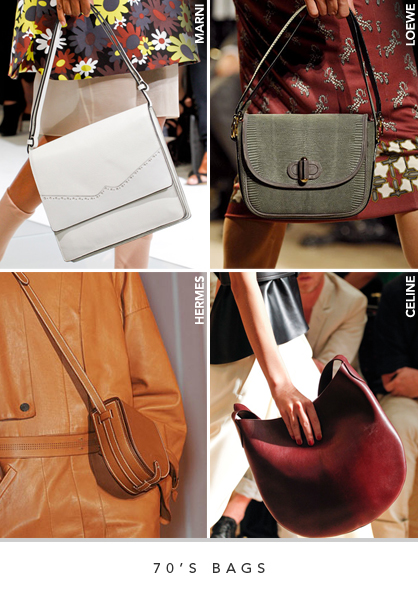 LadyLUX via Style.com
'70s bags
Capitalizing on the '70s trend, a major force for several seasons now, the saddlebag shape has returned. Designers revisited the bag in muted shades of tan, brown, green or white, choosing supple leather or suede for a retro vibe. The classic bag with short shoulder straps is simple and understated, boasting rounded edges and sharp lines that make it forward.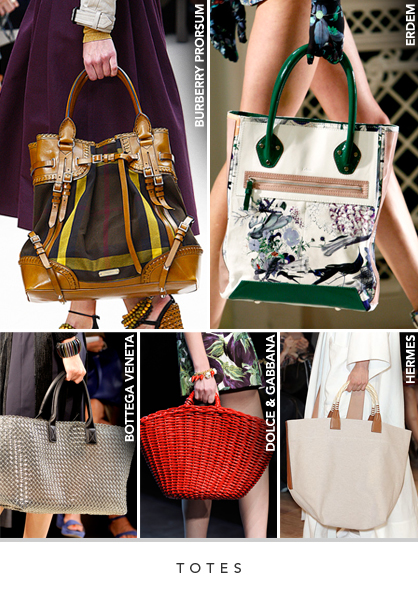 LadyLUX via Style.com
Totes
Gaining popularity, totes and shopper handbag styles are a Spring favorite. From medium to large, the carryall bag witnessed a variety of new materials, including plaids, wovens, prints and canvas. Slim shapes leaned toward a modern, geometric feel while flared silhouettes provided classic appeal. Burberry's plaid number added extra detail with tonal whipstitching, buckled straps and a leather underside that matched the handles. Hermes and Dolce and Gabbana elected for all-over materials for simplicity.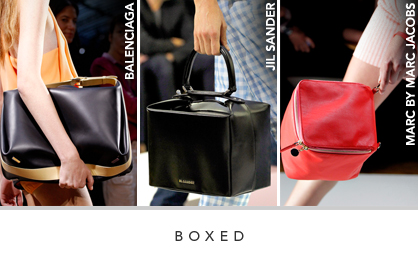 LadyLUX via Style.com
Boxy
Buttery nappa leathers folded into plush boxes for the most unique handbag of the season. With soft corners, clean lines and seamless designs, these cubes and rectangles are fresh and progressive. Balenciaga's contrasting belt straps created definition, while Jil Sander's and Marc by Marc Jacobs' little handles made for easy carrying.

This article was contributed Annette Tang of the Versastyle. You can follow Annette and her fashion adventures on Twitter at @theversastyle.
Tagged in: trends, handbags, michael kors, givenchy, balenciaga, marc by marc jacobs, spring 2012, runway, lanvin, proenza schouler, chloe, chloé, dkny, hermès, emporio armani, jil sander, hermes, dolce & gabanna,