LUX Beauty: 7 Spring 2013 Hair Trends
The Spring 2013 Ready-to-Wear and Couture fashion shows featured various hairstyles that made a statement appearing natural and undone. From low-slung buns, ponytails and bold hair accessories to bone-straight hair and natural waves, these seven different hairstyles can be easily created at home and incorporated into your daily spring styling routines as well as into the summer months ahead!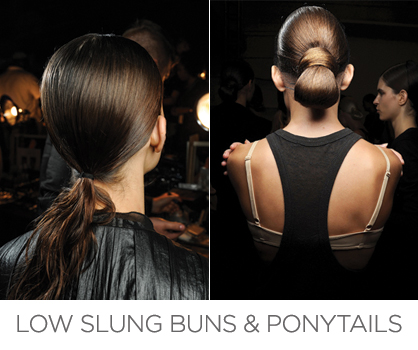 Transform your hair into a cocktail attire appropriate 'do with a low-slung bun or ponytail. By simply tying your strands into a ponytail or twisting and pinning them into a chignon bun at the nape of the neck, you can create a quick, easy and totally chic spring hairstyle. You may happily make the low-slung bun or ponytail your new go-to hairstyle after seeing how easy and effortless it is to craft. Create your bun or ponytail with wet hair for a sleek look, add a center or side part for a modern look, add some loose strands in front for a soft look or finish with a high-shine hairspray for a catwalk-worthy style.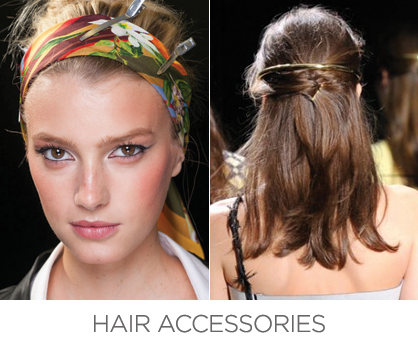 A fun and fashionable way to add a bit more umph to your hairstyle is with a head wrap, scarf or thin headband. Stay pretty with a simple golden headband added to the back of the hair, which adds a cool, futuristic feel to any 'do when worn down. A printed silk scarf adds glamour and a retro feel when placed over an updo hairstyle. Bold, colorful and feminine headbands with bow-detailing will also easily transform your spring hairstyle in a flash!
Ladies, get your straighteners ready! After having been out of season for a while, bone-straight hair is back in the picture. Pin-straight, glossy locks with every strand in place is a structured and modern way to style your hair for the spring season. Whether creating a middle or far-side part, this style never gets old. Make sure your hair is in tip-top shape before getting into the straightening mode again by giving your hair a deep conditioning treatment. Use a strong gel for pre-styling, a de-frizzing serum to add shine, and hairspray to complete the look and rid of strays.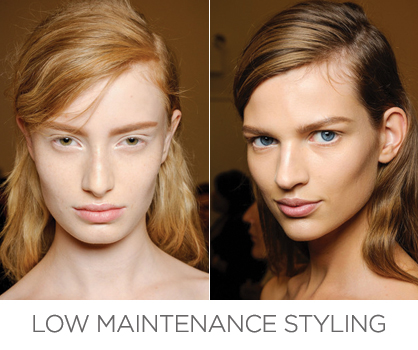 Mussed-up and messed-up, low maintenance hairstyles certainly made a name for themselves in the Spring 2013 runway shows. Cool, messy hair with a less-is-more approach to products took center stage. Create this hairstyle by leaving your hair down loose with tons of wispy strands and adding volume at the roots. Also create this style by finger-combing to make rough waves that leave no shape or structure for an off-duty look.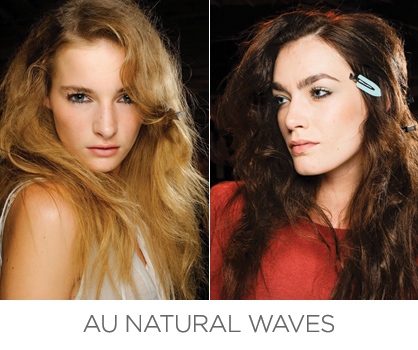 Spring 2013 calls for carefree curls and using your curling iron in moderation. Add a few curls to the front sections of your hair and comb them through with your fingers. Create a super-sexy bed head look by using a small amount of product on your tresses and a few random curls with a curling wand. The easiest way to create au natural waves is to skip the hairdryer and let your natural kinks do all the talking. Your strands will thank you when you let your curling iron get some rest!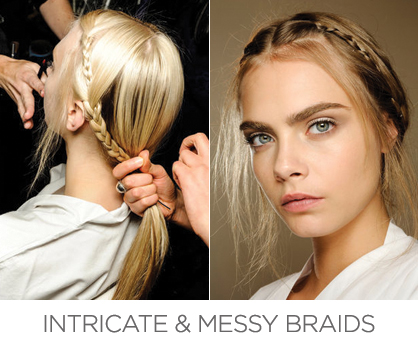 In 2012, braid trends were hotter than ever. This year, they're still going strong. Spring 2013 hair style trends are incorporating braids differently now by designing them more intricately and even adding a messy approach. Hairstylists got even more creative by making small, complicated and anything-but-traditional braids and plaits. Weaving in fishtails, ponytails and messed versions of braided buns, Spring 2013 braid hairstyles are endless.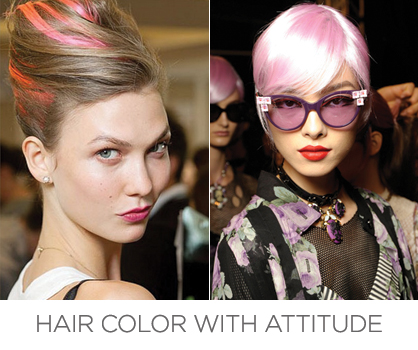 Try something fun and different this spring by experimenting with hair colors. Give your hair a little attitude with pastel pinks, blues and purples. Lending a playful feel to the Spring 2013 runways, this candy-colored trend was brought to life through colorful wigs and cotton candy-hued highlights. If you're too shy to go that wild, try a single colored highlight underneath or some pale pink ombre.

Read more LUX Beauty
Read more Spring 2013
Tagged in: guides, lux beauty, beauty, spring 2013, hair, ponytails, hair trends,