Spring 2014: Bejeweled Accessories
We can't help but be bewildered by bejeweled accessories found on the Spring 2014 runways. The ornate and overly rhinestone-clad and beaded embellishments come in a variety of shapes, colors and sizes; and when situated as a design onto handbags, shoes and belts, create a wonder for the eyes to behold. Aside from the vibrant hues, prints, fringe and feathers, and many other unique trends for Spring 2014, we think that you can't go wrong with a statement rhinestone and beaded embellished accessory to complete your look. Often, an overabundance of rhinestones can be seen as gaudy or overwhelming, but we think this trend can also have a rich, regal air to it, fit for a queen.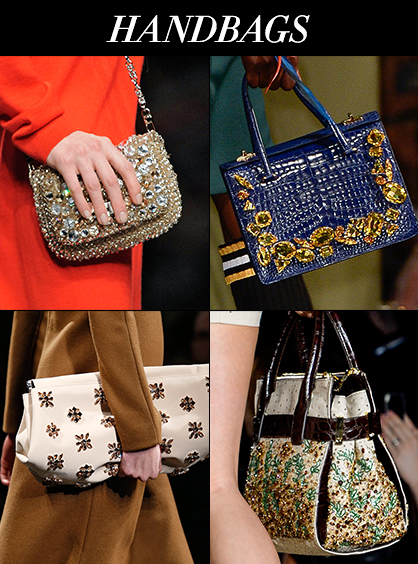 Bejeweled designs on handbags; whether a clutch, crossbody, or top-handle bag, can beautifully showcase the craftsmanship of the bag as well as the embellished designs. We like how designers interpreted this trend on the runway: Anteprima's wire bag gives off a metallic beaded look and is finished with a variety of crystal rhinestones; DSquared2's lady-like handbag features a leafy floral design composed of beads and small rhinestones; Ports 1961's oversized clutch dons a dainty array of fluerette rhinestones in a neutral color palette; Prada's vibrant blue animal skin handbag dons large yellow rhinestones around the border of the handbag; and Ermanno Scervino's flap handbag has interesting hardware and rhinestone designs.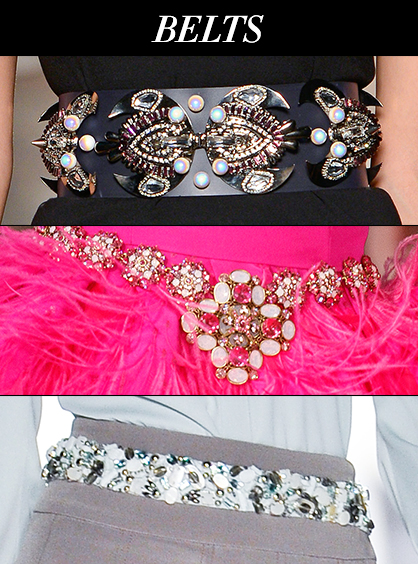 An easy way to change up and add flair to a casual or formal dress you already have, is to cinch your waist with a bejeweled belt. Keep it simple with a belt that has a symmetrical pattern or opt for more extravagant, with a belt that has an elaborate design.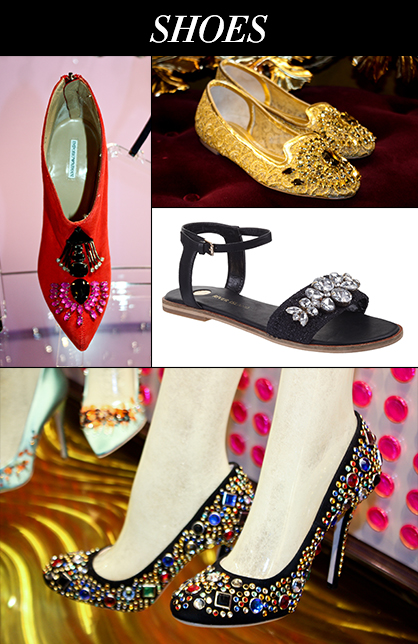 Add some pep to your step with rhinestone adorned booties, heels, sandals or loafers. Wear all styles of embellished shoes with skinny jeans, a white T-shirt, blazer, and long necklace for a daytime look, and transition into night by changing into a blousy top and standout earrings or hair accessories to play off the bejeweled design of your shoes.
Will you be incorporating this bejeweled trend into your wardrobe?
Read more Accessories
Tagged in: trends, handbags, accessories, spring 2014, shoes, runway, belts, bejeweled,