Spring Couture 2012: Chanel
From the lightest shade of Alice blue to Egyptian blue and a deep navy, nearly every shade of blue – 150 to be exact – was featured in Chanel's Spring Couture collection. Although Karl Lagerfeld was inspired by all things blue, by no means did he have the blues. As Style.com reported, it was Elvis' "Blue Moon," Miles Davis' album "Kind of Blue," and blue-sky optimism that was on the legendary designer's mind. The fashion show was staged in a faux spaceship that had theoretically left Earth's atmosphere for something truly out of this world.
With this collection, Lagerfeld hit the ground running. While most couture collections are around a dozen looks, he covered every detail and possibility with 61 variations of portrait neckline jackets and coats and minidresses ensembles – each capturing an unquestionably '90s vibe.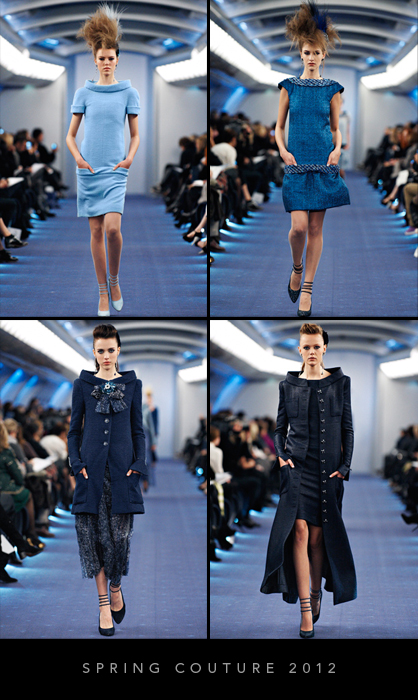 LadyLUX via Style.com
The decade was well-represented by the milky blue shades that mimicked denim, super-teased updo's and casual-meets-couture silhouettes. Lagerfeld even re-created the men's saggy jeans trend by dropping the drop-waist dresses even lower and having the models walk down the catwalk with their hands in the slashed pockets. It as "like boys whose jeans are slipping off."
Although the lineup referenced grungier times, grungy is something Lagerfeld is not – especially when it comes to couture. The use of material and embellishments has always been one his strongest points as a designer; Lagerfeld really isn't your typical cut-and-sew kind of guy. The streamlined looks were crafted by complex techniques or using encrusted materials.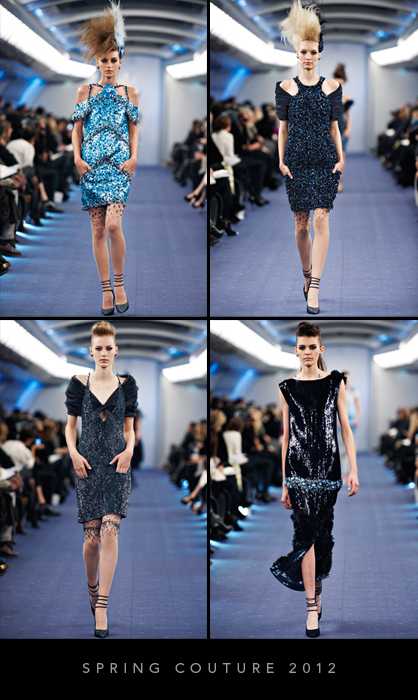 LadyLUX via Style.com
"A lot of it isn't even fabric," Lagerfeld shared with Style.com. "It's embroidery." The fashion veteran even worked with a cellophane-like material that could easily be mistaken for the finest silk.
It is Lagerfeld's concept of understated looks with over-the-top procedures that makes Chanel Couture so intriguing. He understands the art of handmade couture, always taking it a step further than most of his colleagues.
This article was contributed by Annette Tang of the VersaStyle. You can follow Annette and her fashion adventures on Twitter at @theversastyle.
Tagged in: paris, runway, chanel, karl lagerfeld, couture, spring couture 2012,