Spring Couture 2012: Givenchy
With Pre-Fall and Spring Couture seasons nearly back to back, Riccardo Tisci recalled his greatest hits of the past seven years for a spark of inspiration for both Givenchy collections. But while his Pre-Fall line brought back favorites such as the Rottweiler graphic and a spread of equestrian-themed menswear prints, Spring Couture achieved a very different result. Alongside the revival, Tisci looked to Fritz Lang's 1927 movie "Metropolis" and the theme music from the 1924 Russian film "Aelita: Queen of Mars" for a couture yet tough combination.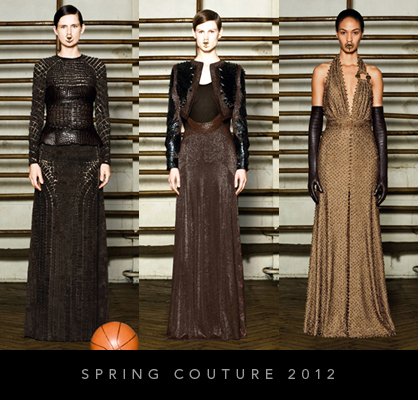 LadyLUX via Style.com
Tisci's recipe for Spring came together in a line no short of spectacular. The 10-piece lineup featured long column, bead-encrusted gowns with revealing backs and sheer elements layered over white tank tops. The looks were divided into three rooms: the crocodile, the crystal, and the black and white.
In the crocodile room, the gowns easily defined everything couture stands for. A fitted, long gown, crafted of crocodile skin, required 350 hours of meticulous handwork. The look was individually cut, numbered, bleached, dyed and finally resewn onto a tulle stocking for an impressive gown that resembled armor.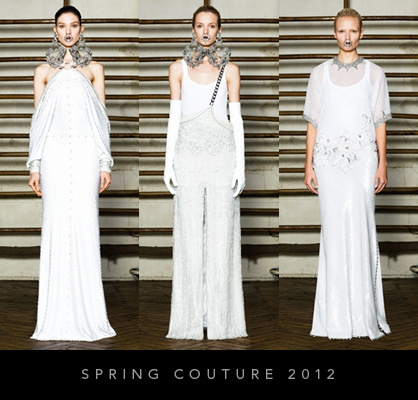 LadyLUX via Style.com
The influence of the 1920s movies manifested in slouchy, off-shouldered gowns featuring silver Art Deco embellishments, all shown in the crystal room. Tisci's trio of all-white pieces also referenced Spring 2012's surfer and mermaid collection with its metal chain straps. The full-length skirt with front slit and the popular crossover chain strap was layered over a white cashmere tank top and finished with long white gloves and heavy metal septum rings.
And finally, in the black and white room, the color combination revealed long-sleeve numbers with sheer layers, a subtle and monochromatic polka dot pattern, and encrusted skirts. The skirts featured two-way zippers that were unzipped almost to the hip, showing off a luxe sequin lining.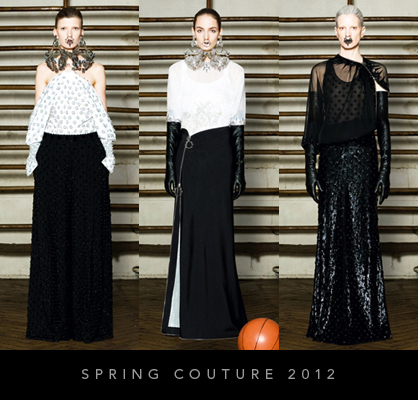 LadyLUX via Style.com
Tisci's couture collection won the approval of fashion bloggers and editors, and has even already made an appearance on the red carpet. Actress Zoe Saldana dazzled in one of the all white column gown creations at the Screen Actors Guild Awards on Sunday night - minus the septum rings, of course.
This article was contributed by Annette Tang of the VersaStyle. You can follow Annette and her fashion adventures on Twitter at @theversastyle.
Tagged in: paris, givenchy, runway, couture, riccardo tisci, spring couture 2012,