Stockholm Fashion Week Fall 2012: Dagmar
Artful and strong, Dagmar has been making its mark on the fashion scene in Stockholm since 2005 and has the most prestigious Scandinavian design award to prove it. The creative brains behind the brand isn't just one person, but a team of three sisters: Kristina Tjader, Karin Söderlind and Sofia Wallenstam. The trio named the brand after their original muse: their grandmother Dagmar, a talented seamstress.
Dagmar focuses on contemporary vibes, finding inspiration from Art Deco colors and patterns. For Fall 2012, the three designers juxtaposed two radiant women: Lisbeth Salander and Sigrid Hiertén. A renowned early 20th century Swedish painter, Hiertén was blended with Salander, a fictional character from the best-selling book "The Girl with the Dragon Tattoo." Together, they renewed the image of the strong Swedish woman.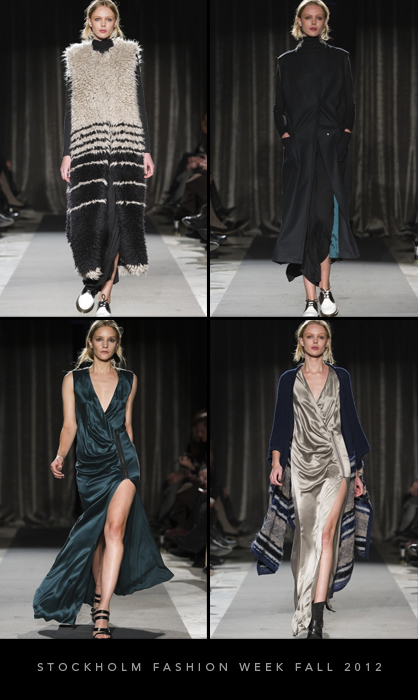 LadyLUX via Stockholm Fashion Week
Shown at Stockholm Fashion Week, the idea developed into a collection exhibiting everything from low-key classy looks to avant-garde coordinates, both distinctly illustrating the two personalities. Staying simple and easily wearable, cozy intarsia sweaters were paired with leather skirts and scarves, long sweaters made for chic dresses, and jersey dresses were draped with ease.
Eveningwear held the same principles, but in dressier materials. Silky, satin dresses featured deep V-necklines, thigh-high slits and a front, zipped detail entry. The chic silhouette appeared in different versions with various sleeves and lengths.
On the other end of the spectrum, avant-garde ensembles endowed a dark and mysterious appeal. The sleek looks exhibited mainly black with a few pops of colors and incorporated a range of materials from fur to leather to mesh, all in statement-making geometrical patterns.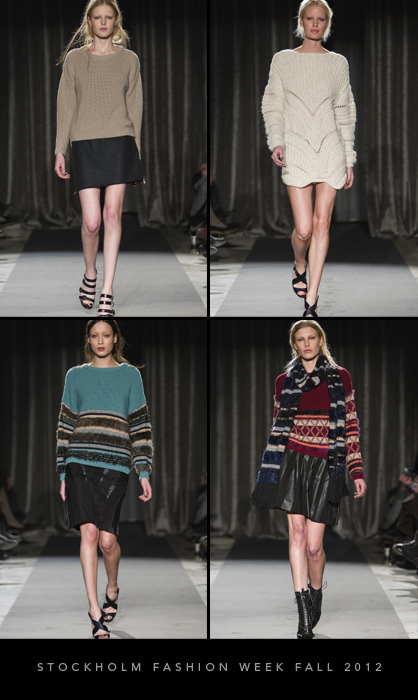 LadyLUX via Stockholm Fashion Week
Ombré jeans cleverly brought color into simple blazer and pant looks. Shaggy taupe fur with black stripes made for an interesting, nearly floor-length vest, as well as appearing on the sleeves of a sweater dress. Thickly lack graphic lines were overlaid on a dark geometric print that evoked a futuristic feel. The same style lines were combined with sheer print and mesh to create both floor-length and short long-sleeve dresses. And in reverse, the thick lines crafted a cutout leather top paired with cropped pants – the perfect outfit to embody Salander.
Dagmar's Fall presentation felt as if it ran the gamut of possibilities. But between the cutouts and sometimes underwhelming sweaters, it wasn't consistently cohesive. Regardless, the team of sisters designed a collection that is true to their concept and that many fashion-forward girls would jump at the chance to wear – Rooney Mara, the actress that starred in the movie version of the book included.
This article was contributed by Annette Tang of the VersaStyle. You can follow Annette and her fashion adventures on Twitter at @theversastyle.
Tagged in: runway, fall, fall 2012, ready-to-wear, stockholm fashion week, stockholm, dagmar, karin söderlind, sofia wallenstam, kristina tjader, stockholm fashion week fall 2012,