Stockholm Fashion Week Fall 2012: Whyred
The Whyred girl is that effortless stylish girl that just can't help be trendy. Cool is just what she does, but you could say the brand's signature contemporary details and clean shapes have something to do with it. For Stockholm Fashion Week Fall 2012, the Swedish brand looked to its usual aesthetics, plus a little inspiration from the forest. Chief designer Roland Hjort was intrigued by the idea of a mystical, rough yet colorful forest, contrasted with modern man-made architecture. In particular, Caspar David Friedrich's painting of a silver cube building in the middle of a forest ignited the collection's theme.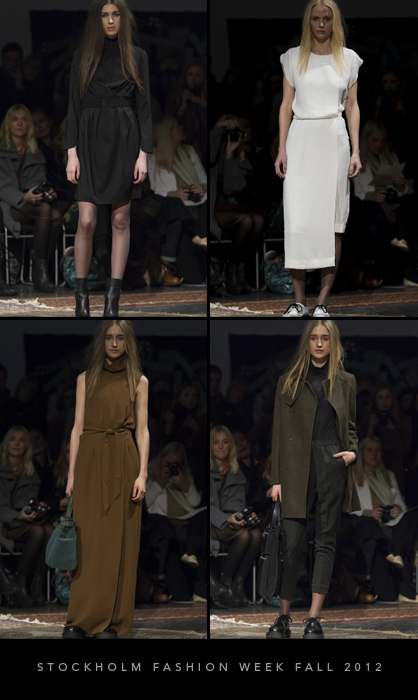 LadyLUX via Stockholm Fashion Week
The fascinating source inspired a collection with a tailored, modern menswear philosophy that incorporated architectural structures and a hint of quirky styling. The line featured a mainly unsaturated palette of various shades of green, mustard, brown, navy and black – only red found a vibrant hue. Long sweaters were layered over shirtdresses or relaxed pencil skirts, tuxedo vests were paired with button-ups and jeans, and simple turtlenecks maintained an easy-going vibe with loose trousers. Looks were paired with brothel creepers for an unexpected twist.
Dresses exhibited two different approaches. For the daytime and casual end, belted turtleneck dresses and various wrap dresses resembling kimonos were light-hearted but made robust when styled with lace-up booties. The architectural note became apparent in the second take on dresses. Modern, clean lines created a white wrap dress with a structured silhouette and varying length hemline.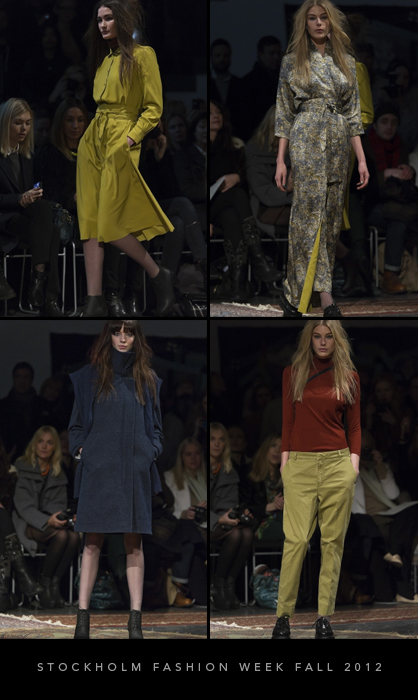 LadyLUX via Stockholm Fashion Week
In the same manner, outerwear exuded sleekness. Coats had sharp lines, bold shoulders and an uncomplicated vibe. Tying into the concept of the lush forest, wool materials had a worn-in, almost rustic sense to them.
The laid-back but modern style made for a favorable Fall collection. Whyred was easily fashionable and showed creepers can be styled with just about anything.
This article was contributed by Annette Tang of the VersaStyle. You can follow Annette and her fashion adventures on Twitter at @theversastyle.
Tagged in: runway, fall, fall 2012, ready-to-wear, stockholm fashion week, stockholm, whyred, roland hjort,