Calling all stylepreneurs: StyleOwner launches personal boutiques
These days, it doesn't take much to start your own boutique. With StyleOwner, a new e-tailer just introduced, everyone from bloggers to fashionistas can produce their very own digital fashion boutique, reported WWD.
Curators are responsible for personalizing the feel and choosing the merchandise, which is then marketed to their friends and acquaintances through blogs, e-mail and social media sites such as Facebook. Boutique owners become personal shoppers and get cash per piece they sell.
Retailers have often struggled in the face of the Internet's vast impersonalism. Networking brings with it immense opportunities, but connecting with consumers can be sticky.
"(StyleOwner) is about making the Web shopping experience more personal, collaborative and engaging. The most effective marketing tool is a recommendation or approval of a friend," Joel Weingarten, founder and CEO, said to WWD. "That's the essence and effectiveness of StyleOwner."
Online social selling has gained incredible traction in recent years, with brands and designers jumping headlong into the challenges of Facebook, Twitter and other such sites. StyleOwner is not the first to launch a sell-your-picks-to-friends site; other e-tailers such as Shop My Label have already carved out a place online. Such sites have generated vast appeal among consumers, who have found themselves able to turn a profit without any investment or technical knowhow.
"We all want to self-express on the Web and we all want to shop with our best girlfriends or boyfriends," Tracy Gardner, a board member at StyleOwner, said.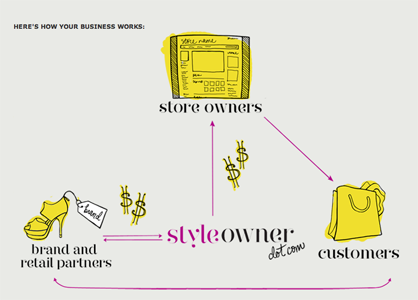 via StyleOwner
StyleOwner, however, has attractions beyond Shop My Label. The site boasts an integrated shopping cart that allows consumers to peruse among boutiques yet finish transactions from several brands seamlessly.
StyleOwner boutique operators also enjoy a highly coveted feature: 10 percent commission versus Shop My Label's more measly 5 percent.
Would-be shopkeepers chose a template out of 50 options to serve as the foundation and ambiance of the boutique. The opportunities to personalize are many, including various music, colors, typefaces and backdrops, plus themes such as classic or surfer girl. Budding merchants can base their shop on a category, like denim, or a lifestyle, perhaps Mediterranean travel.
Selecting up to 500 pieces, boutique operators can take their pick from a "master closet" bursting with apparel, accessories, cosmetics and fragrances, amassed by StyleOwner. Brands such as Nordstrom, Singer 22, John Hardy, Alexis Bittar, Milly, Tracy Reese, Feed, Vapour Beauty and Saks have lined up to participate, deciding the photos, descriptions and prices of each item.
"In 15 minutes you can have a fully functioning fashion Web store and have a lot of fun with it," Weingarten said. "Social networking is huge. The best marketer is a recommendation from a trusted source."
StyleOwner launched with about 1,000 stores – including 30 fashion bloggers and a store from Style.com – but is eyeing substantial expansion.
"StyleOwner will be a game-changer by defining social selling," Pittman said. "It has the potential to create a new category that will change the future landscape of e-commerce."
Tagged in: website, boutique, shopkeepers, styleowner,