Stylitics App Offers New Way to Manage Closet
With our closets potentially bursting with fashionable goodies, it may make sense to get a digital closet. Stylitics, the world's largest social closet platform, is offering all fashionistas exactly that. With their service, users can store their entire clothing repertoire in one place, sorted by color, style, cost and most worn. So get organized and at the same time discover new looks with real-time opinions from other fashion-savvy users. With all this app's fantastic features, the stylish possibilities are endless.
"Stylitics is a mobile and Web app for people who want to manage the clothes they own in a fun and smart way. Users can also share outfits with friends and discover new ideas from browsing influencer closets," Zach Davis, CMO and co-founder, declared.
Say goodbye to confusedly flipping through that endless round of hangers in your closet. Now you can find all of your favorite pieces with ease. Discover stylish new trends and looks at the press of a button.
The app doesn't just store your apparel, it notes the brand and the store you purchased them from. This means replacing your favs with ease and knowing exactly where to head for your next savvy look.
You may also drag, drop and sort with one click. Stylitics lets you create lists of items to pack, items you wish to purchase or any other list you can imagine.
"For consumers, there is no app that connects their closet throughout the Web and through their social networks. There are a lot of people that want their clothes at their fingertips, whether it's to reference an item while shopping, remember what they wore last weekend, or simply to send a message to a friend to see what they think of an outfit," Davis said.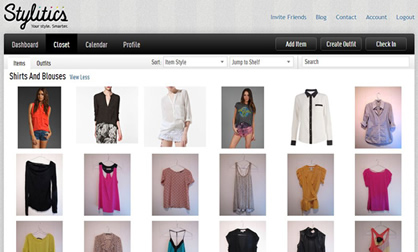 Don't be an island when it comes to making your fashion decisions. Now you can share whatever trends you outfit yourself in and ask a global community of users which best handbag complements your look. Whatever your style dilemma, someone is sure to have any answer. Not only can you share with other shoppers, but you can also share opinions with the brands you sport.
"People ask me all of the time 'Will the app recommend an outfit to wear?' or 'Will it suggest a brand I might like?' We do things like show you the weather in your area, and soon will show trends in real-time via our style stream. While the app is fun and social, the underlying theme is to help people be smarter and more efficient when it comes to planning and making purchase decisions," Davis explained.
Send feedback to labels and tell them how your well-worn clutch should be offered in a metallic tone or how your favorite pair of capris doesn't hug your waist right. Find inspiration in others' sources of style news and looks, whether a place, a person or a brand. Don't forget to browse other fashion-savvy profiles to see fav trends, glam looks and beloved brands.
Next time you see that long never worn item just sitting on your shelf, don't head to the nearest mall to fix the problem. Stylitics offers the opportunity to consult with the fashion-forward on style ideas that can transform any old piece into a fashion-heaven look. Featured stylists and fashion bloggers can help turn your drab fashion ideas into a true knockout. If you are still stuck, organize your least-worn items into lists of those you should swap or sell.
The app also allows you to figure out your fashion money matters. Track what you spent on each item and see the cost per wear. Next time you are in a store, make educated decisions on what to best splurge on.
"(My co-founder and I) came up with the idea of creating a smart and engaging experience for consumers," Davis said. "We figured that shoppers are smarter than ever these days, and if we can give them a useful tool, in return we'll receive information that will help brands and designers better understand how to serve their customers. It's a win-win for consumers and for the industry."
Launched in 2010, the site appeals to all but is particularly targeted at young professionals ages 18 to 34. Look for a new mobile platform from iPhone and Android coming next month that features chats and votes.
Visit Stylitics.com for more information.
Tagged in: app, organization, wardrobe, closet, stylitics,