Stylitics launches iPhone app
Deciding what to wear or what to buy is sometimes more challenging than it should be. Stylitics, the wardrobe management and personal style analytics site, comes to the rescue with a new mobile app that helps plan, organize and mix and match any closet.
The online site offers a community for the stylish to share their opinions, discover new trends and organize their style. It is the first of its kind to use real-time data to give users an innovative look into the inner workings of their wardrobes as the average customer has over 250 items in their closet and makes dozens of style decisions a week. Stylitics recalls every detail about what you own, buy and wear.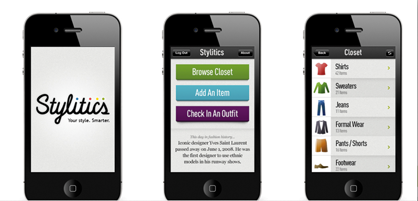 Even more impressive, the tool tracks outfit history and allow users to share their personal style with friends and followers through a public Style Profile. It will also give users new ideas on how to wear items in their wardrobes and recognizes style preferences in the form of targeted recommendations and rewards.
With the new iPhone mobile app, users will be able to add new items to their digital wardrobe and make intelligent style and shopping decisions anywhere. It's a seamless way to keep your wardrobe organized, up-to-date and in the palm of your hand.
Tagged in: stylitics, iphone app, closet organization, monile app, style website,