Sun WineFest Round-Up: Top Sips
The Sun WineFest, held last weekend at the Mohegan Sun casino resort in Conn., was everything a true oenophile could ask for. Many top wine producers and distributors manned the tables in the giant convention center, doling out sips from all over the world to throngs of tasters. In addition to wine of every stripe, guests sampled Scotch, mead, bellinis and more—and that was only the first floor. On the second floor, beer reigned supreme as Lagunitas, Brooklyn Brewery, Smuttynose, Goose Island and Sam Adams, among others, dished out their best brews. With thousands of options and palpaple enthusiasm in every direction, it was difficult to pick favorites, but here is a list of my standouts and tasting notes. Enjoy!
Astrolabe ~ Marlborough Sauvignon Blanc ~ 2011
I can't wait to drink the Astrolabe Sauv Blanc on a hot summer day. It's produced in the long, cool growing season of the Marlborough province of New Zealand, and boasts a pale straw color, medium body and dryish finish. The citrus, flowery flavors were refreshing and just right.
Domaine Manciat-Poncet ~ Pouilly-Fuisse ~ 2010
New fact I learned at WineFest: Pouilly-Fuisse is the appellation for white wines of the Maconnais region in Southern Burgundy. Made with Chardonnay grapes, the old vineyards there are considered among the best in France. This was a delicate, balanced and slightly oaky wine. The vendor recommends drinking alongside fresh seafood.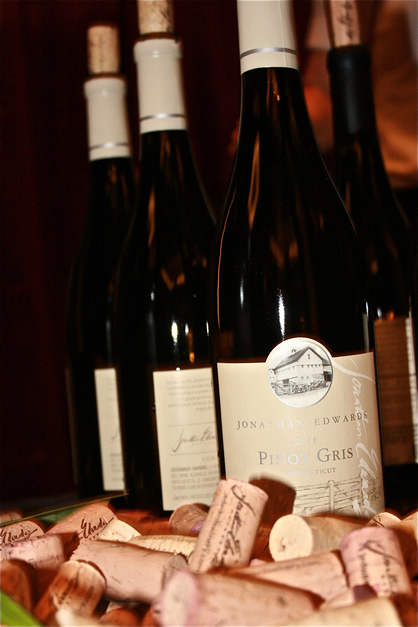 Jonathan Edwards ~ Pinot Gris ~ 2011
The friendly vendors at the Jonathan Edwards table handed me a taste of their Pinot Gris and I was immediately in love. This Connecticut-grown wine is light, crisp, slightly tart and a great example of what New England producers are capable of. Its refreshing bouquet with floral, grassy and citrus notes pairs nicely with bread and cheese or other light fare.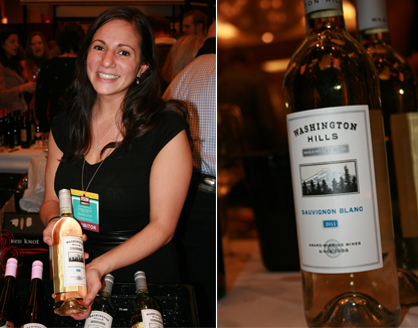 Washington Hills ~ Sauvignon Blanc ~ 2011
I was loath to include a second Sauvignon Blanc after the fantastic Astrolabe I tried earlier in the day, but this one made the cut too. The Washington Hills had almost a creamy feel with lots of pear and citrus aroma. Overall, this was an easy-drinking, solid wine.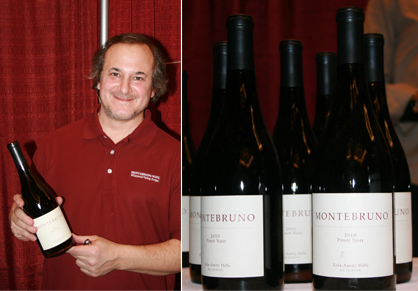 Montebruno ~ Pinot Noir ~ 2010
As opposed to the other vendors, many of whom had upwards of 10 different wines displayed, the Montebruno table had only one bottle: the 2010 Eola-Amity Hills Pinot Noir. After a taste, it was clear that this was all they needed. Joseph Pedicini, winemaker at the Willamette Valley, Oregon winery, summed up his Old World philosophy by saying, "We're sort of purists." He explained that he tries to manipulate the process as little as possible and chooses to let the natural characteristics of the grape shine through. The result is a delectable wine that is lighter in color than most pinots, but has impressive complexity and flavor that showcases the rich Oregon terroir.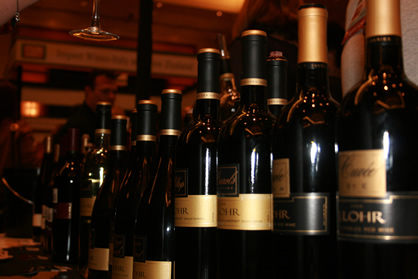 J. Lohr ~ Petit Syrah ~ 2010
This was a full-bodied, in-your-face wine that I would love to pair with an indulgent dinner. I'm still meat-free after the 30-day challenge, but, for the carnivores out there, I imagine this would be a perfect choice to go with a big steak. Produced in Paso Robles, Calif., this wine was smooth, bursting with blackberry and spices, and pleasantly tannic—a red wine for red wine lovers.
Terranoble ~ Reserve Carmenere
My Carmenere experience is fairly limited and this wine made me regret it. Imported from Chile, this violet-colored wine had lots of great fruit flavor with a little hint of chocolate. Beautiful and very satisfying, this will be warming up a cold night for me very soon.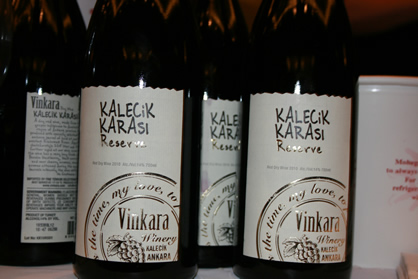 Vinkara ~ Kalecik Karasi ~ 2010
Turkish wine may not be the most prevalent of imports, but the producers at Vinkara winery are determined to change that. They explained to visitors that the Anatolia region is the birthplace of wine with a rich viticulture dating back 7,000 years. They are particularly excited to revive the kalecik karasi grape, which is native to the Kızılırmak River basin where their vineyard is located. The product of their efforts is a dry red wine with dark fruit flavors and a long finish. This pleasing wine has a distinctive taste that is not quite comparable to the more common grape varietals. It's worth a try!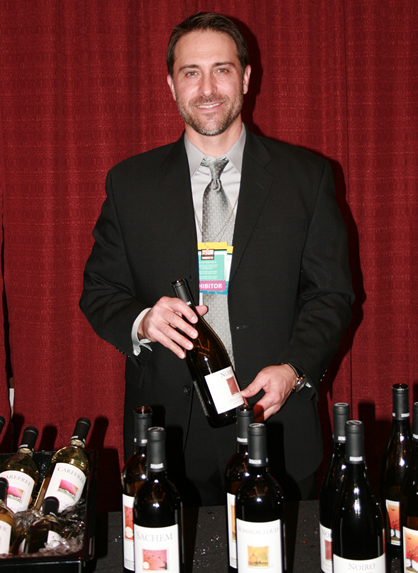 Bravium ~ High Stakes Cabernet Sauvignon ~ 2007
One particularly pleasant stop on our journey through WineFest was at the Bravium table for a chat and a sip with San Francisco winemaker Derek Rohlffs. Rohlffs created a Sip & Give program that ensures a portion of proceeds for all Bravium wines benefit a variety of charities, including the Leukemia and Lymphoma Society and the Peninsula Humane Society/SPCA. His High Stakes Cabernet Sauvignon is everything a great cab should be: full-bodied and smooth with a clean, fruit-forward finish.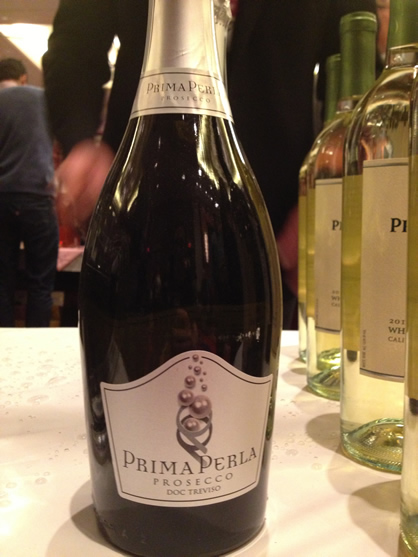 Prima Perla Prosecco
This was the first thing I tasted at WineFest and immediately saw that I was in for a great day. It's light-bodied and crisp and though not the most flavorful of bubblies I've ever had, struck me as a great base for mimosas or other champagne cocktails. With just a $9.99 price tag, this is a no-brainer.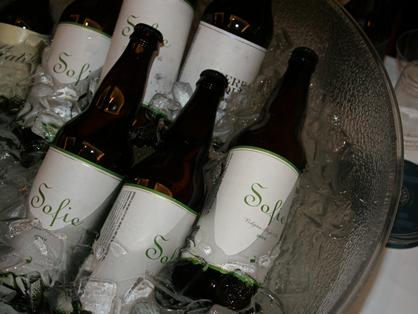 Sofie beer
As I approached the Goose Island Beer table, the vendor immediately handed me a taste of Sofie, a "champagne-like" beer, stating, "This one's for you." Sir, you could not be more right. This Belgian-style farmhouse ale is aged in wine barrels with citrus peels, and boasts delicate-yet-full flavor and a sparkling body. I would totally pair this with a nice pasta dish or a big salad.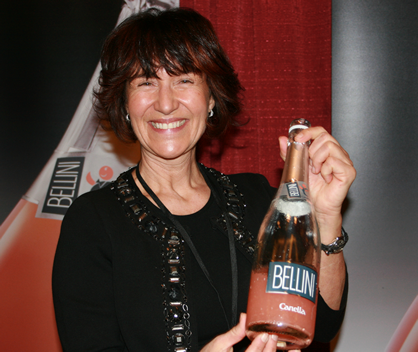 Canella Bellini
I am usually skeptical of premade, bottled cocktails or mixers. In my mind, they generally go in the same category as the syrupy, machine-made pina coladas or strawberry daiquiris found swirling in beach bars. The Canella Bellini proved me wrong. With Prosecco, white peach puree and a hint of raspberry, this was refreshing and delicious. Give this to me at brunch any day.
Crispin Cider ~ Honey Crisp Artisanal Reserve
On first taste, I commented that the Honey Crisp reserve was dramatically smoother than any other cider I've experienced. The vendor explained that they use a natural fermentation process with a premium apple juice blend—not concentrate—and do not add malt, sugar, grape alcohol, colorants or benzoate preservatives. Only fresh juice and organic honey for delicious, full-bodied apple flavor. Bonus for you cider lovers: they also sell a three-liter box!

Read more LadyLux Lifestyle.
Tagged in: events, cocktails, wine tasting, wine, winemakers, sun winefest, mohegan sun, craft beer,