Sunreef Yachts launches new catamarans to expand superyacht segment
In 2010, Sunreef Yachts successfully released two catamaran superyachts that were over 100 feet, CHE and IPHARRA, and now it's expanding the category with three more projects. The Sunreef 82 Double Deck, the Sunreef 80 Single Deck and the 85 Sunreef Power will be launched July 2012, March 2013 and the end of 2013, respectively.
Launching within the next few weeks, the Sunreef 82 Double Deck combines advanced design technology and ongoing research for new ideas and inspiration. The double-deck model boasts an expansive owner cabin in the front and an impressive salon with an internal helm station and striking view. The luxurious yacht accommodates up to seven guests in the owner suite, the VIP queen cabin and the guest twin cabin. Especially captivating, the owner suite occupies two floors in the forward section of the yacht, which features a Jacuzzi and vanity on the main deck and a wardrobe and floor-to-ceiling storage and bathroom located below the decks.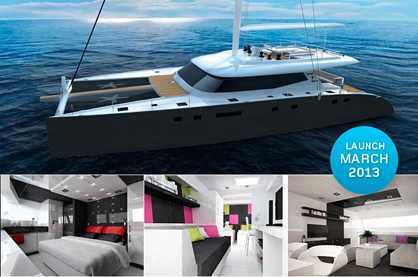 The Sunreef 80 Single Deck switches gears from the Double Deck to focus on light displacement, performance and speed. Made for speed adventures and comfort, the sporty and sleek catamaran reduces windage and water resistance while accommodating nine guests and four crewmembers. The portside hull consists of one guest cabin with a bathroom, a fully equipped galley and four crew cabins. The starboard hull features one guest and one children's cabin, both with personal bathrooms. Sunreef 80 Single Deck's owner suite is located on the main deck, leaving the internal cockpit to the navigation station, dining area and lounge zone. The sleekness of the yacht is complemented with modern and minimalistic interior design showcasing a white and grey motif contrasted with pops of striking colors.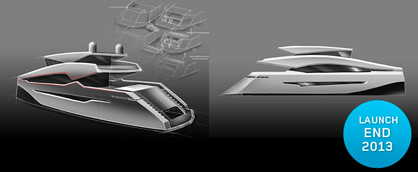 Available at the end of 2013, the 85 Sunreef Power emphasizes the impressive space that catamarans offer, courtesy of its large beam and motoryacht arrangement. The main deck will span across the beam and include the dining and lounging areas as one open space. The vast master cabin is located in the front on the main level. A Jacuzzi and sun pads will be found on the terrace of the main deck. The 85 Sunreef Power is a modern, streamlined yacht with curvy lines to embody a sporty feel. Its interior will be light and minimal, accompanied with modular furniture.
Please click here for more information.
Tagged in: lifestyle, 85 sunreef power, catamaran, sunreef 82 double deck, sunreef 80 single deck, yachts, sunreef,