The 16 Best Breakup Coping Strategies
Heal your heart and let go of the past
Breaking up is never easy, even when you're the one who made the decision to leave. Actually, being the one to leave can sometimes be the toughest role of all, since you had a choice in the matter and still chose to end the relationship.
Sometimes it will hurt at random times post-breakup, but this doesn't mean you should get back together. Instead, it means that you're missing some of the good that happened within your relationship. Remember – no relationship is ever all bad. It's far too easy to focus on the good, when you're hurting, and not remember all of the reasons why you left.
"It can be so easy to become nostalgic for even the bad things in the past because they were a part of you for so long it became engrained. Happiness and serenity feel uncomfortable because you aren't used to them. Learn to accept them. Tell yourself, 'I must accept the good in my life now and not become a slave to my past unhealthy life,'" said Kate Crocco, a licensed therapist.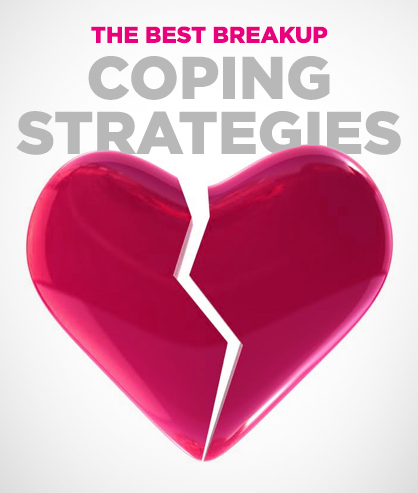 16 ways to heal your heart
Here are more heartfelt tips on how to heal after a breakup and move on with the rest of your life:
Find a hobby; join a running group, cooking class, something that will have a regular schedule and keep you busy over the next two months where you will be missing your ex the most.
Get back in touch with old friends and spend time going out and doing things that you haven't been doing when you were part of a couple.
Fill your time. If you used to make dinner with your ex every Sunday night, plan an activity that you'll look forward to until the pain of Sunday nights subsides. Get together with your friends, volunteer, take a class, or catch up on your favorite shows. Fill that time that you used to spend with him or her by doing something fun or productive. Some of my clients know when they'll have idle time so they ask their friends to hang out – and promise not to bring up the ex.
Plan for weak moments. You'll have your weak moments when you may want to contact your ex. Have a go-to plan in place - exercise, call a friend, distract yourself with work, pick up a book, etc.
Whatever you do, don't cyber-stalk on social media. You'll be upset if you see something you don't like or can't explain – "Who is that in the picture?" Breakup with them on social media and delete your access to seeing their information. Block, delete, do whatever it takes to heal.
Get out of routine. Getting out of routine can elevate mood. Whether it's taking up a new hobby, trying different restaurants, or taking a trip to a place you've never been, these little and big ways can make you feel happier, which can also give you hope that you can happily move on.
Date. Sometimes it's the last thing people want to do after a breakup, but there are people out there who just want to have fun without the expectation of a serious relationship. Just be upfront about your intentions. You can tell your potential dates that you're casually dating or wanting to explore the city, but aren't looking for anything serious. Those who have similar intentions will stay in the game.
Get together with fun girlfriends and talk about all his faults. Make this the main topic for the get-together. If this is coupled with great food, wine or spirits all the better.
Go away for at least a weekend. There is nothing like a change of scene and preferably to a place that is laid back and where you can indulge yourself—a spa weekend perhaps? If you love to ski, ride horses, sail—find a place where you can enjoy this if possible. Or just low-key it with a mani and pedi, massages and other indulgent spa treatments.
Avoid going out to clubs or other places where he may go, where you may see mutual friends, or where you may meet jerks who just reinforce your belief that there was no one quite like him.
Find a new "replacement significant other." Now this is not what you think. Instead, it means to pick a hobby that brings you joy and satisfaction and make that your "new relationship."
Break up with anything else toxic in your life. This can include other unhealthy relationships. Become more aware of the people around you and evaluate whether they bring peace into your life or chaos.
Start rebuilding. Take time to figure out what you love in life and what makes you happy. Sometimes being in a relationship you lose site of the things that make you happy. Start at rock bottom. Once toxic is eliminated, you may not have much left, and this is okay. This is where you can begin feeling comfortable with who you are. You may have some quiet nights in by yourself. Learn to be comfortable with this. Learn to embrace it and do the things that you love.
Be ready for big changes in you. Once you are on the route of rebuilding, you will begin to notice how much more simple your life has become. Less drama, less clutter of people and things who really don't matter and a more of a fulfilled you.
Acceptance. This is the last step in truly moving on from a relationship and starting this journey to a healthier you. One day you may wake up and realize how different your life is. You may begin to feel reminiscent of the way things use to be. Whatever you do please remind yourself that this is normal and a part of the "grieving your old life" process. Once you feel this happen, redirect your mind back to how good you feel in the present and really how crappy you felt when things were different.
Keep looking forward. Think about how good life feels at the moment and stick with that thought.
Sources: Stef Safran, owner Stef and the City dating service in Chicago; Anita A. Chlipala, a relationship and family therapist in Chicago; Toni Coleman, psychotherapist and relationship coach; Kate Crocco, licensed therapist.

Tagged in: dating, relationships, breakups,