The Art is in the Makeup
It seems Brits are on the mind of most make-up makers, MAC and Lancome are both commemorating their megawatt brands with an homage to art—whether by Brits or for Brits.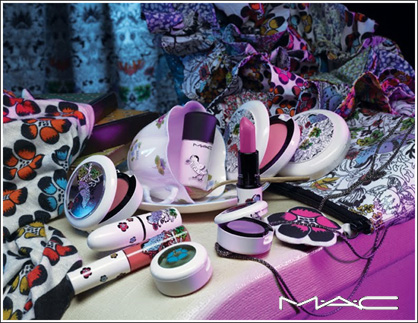 MAC
The lipstick powerhouse, known for getting celeb endorsements at the drop of a hat, has decided to go a different route when designing a new tube for 2010. The legendary Liberty of London print will crown their new spring collection, from glosses and shadows to blushes and bags. According to Vogue, MAC creative director James Gager commented about the line, "Oscar Wilde dandy mixed with a touch of bohemian flair." Check out stores on March 11 for your taste of freedom.
Lancome
Only available at Debenhams, a UK department store, Americans will miss out on the wildly designed 10th Anniversary Juicy Tubes. Decorated by Japanese artist, Yayoi Kusama, head over to Europe after April 1 and get a new spring in your step from the flower and butterfly-encrusted glosses. Perhaps the flower power will incite a protest over the grave inconvenience Lancome is posing for us Yankees!
Tagged in: cosmetics, beauty, lancome, mac, yayoi kasama, debenhams, uk exclusive,