The Art of Glamping
Who said that camping can't be glamorous? It's definitely possible when you're "glamping"! The global trend of fusing glamour with camping has caught on in the last few years and lets travelers experience the positives of nature without the uncomfortable woes of camping. While glamping, there's no difficult tent to pitch yourself, no sleeping bag and certainly no campfire to rely on. Here, LadyLUX features five hot sites that will show travelers how to perfectly blend luxury getaways and the great outdoors.
Clayoquot Wilderness Resort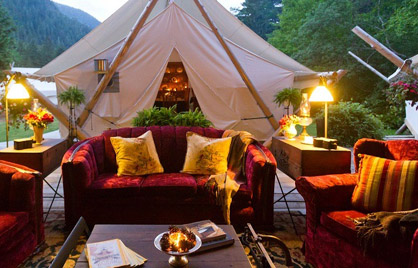 Vancouver, British Columbia offers beautiful glamping grounds at the Clayoquot Wilderness Resort. The eco-safari destination is home to 20 different luxury guest tents featuring exclusive environments. The great white canvas prospector-style tents are outfitted with King and Queen-sized beds, plush down comforters, a full luxury suite bathroom with in-floor heating and an indoor/outdoor shower. Glamping guests are able to partake in a multitude of activities in the wilderness like horseback riding and rock climbing.
The Resort at Paws Up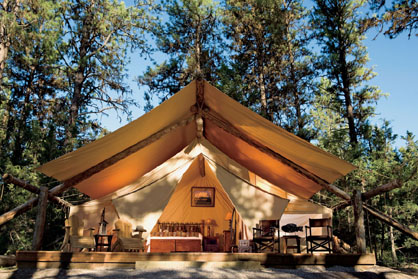 The Resort at Paws Up is a luxury ranch resort situated on a 37,000-acre authentic cattle ranch in western Montana. Guests can reside in a luxury safari-style camping tent while enjoying the natural beauty of Montana amidst a rustic and elegant landscape. Tents are complete with oversized beds, electricity, a spacious deck, an ensuite bathroom, twice-daily housekeeping, delicious meals and even a private camping butler at guests' service!
Auvergne Naturelle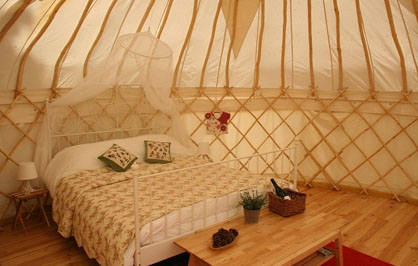 France features glamorous holiday yurts for extravagant outdoor experiences. At Auvergne Naturelle, guests can choose between four luxury yurts located on the mountainside which are nestled amongst the woods with a gorgeous view of valleys. Each yurt is 18 feet in diameter, offers a light and airy atmosphere and sits on a raised wooden platform, providing guests an area for relaxation set with hammocks, dining tables and chairs.
Whitepod Resort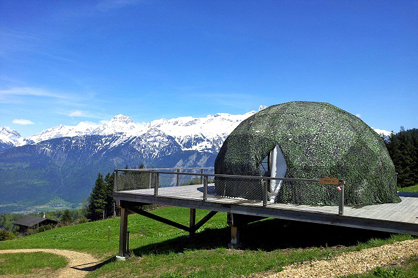 The Whitepod Resort in Switzerland offers travelers eco-luxury high-tech tents. Each pod sits separately on a wooden platform surrounded by unobstructed views of Lake Geneva and is equipped with a wood-burning stove, bathroom, terrace and tea kitchen. The resort is also complete with miles of private runs and ski lifts, two chalets, a restaurant, bar and spa with Japanese wellness area, bath and Finnish sauna.
Ladera Resort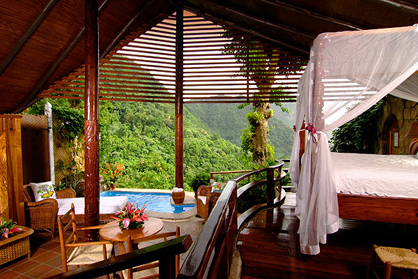 The Ladera Resort at St. Lucia in the West Indies is a pristine location perfect for glamping tropical style. The 32 suites of the resort are constructed in tropical hardwoods, stone and tile, feature local artisan-crafted furniture and are known for their "open wall" which exposes guests to the sweet air and breathtaking views of the Pitons and Caribbean Seas. Guests tired of staring out at the bright blue waters can get out of the open-air suite and experience the lavish beaches for themselves.


Read more LUX Travel
Tagged in: guides, lux travel, travel, luxury travel, camping, glamping,