The Best Careers for Women in 2016
Lucrative careers for now, and the future
Opportunities for women in 2016 and beyond are far more vast than our grandmothers could have ever anticipated. And while women want to believe that wage inequality and workplace harassment are things of the past, it isn't always the case.
This is the time when women can push forward and be fearless and demanding in their career planning.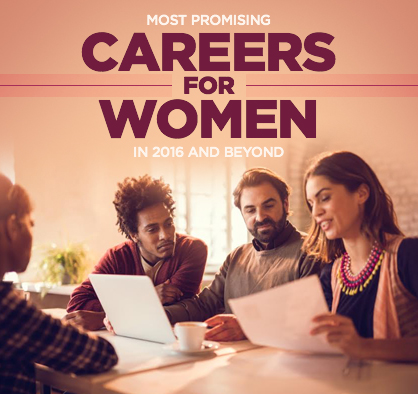 Top careers to consider
Executive Search
"With all the press about glass ceilings and equal pay for women, there is no greater pay equalizer than executive search as a top career choice for women. As an executive recruiter, I have had the joy of personal and financial success based on pure meritocracy, independent of what a male boss thinks of me. If I work hard, I succeed," said Juli Smith, president of The Smith Consulting Group.
Civil Engineer
"As an executive recruiter specializing in civil engineering search, I am constantly getting requests from companies who want to add diversity to their ranks. The job market for civil engineers is hot with starting salaries for new graduates from the mid-50's. Many firms are starting to recognize work/life balance and are allowing flexible schedules for working moms as they progress in their career," Smith said.
Software Development
"There is currently a tremendous demand for well-trained female software developers - and these positions can be very lucrative. (As an example, graduates from Code Fellows, a software development trade school in Seattle, earn an average of $71,000 per year to start. Their top reported salary was $155,000 per year.) Women also bring a very valuable perspective to what is presently a male-dominated industry. The absence of women can result in poorly designed products and an unhealthy "bro-gramming" culture, said Dave Parker, CEO of Code Fellows.
Healthcare Administrator
Healthcare is still a good direction to go for a long-lasting career. But instead of focusing on nursing or physical therapy – big careers in the past – opt for administration. The best positions and the best pay will go to those with master's degrees. Get at least a bachelor's in health administration and work your way up the ladder. In this job you'll be managing the health care system and making it more efficient. The average salary is around $94,000.
Tech Startups

"Tech startups and the new disruptive businesses have been going through a huge boom in the last few years but there's still a much larger proportion of men working in this area. From the Silicon Valley in California to the Silicon Roundabout in London, you'll find the same male-dominated scenario everywhere. This leaves a huge opportunity for women as startups rightly seek to strengthen their teams by diversifying," said Carly Klineberg, head of content for RebelHack.com.

"Startup cultures are also generally a lot more forward thinking when it comes to modern working, with great benefits for employees designed to increase productivity and general happiness. That means no ridiculous rules about having to wear heels at work," Klineberg said.
Information Security Analyst
Another hot job for women is in IT security. With huge corporations falling victim to cybercrime and hacking incidents, companies are scrambling to secure their data and avoid PR nightmares. To land this job, focus on a computer science degree and IT issues. The median annual pay hovers around $90,000 a year nationwide.
Market Research Analyst
Focus on market research to reap the rewards of big data. There is a vast amount of information being collected about everyone on the planet, and as more connected devices collect even more data, companies are dumbfounded about what to do with the data collected from their customers. If you have a strong analytical mind and math skills, then you are game to compete in this field. The annual pay is around $62,000 a year, but will increase with experience.
Tagged in: career, business, jobs, 2016,