The best of Fall 2012 handbags
Fall 2012 is looking quite promising in the handbag department. This season's best handbags included satchel and crossbody designs carried over from Spring, but designers also mixed things up with a return to classic handheld silhouettes. The fresh, must-have style is the perfect versatile addition to any wardrobe. Yet, no matter what shape or size, Fall handbags were all about interesting materials.
Ditching the shoulder strap, ladylike handbags featured handles for traditional styling. Doctor and bowling bags were popular structures and made modern with slight shape alterations along with unique, lavish textures. Burberry Prorsum reinvented the look with quilted fabric, while Dolce and Gabbana crafted a kitschy combination with embroidered floral mixed with leopard print. In exotic fur, Emilio Pucci's hand tote showcased a patchwork effect. Givenchy utilized two-tone brown and white fur in a wide panel with complementing monochrome leather. Jerome Dreyfuss's soft duffle handbag boasts a spotted animal print that reveals a new kind of classic.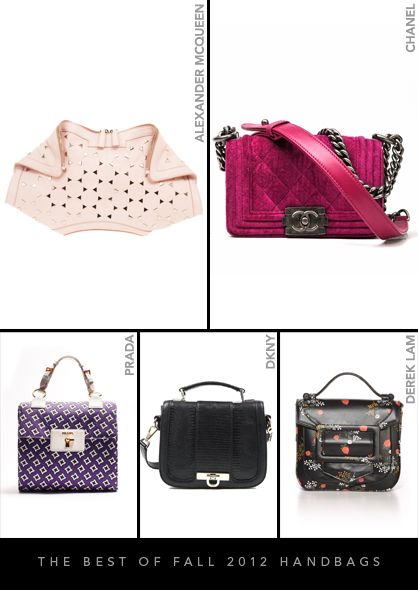 LadyLUX via Style.com
As the season emphasizes prints and color, handbags were right on board. Reed Krakoff's signature handbag style with knotted belts shined through in an exuberant fuchsia, as did Chanel's coveted shoulder bag with chain strap. Prada set a playful tone with quirky wallpaper patterns on a mini-case.
In smaller shapes than last season's and with the addition of top handles, crossbody bags were handy and stylish. Derek Lam excited this season's version with a budding floral print, while DKNY maintained sleekness with an exotic reptilian.
Chic clutches are still on the radar for Fall, especially in folded, origami styles. Alexander McQueen blended the technique with laser cutouts and metallic detailing.
Whether timeless handbag or contemporary clutch, Fall has plenty of It-bags to crave.
Tagged in: trends, handbags, prada, givenchy, alexander mcqueen, chanel, fall 2012, burberry prorsum, emilio pucci, derek lam, clutches, reed krakoff, dkny, crossbody bag, dolce & gabbana, jerome dreyfuss, handheld handbags,