The Best Swimsuits For Your Body Type
If you've ever muttered the phrase, "I hate the way I look in a swimsuit," you're not alone! But you may be wearing the wrong style for your body type. Just as with everyday fashion, some styles look better on certain shapes. Whether you're a skinny mini or have curves for days, this guide will help you look sizzling.
Top-Heavy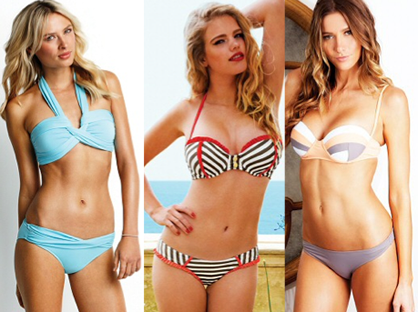 For women who are top-heavy, your best swimsuit styles are those that offer amazing bust support for the "girls." In general, halter tops and tops with underwire or molded cups supply the best support and won't have you spilling out. Try designer brands such as Seafolly and Beach Bunny that make variety of styles that cater to bigger-busted gals.
Bottom-Heavy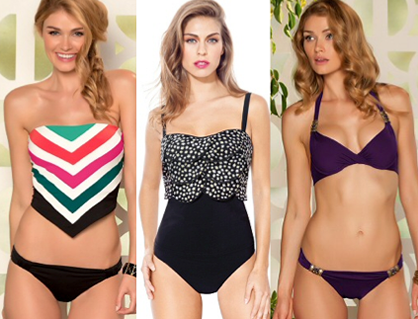 But what if you're the opposite and are fuller on the bottom? If you have a bootylicious backside, find a swimsuit that hugs you in all the right places and doesn't dig in. Try dark, solid-colored scoop bottoms paired with printed or embellished tops, which will help deemphasize your bottom half. Brands such as BECCA by Rebecca Virtue and Profile by Gottex specialize in swimsuit styles that are more generous in coverage and size, perfect for bottom-heavy babes.
Athletic/Thin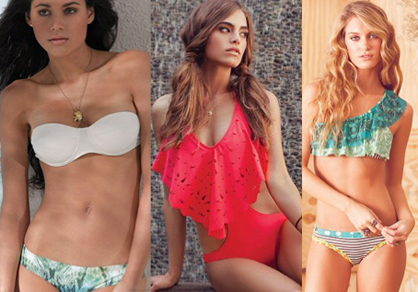 If you don't have much in the curves department or have a thin, athletic build, look for swimsuit styles that will create the illusion of curves. Try a twisted bandeau top paired with a hipster bottom or an asymmetrical top paired with a cheeky-cut bottom. Brands such as L*SPACE and Maaji offer a number of mix-and-match bikini options to choose from so you can create a curvy look all your own. If you're a one-piece wearer, try a monokini swimsuit.
Hourglass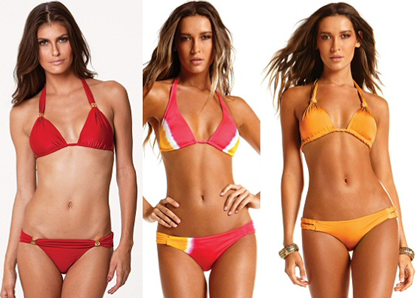 If you have an hourglass shape, your top and bottom half are already proportionate so you want to choose a swimsuit that won't throw you off balance. Try adjustable triangle or halter tops paired with matching scoop bottoms in either solid or print combinations. Try ViX and Vitamin A Swimwear for styles perfect for hourglass shapes in a variety of chic solids and fun-in-the-sun prints!
Curvy/Full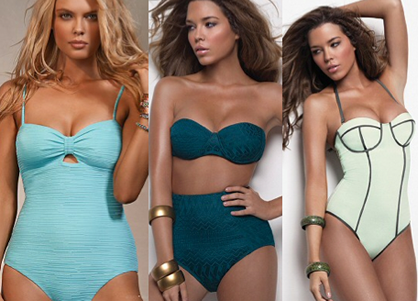 Curvy or full-figured? Rock those curves and sport them proudly! If you prefer two-pieces, high-waisted syles and tankinis are a flattering route. For one-pieces, try something with a sexy, plunging neckline or ruched fabric detail. MAIO Swim by Monica Wise specializes in midkinis and one-pieces. Similarly, Karla Colletto is known for her maillots made with a Lycra Spandexl slimming fabric.
This season, choose swimsuit styles that fit and flatter your body and we guarantee you'll be turning heads!
---
Susan Bodack is the director of social media marketing at InStyleSwimwear.com, a luxury online retailer specializing in fashion-forward designer swimwear, beachwear and accessories. For additional tips and tricks, check out their swimsuit blog, Beauty and the Beach.

Tagged in: swimwear, spring 2013, summer 2013, swimsuits, swim, bikinis, one piece,