The Next Big Design Duo: Ariel Lilly and Christina Coniglio of Rae Francis
What happens when the hottest new design duo is mixed with bohemian influences? The answer is a new women's contemporary line, Rae Francis. A tag-team located out of New York, Ariel Lilly and Christina Coniglio are two budding designers that have taken their brand from idea to an up-and-coming contemporary staple in just two years.
The brand launched in January 2011, after Lilly and Coniglio graduated from Savannah College of Art and moved to New York. The pair both worked in the fashion industry by way of design, PR, production and sales before creating Rae Francis. "After working in many different areas of this industry, we saw a need in the market for a sophisticated bohemian collection that speaks to the contemporary consumer," said Lilly. She added, "Girls like ourselves who are looking for pieces they can wear to work and dress down at night or on the weekend."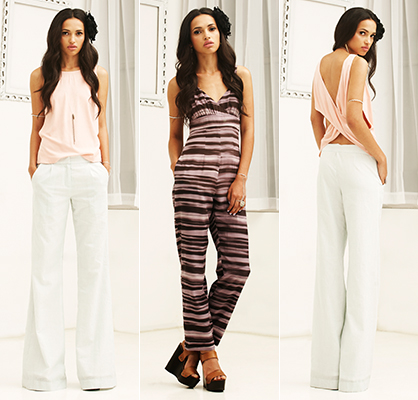 Since its birth, the brand has grown quickly and the buzz in the fashion world indicates that Lilly and Coniglio are the next big design duo. In just two years, the brand is already a world-wide sensation, being placed both locally and in international markets. "We are so overwhelmed by the amazing response from press and buyers. We could have never imagined that after two years how much we are getting ready to ship both locally and around the world," mentioned Coniglio.
Rae Francis is also one of the few lines where the entire process is overseen entirely by the designers themselves—from idea to ship. "Because our factory is so close to us, we oversee the entire process. Nothing gets shipped out without our approval; we are involved every step of the way. That is something that most designers can't say they are a part of, but a major reason why we feel that, although we are still small, we have been so successful," informed Coniglio.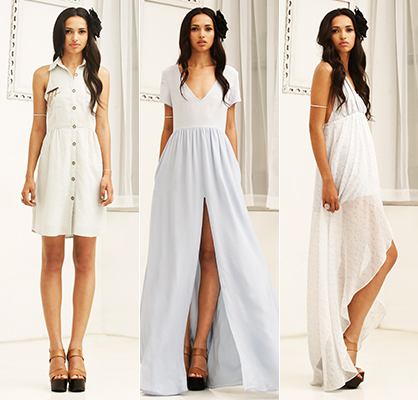 The brand has a contemporary style that is feminine and sophisticated with a bit of spice. "We say that Rae Francis is a mix of the uptown classics with a downtown edge," explained the duo. "That represents Ariel's cleaner look and Christina's affinity for deconstructed elements and forward prints." Perfect for the laid-back girl on the go, the brand is meant to double as work attire that turns into happy hour style. "Rae Francis is a desk to dinner collection and the go-to for any young professional looking to let loose at five," said Coniglio. She added, "It's classic and luxurious while still referencing the trends and adding an innovative twist. It's meant for the girl that appreciates beautiful fabrics and simple silhouettes that complement her easy breezy, boho-inspired lifestyle."
The spring 2013 collection is no exception to the Rae Francis boho chic motif. It was inspired by Florence Welch and the vibe from concert goers of Coachella, SXSW and other similar music festivals. "The collection is bohemian and light; when we were designing, we imagined the clothes on a girl who would be attending an outdoor concert," the pair said. While the collection does have a whimsical, youthful bohemian look, it also carries an heir of sophistication.
Spring 2013 features mostly sorbet pastels, which provides a very soft, feminine feeling. However, the occasional dark grey and purple hues in the collection add a touch of New York grit. Silk crepe de chine and silk georgette are the major fabrics used, however with this collection, the design team also added stripped linen and cotton eyelets which helped the line give off a lighter, more airy feeling—a must with any boho look. The collection also features plenty of asymmetrical hems, sheer inserts and cut-out back details.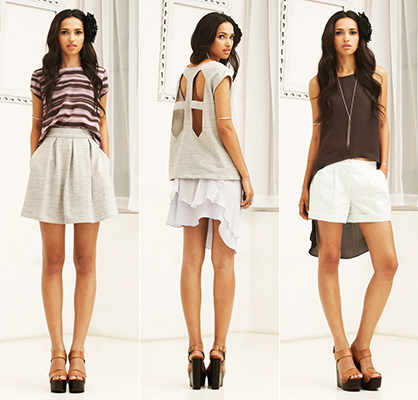 When designing, Lilly and Coniglio are not ones to incorporate trends into the designs, but rather use them as references to help maintain longevity in their line. "We want these pieces to hang in your closet for a few seasons but still be current," said Lilly. "We both have a love for boho elements and that can always been seen in each Rae Francis collection."
Already one of the most promising design teams, the brand has some motivations in the pipeline that are sure to heed even more attention, accolades and success. "We are looking to expand and begin a partnership with a major retailer in the next few seasons, said Coniglio. She added, "We are also hoping to open our second pop-up shop in the coming year."

Tagged in: spring 2013, new, christina coniglio, design duo, ariel lilly, next big thing, rae francis, spring 2013 collection,