The Strut Report: Christian Dior Fall Couture 2011
With the recent departure of John Galliano, curiosity about the first Christian Dior show without him in 15 years – or without any director, for that matter – was at an all-time high. As the music started, the fashion world held its breath and didn't exhale until Bill Gaytten took a bow.
The show started with a bang reported WWD. With radical hair and make-up, bright colors, and mixed patterns, it was clear from the get-go that this Dior collection would have a kind of " '80s rock glam" feel, up until the midpoint of the collection, when the styles took a turn. While haute couture typically flirts with the idea of costumes, this show was fully engaged in the relationship.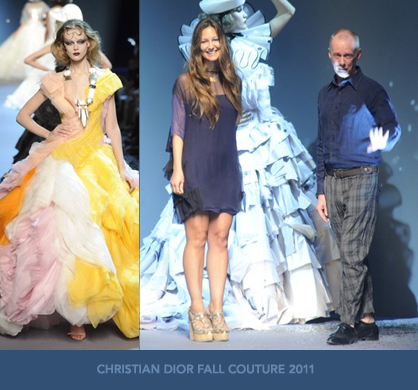 via Christian Dior, WWD
With modern architectural shapes as a reference, the collection may have taken this idea too far in regards to the headwear: Oversized 3D shapes were incorporated into the models' highly teased and coiffed hair. The architectural reference was also evident throughout the entire line; in fact, it was the only element that connected the pieces. Between the sparkly jackets, multiple prints and color schemes, the looks weren't as polished or as succinct as Dior's usual styles.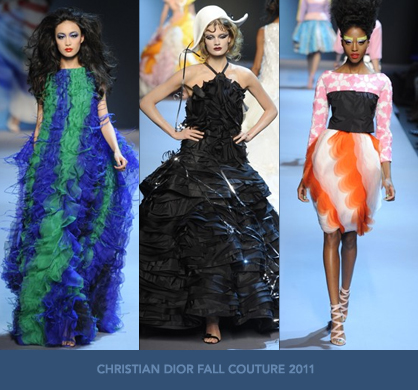 via Christian Dior, WWD
The show started with tea-length skirts and oversized structured jackets of mix-matched prints that included bright, cheery colors such as pinks, greens, yellows and blues. Then the color scheme shifted to very neutral shades, with jackets featuring sparkles and oversized rosettes, before transitioning into deep, rich blue, green and red full-length dresses that were soft and flowing.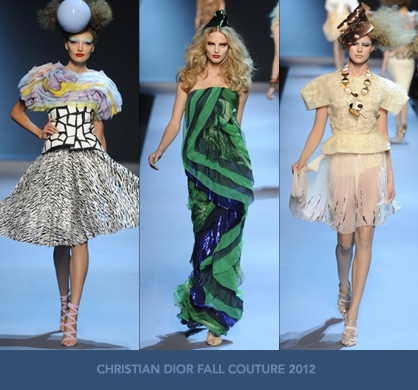 via Christian Dior, WWD
While the idea of taking risks is to be applauded, this show may have proven to the fashion world that Dior is in need of more direction. Not that this collection was a total train wreck – the pieces themselves are beautifully crafted and have a very youthful, Katie Perry-esque feel – however, we're used to seeing nothing short of sophisticated perfection from Dior and unfortunately, the looks in this show fell short.
This article was contributed by Dani Smith. To read more from Dani, follow her adventures on Twitter at @Danilaexoxo.
Tagged in: paris, fashion week, runway, christian dior, dior, couture, fall 2011, fall couture,