Through the Looking Glass
She could design interiors, or bake cakes, or craft cars for a living. Luckily for us, Meredith German confines her talents to the accessories world-bags, belts, and jewelry, to be precise. For her, it has been a lifetime love affair with design, and she's wanted to have her own line since she was a mere babe growing up in the lush countryside of West Virginia.
The girl from the south, now New York resident, was raised in that gracious locale near the famed Greenbrier Hotel, one that is famous for its gigantic size, but also for its Dorothy Draper-designed interiors. This over-the-top aesthetic—Draper was known for her flourishes and heady design—helped mold the mindset of German and set her on a course to a design career of her own.
German attended Furman University, as well as a semester in Cortona, Italy where she majored in studio art. Further classes at F.I.T. helped her to hone her craft, as did working in some of Seventh Avenue's most lauded fashion companies. Now, she and husband Wendell Ross German—obviously the other half of the company name, and its president—run Meredith Wendell, joining both their names and creative forces.
LadyLUX sat down with the designer to talk over all things accessory, and to see how she's liking designing her own life thus far:
LadyLUX: When did you found the company?
Meredith Wendell: Two years ago. It was something I had always wanted to do, ever since childhood. My grandfather had also passed away and he was someone in my life who always encouraged me to do it.

LL: What made you want to go into accessories design in particular?
MW: I have always wanted to design accessories-besides which, I can't really sew that well! My grandmother used to try to teach me, since I wanted to be a fashion designer. That was pretty much my main obstacle.

LL: What is your design background?
MW: I was a studio art major, and after college got a position working at Saks on the windows after I moved to New York. I was drawn to accessories more than anything. When I worked at Saks I spoke to a woman there who encouraged me to get an internship at Marc Jacobs; by luck, I eventually garnered a position, and that was my first design job. I worked there for five years, mostly on Marc by Marc Jacobs, starting in accessories and then moving on to shoes. It was an amazing experience.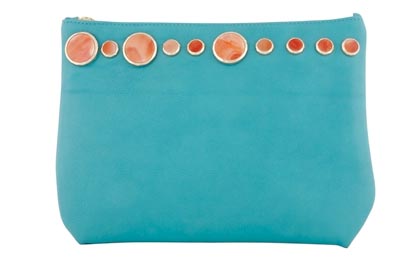 LL: Is your husband a designer as well? Do you both come up with your creations?
MW: He was a graphic designer, and worked at Playboy, and then a branding company. He's just super organized, I couldn't do without him! His roles veer more toward management and design production, and he works on our website. He really helps me to bring my ideas to fruition. If someone helps you do that, that's the greatest part of all.

LL: How many pieces are in each line?
MW: In the spring collection, there are about 30 belts, about seven styles of bags, and about 10 new pieces of jewelry.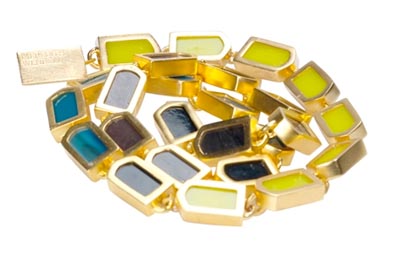 LL: What would you call your aesthetic?
MW: I grew up right next to the Greenbrier, which is where we shot our look book. Growing up there influenced everybody who was near it; everyone dressed really loud, and in bright colors. The crazy colors and the mix of prints and patterns that were in that hotel are a part of me; I can't suppress it. I think that's my biggest inspiration-color in general. I find it very inspiring.

LL: Would you like to expand into other accessories?
MW: Yes, into shoes! One day, at least I think so. They're very difficult to manufacture though, when you're an independent company. I love it because it's very challenging and addictive—and so complicated. I don't think I'll take it on in the next year or two, but someday.

LL: You are in a number of impressive retail outlets (including Henri Bendel, pretty great) in key cities across the country. Are there any others that you'd really like to get into? Was it difficult to get picked up by the buyers in this challenging retail environment?
MW: Yes, but to some degree, people still came to see us, and even though the economy was so bad, we were able to start shipping when things started to get a little better. In that sense, it was a perfect time. We're also so lucky to have a great PR person who helped us from the very beginning. He did things I'd never have the guts to do.
Where else would we like to see our pieces? Colette in Paris, of course. Ikram in Chicago, the big ones. We're working on our look book, as well as our message and identity.

LL: Who are your accessories most popular with? Teenagers? Twentysomethings? Fiftysomethings?
MW: Pretty much all ages. To me, it doesn't really matter who buys our pieces. I feel like you should wear what you want at any age I wear my grandmother's pieces. I want our bags to be trendy and cool, but don't want them to be perceived as younger, necessarily.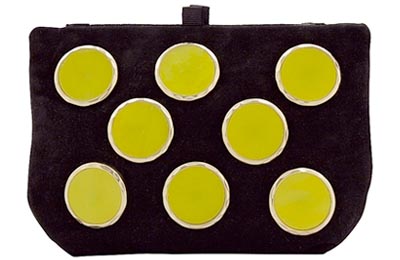 LL: How did you come up with the idea of using the same glass that Tiffany used??
MW: This company that we work with in Indiana makes sheet glass, and makes 22,000 color combinations. They were the original supplier to Tiffany, and the oldest glass manufacturer in the U.S. I really wanted to use a glass factory in West Virginia, loved the idea of using something American, but I found it hard to find someone who would work with us on a small scale. I met the wife of the owner, who is the nicest woman, and she really helped everything along. The glass can be really hard to cut into small pieces, that's our biggest challenge!

LL: Your pieces stand out from the crowd. Do you think you set the trends?
MW: We like to think we keep things cool and bright but still classic. Bright doesn't have to be a weird trendy garish thing, but something you can wear forever.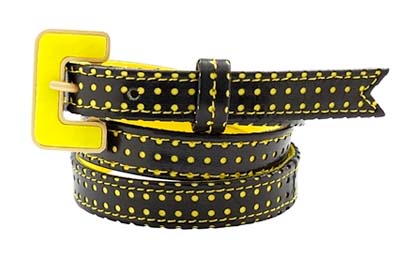 Tagged in: fashion, handbags, accessories, fine jewelry, metallics, meredith wendell, designer belts, emerging designer,