Tokyo Fashion Week Fall 2012: Atsushi Nakashima
Nakashima Atsushi's distinguished background is evident in the polished aesthetic of his new collection. The designer graduated from Nagoya Fashion in 2001 and entered the New Lead Factory shortly after. In 2004, Atsushi moved to Paris and was scouted by Jean Paul Gaultier to work as his assistant. Under Gaultier's wing, he was the lead designer of a new diffusion line. Atsushi returned to Tokyo in 2011 to begin his own collection.
Presented at Mercedes-Benz Tokyo Fashion Week, the Atsushi Nakashima Fall 2012 collection featured a full range of looks from office attire to sport, ending with avant-garde eveningwear styles. His designs were consistently streamlined with a modern architectural flair and indulged in lavish fabrics with sheen.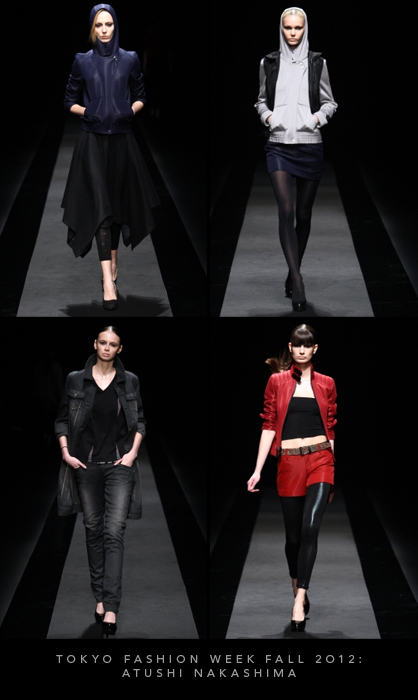 LadyLUX via Tokyo MB Fashion Week
In the office, fitted pantsuits and skirtsuits were key. Pantsuits boasted monochrome colors or all-over dark prints with a menswear finish. One-button blazers were crisp with prominent shoulders and explored several elongated silhouettes. Slim, fitted pants were tapered at the ankle and paired with blazers in a sexy twist – sans blouse. Skirted versions channeled a more ladylike vibe with A-line, knee-length skirts combined with demure jackets. Atsushi also infused more modern ensembles of printed, slim trench coat dresses and draped styles that were cinched at the waist.
Taking the Atsushi girl to sporty, casual yet well put-together looks, the designer mixed leather, denim and jersey materials. Combined separates were relaxed yet chic. Hooded leather jackets were paired with sleek skirts with a structured handkerchief hemline; leather vests were layered over jersey jackets styled with miniskirts; washed black denim made for a long jacket and matching skinny jeans set; and red leather jackets with moto stitching were complete with corresponding shorts. The designer's strength in tailoring shined through in slick pieces of outerwear.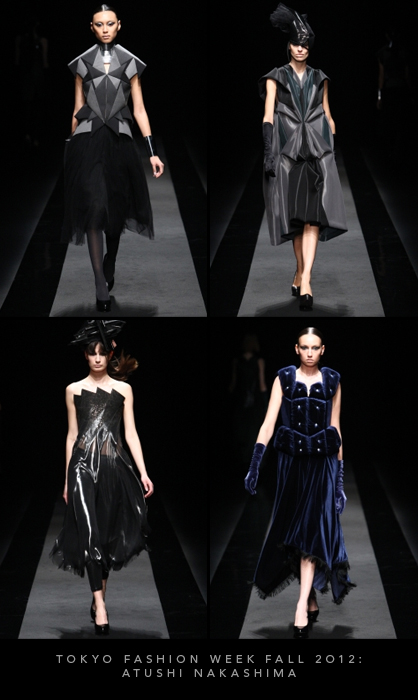 LadyLUX via Tokyo MB Fashion Week
When it came to eveningwear, Atsushi pushed the boundaries. Dresses were futuristic and armor-like with sharply constructed shapes. Geometric pieces worked together to created an origami-style bodice. Supple fabric was artfully folded and pulled together to craft intricate dresses. Paneled dark vinyl displayed a fan effect for the bodice, softening into the skirt of the dress. A velvet gown had a similar effect with a pieced top and flowing skirt.
Atsushi's Fall collection not only demonstrated his talent and versatility, but took the Atsushi Nakashima girl on an adventure.
Tagged in: runway, fall 2012, ready-to-wear, tokyo, tokyo fashion week, atsushi nakashima, nakashima atsushi, mercedes benz tokyo fashion week,