Tony Duquette and Coach celebrate the launch of their collaboration "The Jewels of Tony Duquette&#82
Jan. 18 marked the official launch of the Tony Duquette and Coach collaboration "The Jewels of Tony Duquette," celebrated with a fabulous private party at the Coach store in Beverly Hills, Calif. Hutton Wilkinson, the president of Tony Duquette, was the man of the hour, mingling with ecstatic jewelry lovers, signing autographs and even getting a little hands-on by helping fans try on the brilliant pieces. It was the perfect setting to showcase for the first time the limited edition collection of nearly 40 odd pieces that not only combined Tony Duquette's over-the-top glamorous jewelry with Coach's rich American heritage, but also celebrated both brands' 70th anniversary.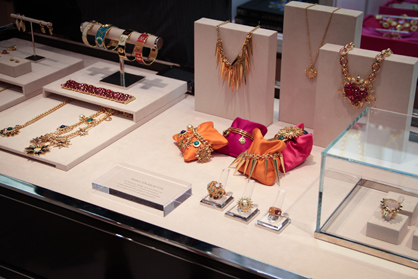 LadyLUX via Annette Tang
The collaboration began few years ago at the unlikely place of Wilkinson's "More is More" book signing in the Hamptons, where he met the president and executive creative director of Coach, Reed Krakoff. Since the initial meeting, the two have met on several occasions either through mutual friends or while Krakoff was collecting Tony Duquette furniture. It was during one of these moments when Krakoff proposed a Tony Duquette and Coach collaboration. About two years later, the two creative forces met to officially discuss the new partnership.
"It seemed like the right time to do something together. It was both Coach's and Tony Duquette's 70th anniversary. A Tony Duquette/Coach collection was right on target," Wilkinson shared.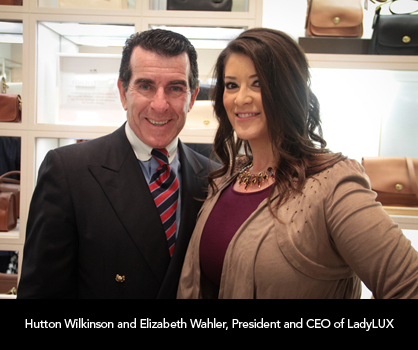 LadyLUX via Annette Tang
To get inspired for the special collection, Wilkinson took Coach's design team on an exclusive tour of Dawnridge, Tony Duquette's home in Beverly Hills and the company's headquarters. While in Tony Duquette land, Wilkinson shared with the team every nook and cranny of decorative detail, the lavish gardens, the warehouse and, of course, the breathtaking, extensive 70-year-old jewelry archive.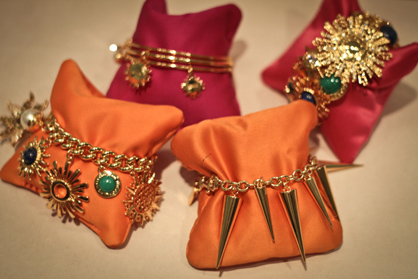 LadyLUX via Annette Tang
sunburst multi charm bracelet, new spike bracelet
"The experience was amazing. Hutton was so generous in letting us explore Dawnridge with no limitations. He gave us a wealth of information – tons of stories and history. You couldn't help but be inspired by Dawnridge because it's so magnificent," Paula Harvey, DVP designer of Coach, declared. "We drew from everything he did, from sculptures in the 1940s to the mirrors to his interior design to the koi pond, as well as the jewelry. It was an absolute pleasure and such a great experience."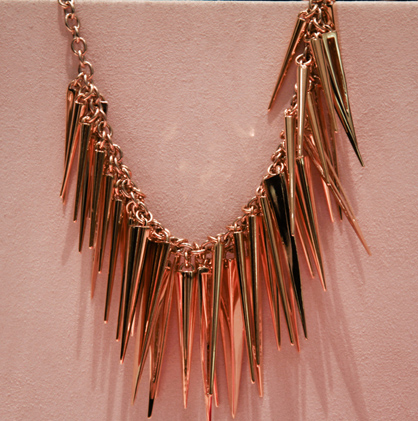 LadyLUX via Annette Tang
From the magical wonders of Dawnridge, Coach's team and Wilkinson crafted a colorful collection consisting of an intricate, patterned bib necklace that took notes from the original Duchess of Windsor piece; a solid-brass spiked necklace; iconic Duquette sunburst necklace and cuffs; spectacular gem bracelets; flaming heart clutches; and more. The gem pieces mixed genuine semiprecious stones with sparkling Swarovski crystals, elegantly simulating rare jewels, while the pieces with extravagant gold plating suggested 18k gold. The team ensured every bit of the collection was beautifully made, finished with handset stones and exuded a craftsmanship that could only be described as luxe.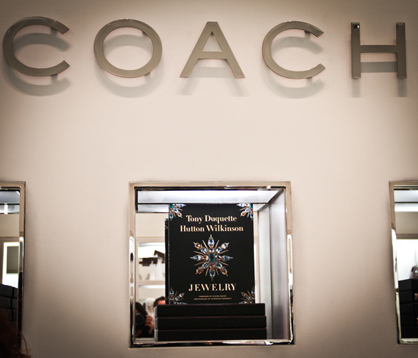 LadyLUX via Annette Tang
limited editon Tony Duquette/Hutton Wilkinson Jewelry book
"Working with Coach has been a joy from day one. The organization is amazing and the designers are enthusiastic, imaginative and open to all kinds of design adventures," Wilkinson raved of the experience.
With price points ranging from $48 for pins featuring adorable beetles and ladybugs to $698 for the opulent, brass spiked necklace, there is something for everyone. The limited edition "The Jewels of Tony Duquette" collection is now available on Coach.com and will be in flagship stores Feb. 1.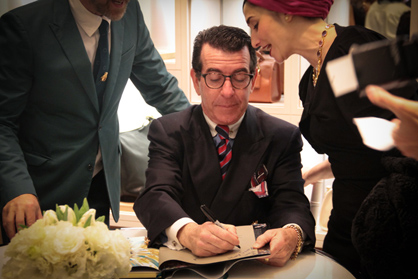 LadyLUX via Annette Tang
"Tony always said that 'beauty, not luxury, is what I value.' He would have been thrilled to see these original designs created in his aesthetic at affordable prices," Wilkinson said.
This article was contributed and photographed by Annette Tang of the VersaStyle. You can follow Annette and her fashion adventures on Twitter at @theversastyle.
Tagged in: lux exclusives, jewelry, collaboration, reed krakoff, tony duquette, hutton wilkinson, coach, jewelry designer, dawnridge estate, tony duquette for coach,