Trend Alert: Fall 2012, stacked bracelets
Wearing one or two bracelets will just not suffice these days as a new jewelry styling trend is transitioning from the catwalk to the streets. Now, more than ever, the stylish are wearing multiple bracelets, bangles, cuffs and even watches that cascade up the wrists. At first glance, these arm parties might appear chaotic. But with careful styling to mix and match different metals and width sizes, your bracelet-stacked arms will be the envy of every fashionista. Here are some chic bracelet styles that can be worn alone or stacked together.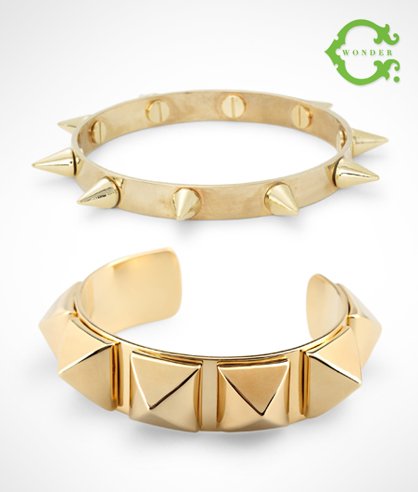 via C Wonder
For a simple, yet intriguing bracelet combo, the C Wonder skinny spikes bangle and the pyramid stud cuff make a perfect pair. These grungy yet glamorous bracelets will add some shine to your style with the 14K gold-plated spikes and fierce pyramid studs.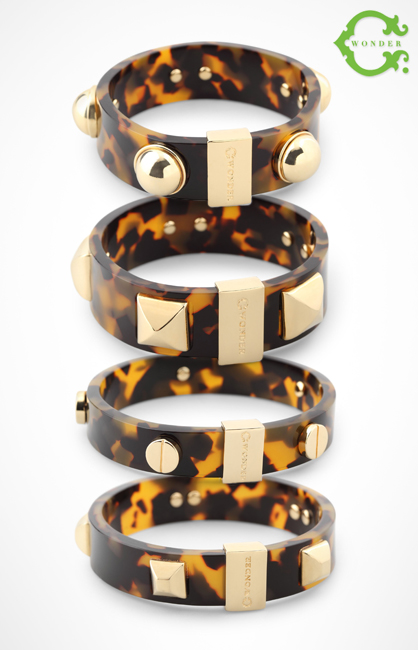 via C Wonder
Show your love for tortoise shell when you stack these four C Wonder bracelets. These sophisticated bracelets get the rock star treatment with their 14K gold studs and screws. Place the Signature Studs tortoise bangle, the Dome Studs tortoise bangle, the Signature Screws tortoise bangle and the Pyramid Studs tortoise bangle in any order for a wrist with a classic and cool vibe.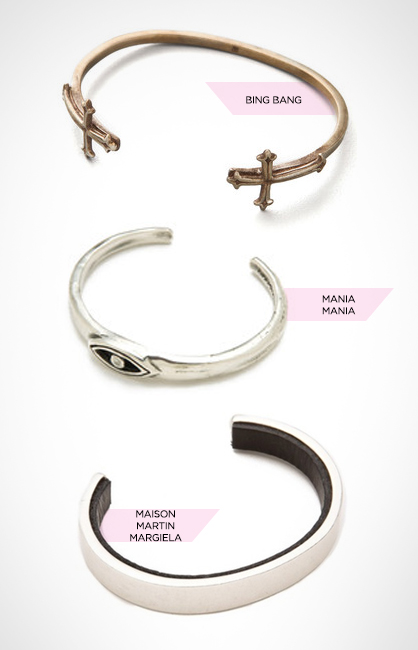 via Shopbop
For a modern bracelet trio, stack up the Maison Martin Margiela Open cuff, the Bing Bang Double Victorian Cross bangle and the Mania Mania Awakening Eye bangle. The meeting of sleek brass, antique brass and polished metal is an edgy example of mixing metal finishes within the jewelry stacking trend.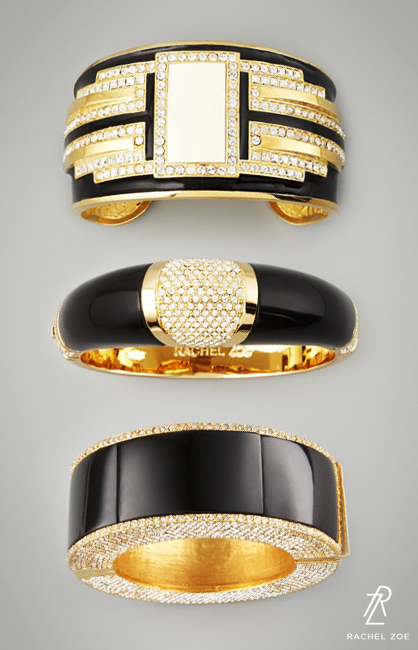 via Neiman Marcus
For a spirited and sophisticated bracelet style statement, these black, white and gold Rachel Zoe jewelry pieces are the way to go. Stacking the Domed Deco bracelet, the Black Quartz wide cuff and the Deco Crystal cuff together will make the perfect arm party with the glamorous combination of 14K yellow gold plate, white pavé Swarovski crystals, black quartz and white enamel.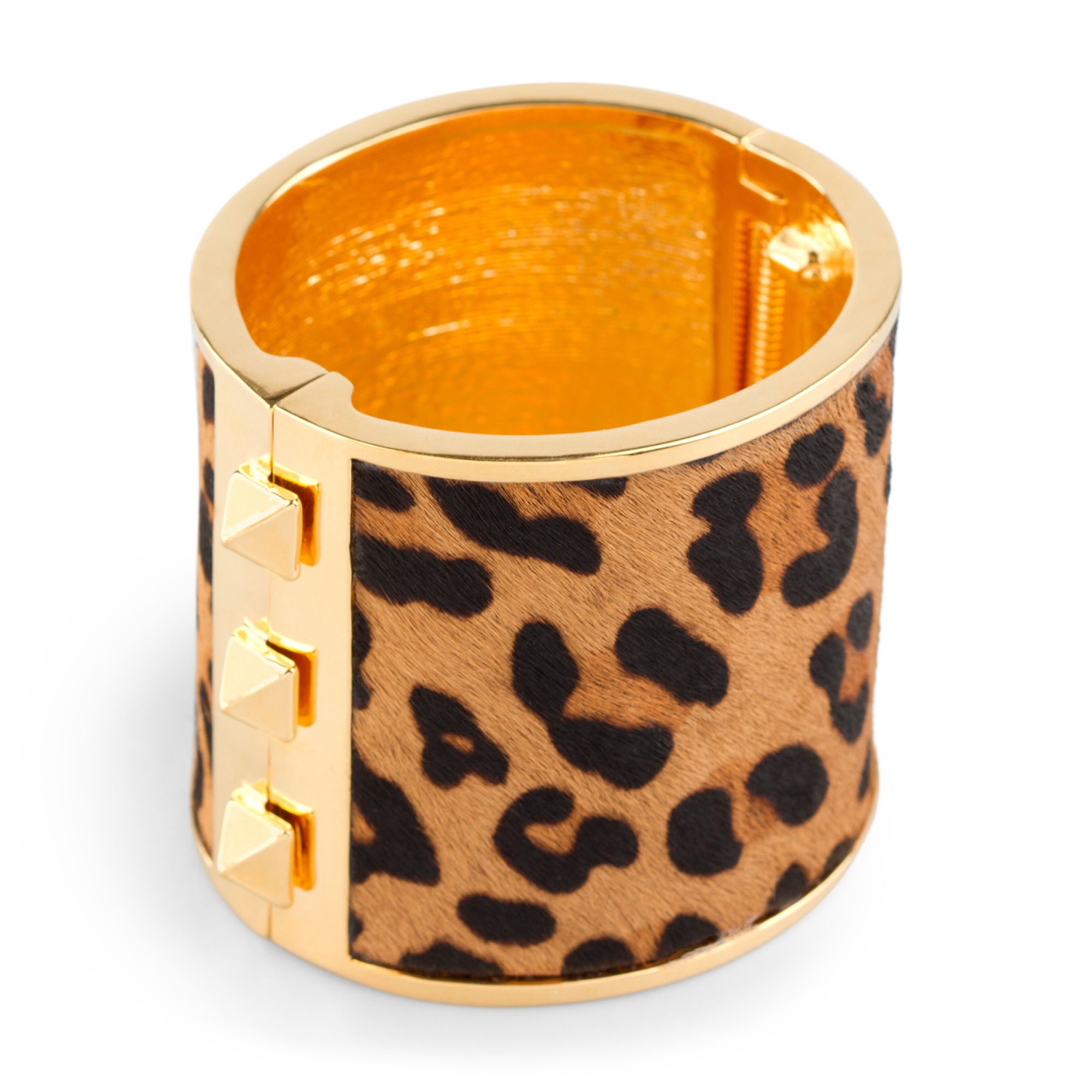 via C Wonder
This C Wonder leopard print calf-hair cuff with 14K gold-plated makes a statement all on its own. You will queen of the jungle in this decadent animal-inspired cuff.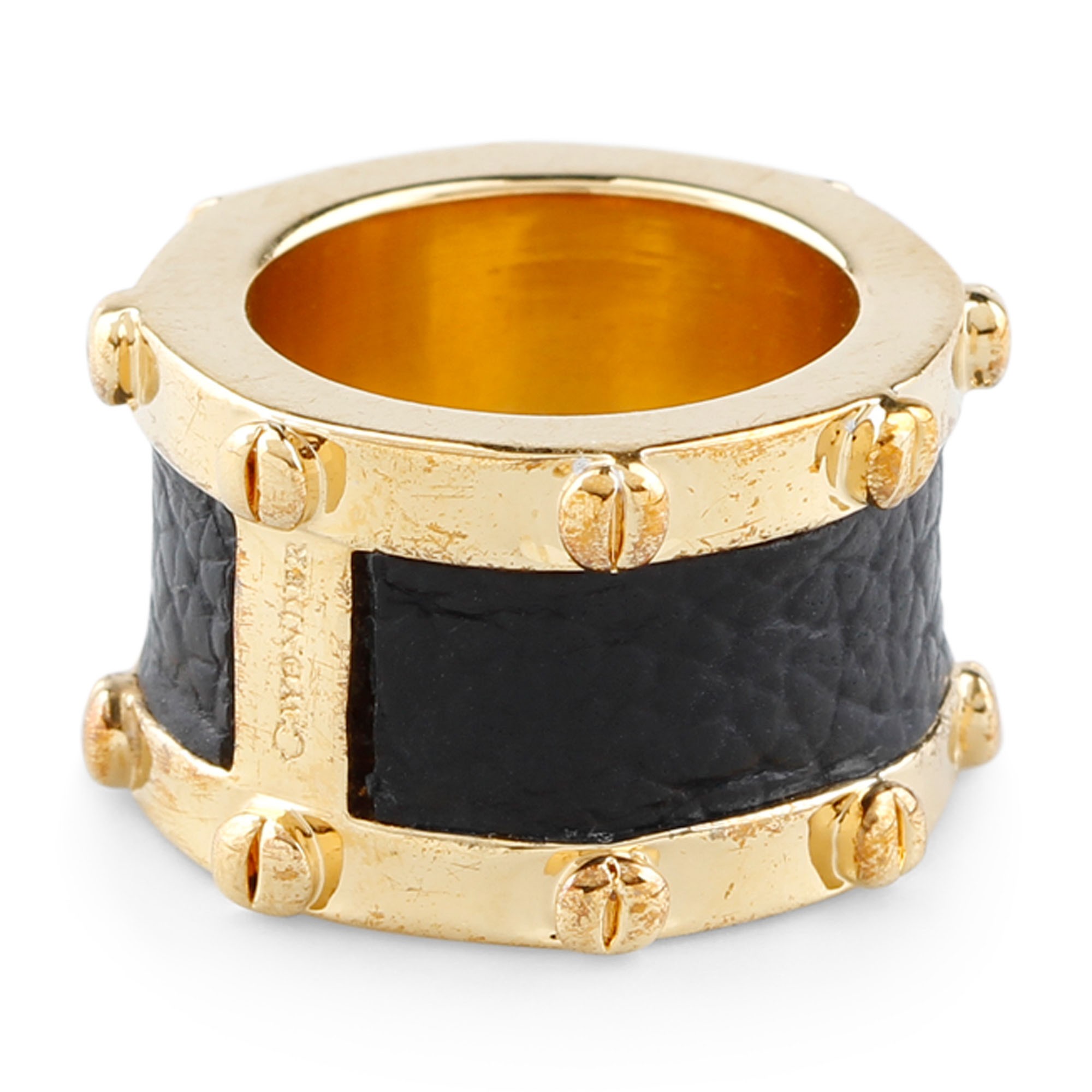 via C Wonder
To complement your decorated wrists, this C Wonder leather inset chunky ring will pull even more attention straight to your hands. This daring piece with 14K gold plating and black leather accent will help you channel your inner rock star.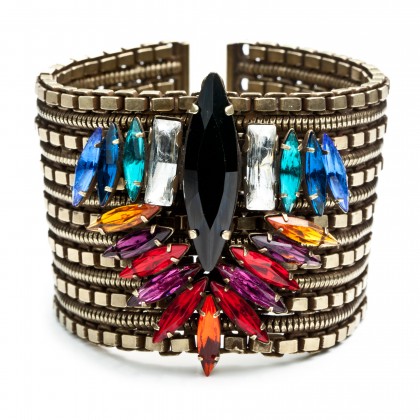 via Charm and Chain
The Dannijo Symson cuff is a party of its own with the intricately strewn oxidized-brass beads and multi-colored Swarovski crystals. Pair it with your favorite little black dress to steal the show at your next cocktail party.
Tagged in: jewelry, lux style, rachel zoe, bracelets, bangle, cuff bracelet, trend alert, c wonder, arm party, fall 2012 stacked bracelets,