Trend Alert: Holographics
Holographics reemerge this spring bringing '90s fashion back in style with a futuristic aesthetic. Designers like Burberry Prosum and Jonathan Saunders incorporate the iridescent material into their Spring/Resort '13 collections and now retailers everywhere have been rolling out wearable holographic pieces. The ultra-mod trend is completely mesmerizing on clothing and footwear with it's reflective quality and multi-colored effect.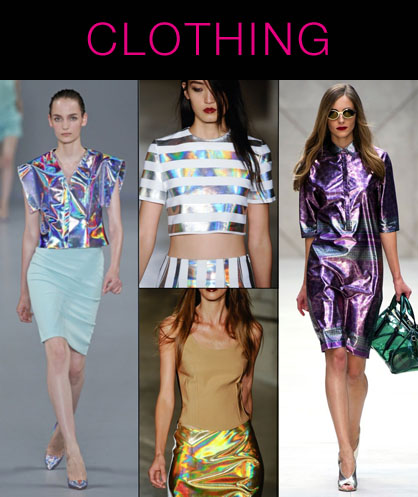 Holographic tops and skirts create a beautiful contrast when paired with muted separates. Similarly with holographic stripes; a bit of flash breaks down the look, creating a lovely balance. Bolder statements like allover metallic dresses, as seen on the Burberry Prosum runway, are extreme in color but rather sophisticated with chic silhouettes and above-the-knee hemlines.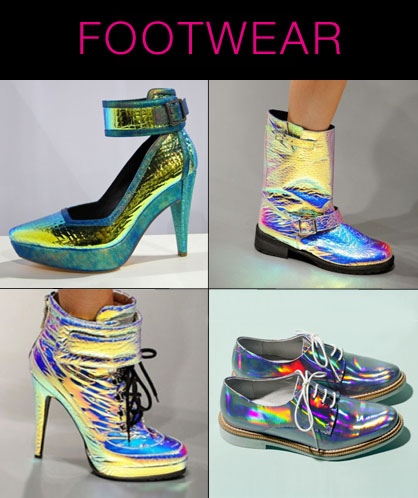 Holographic shoes come in a variety of styles. Flashy oxfords create a fresh update to a classic look, while high heel sneaker hybrids offers an entirely new conception. Holographic boots have unisex appeal with a cool multi-color application that resemble wet rain boots. Galactical evening looks, like Nanette Lepore's FN Platforms, appear like futuristic patent heels with it's irredescent textures.
What do you think of the holographic trend? Should it stay in the present or go back to the '90s?
Tagged in: trends, footwear, clothing, shoes, runway, modern, hologram, holographic,