Trend Report: Opulent Orient
Designers are turning to the Far East for inspiration, as oriental prints and lavish fabrics take precedence on the runway. From traditional chinoiserie motifs to opulent kimono detailing, these prints add a touch of elegance and luxury. Featuring repeated patterns of delicate blossoms and elaborate embellishments in beautiful watercolor washes. We show you how to incorporate the oriental trend into your summer wardrobe.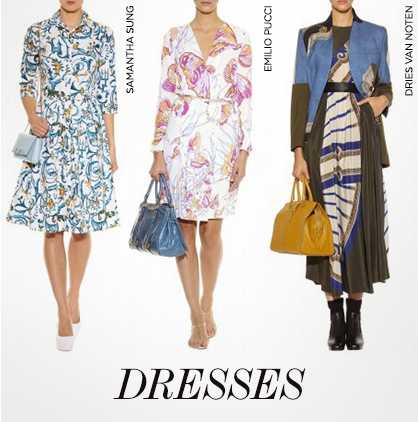 Samantha Sung | Audrey Catena Print Dress
Emilio Pucci | Wrap Stretch Dress
Dries Van Noten | Damask Print Silk Dress
Chic and sophisticated summer dresses become ornate with asian-inspired prints. Interlaced blue florals gives a polished yet playful look to a soft pleated dress. While a more modernized take on oriental design is imagined with graphic butterflies and cherry blossoms. For pure opulence, an artfully finished dress featuring East Asian hues of dark olive khaki, dutch blue, and mustard yellow, makes for a refined evening look.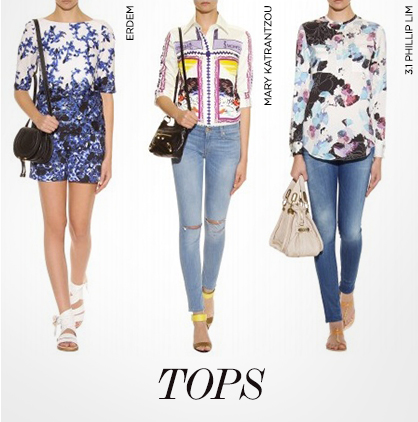 Ederm | Arleen Boxy Boat Neck Top
Mary Katrantzou | Ligi Matchu Kahn Button Down Blouse
3.1 Phillip Lim | Print Silk Blouse
From scenic chinoiserie graphics to delicate watercolor prints, asian infused tops are delightful for summertime. A bouquet of posh posies in vibrant lapis flourishes on a classic boat neck top. A button down blouse is adorned with a multicolored scene of birds splashing in water under the gleaming sun. Lovely pink and blue florals painted on silk creates a beautiful feminine top.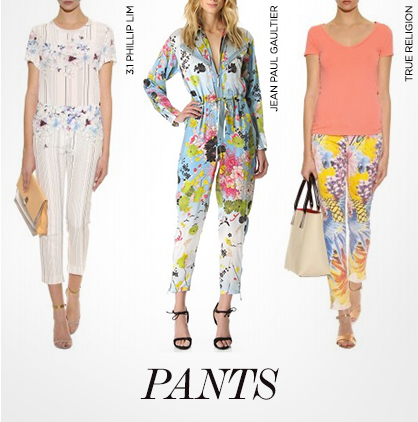 3.1 Phillip Lim | Print Silk Trousers
Jean Paul Gautlier | Kimono Jumpsuit
True Religion | Casey Mid Rise Skinny Print Jeans
Trousers, jumpsuits and jeans are all hopping on the oriental express. Graphic black and white striped pants are adorned with dainty blossoms for a pleasant contrast. A splashy silk charmeuse jumpsuit is kimono-inspired with a burst of vibrant florals. Reminiscent of tropical Asia, a prismatic botanic print gives a pop of color to a chic pair of skinny jeans.
Tagged in: trends, dresses, print, tops, summer 2013, pants, chinese, pattern, asian, oriental, east, blossoms,