30 Day Challenge: Countdown to a Half Marathon
It's no secret that we all feel better about ourselves when we are dressed in something that makes us feel comfortable and represents who we are. I know for me personally, this is when I do my best work and feel the most confident so why not apply that to running? Come race day, I want to feel my absolute best and walk to the starting line with an extra spring in my step. I'm currently obsessing over all the neon and current trends incorporated into workout wear, so here are a few items on my wish list for the big day.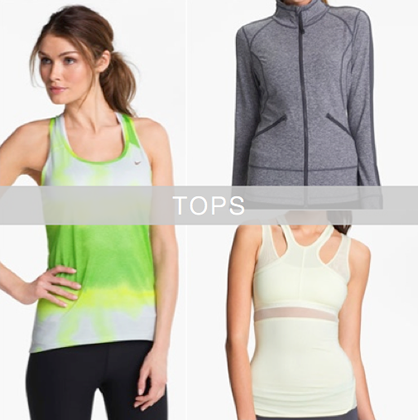 Nike / Tie Dye Racerback Tank
Zella / Streamline Jacket
adidas by Stella McCartney / Run Performance Tank
For a long race or workout, an unencumbered fit is essential when it comes to your top. A racer back tank with an integrated bra will fit closely to your body and provide extra support. Don't forget a light jacket to keep your muscles warm before the race.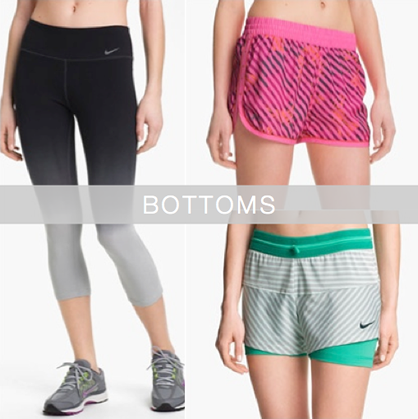 Nike / Ombre Capri Leggings
Under Armour / Print Runnings Shorts
Nike / Stripe Running Shorts
Whether you opt for airy shorts or fitted capris, look for lightweight and dry-fit options that are suitable for running. A fun pattern and stretchy waistband will ensure comfort and style.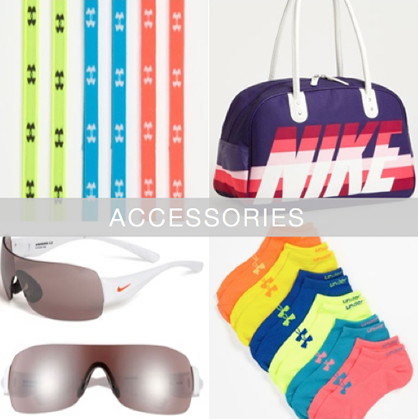 Under Armour / Skinny Headbands
Nike / Print Club Bag
Nike / High Performance Sunglasses
Under Armour / Neon Socks
It's all in the details. Silicone grippers in budge-free headbands will keep hair neatly in place, while high-performance sunglasses protect eyes from the sun. Throw in a pair of moisture wicking socks and a throwback graphic bag for all your essentials and you're good to go.

New Balance / Neon Running Shoes
Asics / Blue Training Shoe
Under Armour / Aqua Running Shoe
Nike / Orange Running Shoe
Inspired by the latest designs and technology in athletic footwear, I will definitely be running in a bright pair. I figure they will provide a lift of inspiration as the miles go on. The ultra-lightweight designs shown above offer a barefoot inspired fit to maximize flexibility.
Read more 30 Day Challenge
Tagged in: fitness, 30 day challenge, accessories, shoes, health, tops, running,