Valentine's Day: Menus for Two
As one of the most celebrated days of love, it's also one of the busiest for restaurants. Beat the crowds and get a little more intimacy this year with a home-cooked meal. Not sure what to make? We've got you covered with these menu ideas for two.

Italian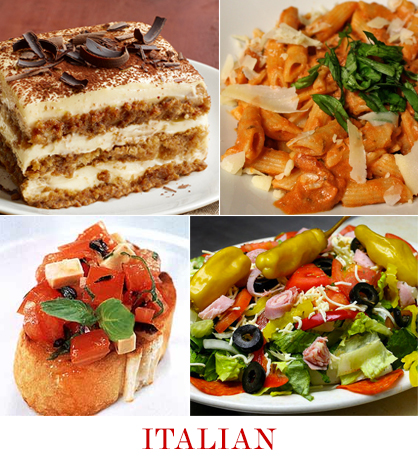 They say the way to a man's heart is through his stomach, so turn up the amore with a homemade, authentic Italian meal. You don't need to be from Italy to whip up some Italian favorites. Start simple with a bruschetta appetizer plate and antipasto salad to warm up his taste buds, and then dive into a hearty dish like chicken penne a la vodka. No Valentine's Day meal would be complete without dessert, so don't forget the tiramisu.
Picnic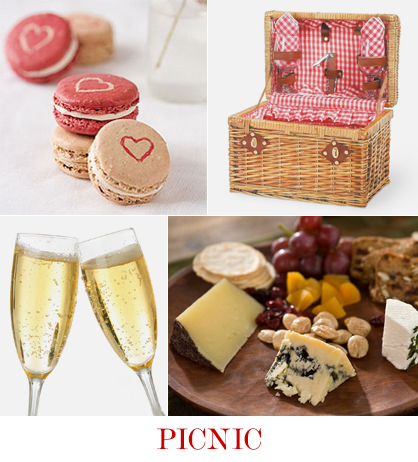 Nothing says romance like a picnic for two. Gather up your favorite cheeses, crackers, nuts, grapes and other festive spreads and head to your local park or hillside for a sunset picnic. No park close by? Your backyard patio works just as well. Toast to love with a bottle of champagne and bring macarons for a bite-size, portable dessert. Don't forget a blanket for when the sun goes down.
Build Your Own Pizza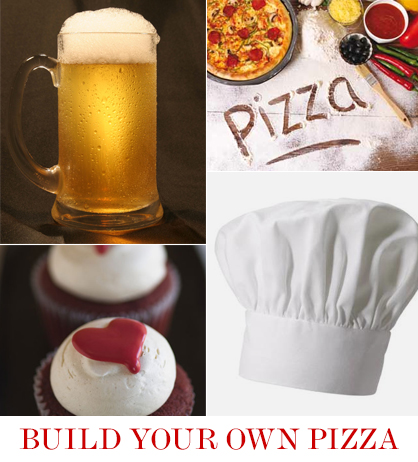 Spend some quality time with your sweetie by getting down and dirty in the kitchen together this Valentine's Day. Lay out all the toppings for your favorite pizza recipe, enjoy a pitcher of craft beer and turn up the tunes. While cooking typically feels like a means to an end, this is a fun experience you can enjoy together. Interact, engage, have fun and enjoy a pizza pie just the way you like it. Get in the mood with red-hot velvet cupcakes for dessert.
Vegetarian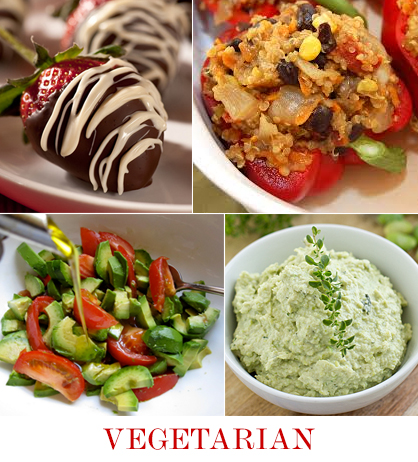 Just because it's a holiday doesn't mean you have to stray from your healthy eating routine. For the vegetarian eater, cook a colorful feast with the finest local produce. Make a shopping list of everything you'll need and enjoy picking out the ingredients together. Use a blender or food processor to make your own edamame hummus and get your fill of antioxidants with a tomato and avocado salad. For the main dish, try a quinoa stuffed bell pepper using red peppers of course. The perfect dessert: chocolate covered strawberries.

Fondue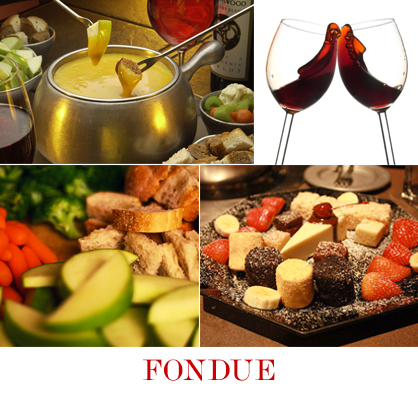 Set the stage for a romantic night in with a candlelit fondue dinner. Light some candles, break out your favorite bottle of vino and feed each other breads, veggies and other decadent treats. You'll have plenty of time to converse while the meat in your main course simmers in the pot. Try fun dipping sauces like honey mustard and teriyaki for variety. Impress him with a thought out dessert spread with sliced fruit, brownie and cheesecake bites, marshmallows and graham crackers for dipping.
Read more Valentine's Day

Tagged in: food, recipes, vegetarian, valentine's day,