Victoria's Secret PINK celebrates store opening and MLB Collection with Elsa Hosk and C.J. Wilson
On May 31, Victoria's Secret PINK celebrated its first store opening in Southern California and the stylish Victoria's Secret PINK Major League Baseball co-branded collection with the brand's model Elsa Hosk and Anaheim Angels pitcher C.J. Wilson. Over a hundred fans were lined up outside the new location at Fashion Island in Newport Beach to catch Hosk and Wilson at their special appearance, with the first hundred attendees promised the opportunity to pose for photos with the model and baseball player and receive autographs.
LadyLUX via Mariah Pringle and Georgia Yeh
Launched in 2004, Victoria's Secret PINK is a lifestyle collection for young women that includes bras, panties, loungewear and sleepwear. The event marks the first store dedicated to the collection in Southern California, with plans to open several more locations throughout the year. Pink and white polka-dot walls, pink dogs, displays full of PINK apparel and the brand's name shining in lights embody the line's fun-loving nature.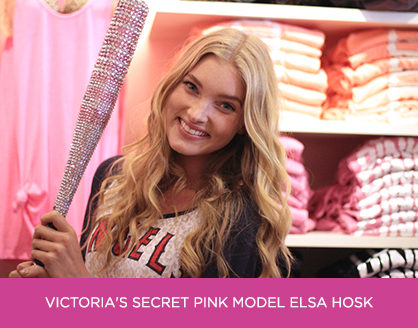 "It's super exciting! The store looks great. It's beautiful and stocked with all the PINK gear. We are super excited to have a PINK-only store in Orange County," Hosk shared.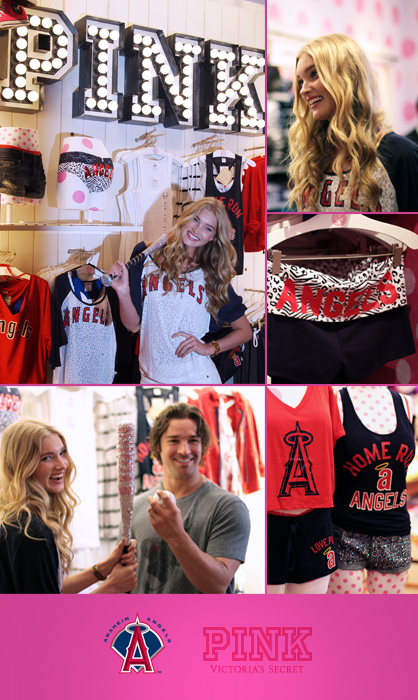 The new store features the exciting Victoria's Secret PINK MLB Collection, which originally launched in March 2012. The exclusive assortment of co-branded merchandise now includes all 30 Major League Baseball teams for the 2012 season and, for the first time, the Los Angeles Angels of Anaheim. Female Angels fans can now sport their team spirit with cozy sweatshirts and sweatpants, stylish t-shirts, flirty underwear and sassy shorts that emphasizes the PINK iconography and the logos and colors of the baseball team.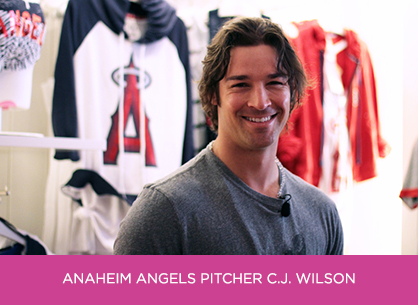 "The PINK collection is really playful. It's really fun. I think it's very youthful so it captures a different market, especially with the baseball crossover. A lot of baseballs fans typically have to select from stuff that is boxy. But for women to be able to wear flattering stuff, stylish stuff, something that is a little more embellished – it's just really cool," Wilson said of the collaboration.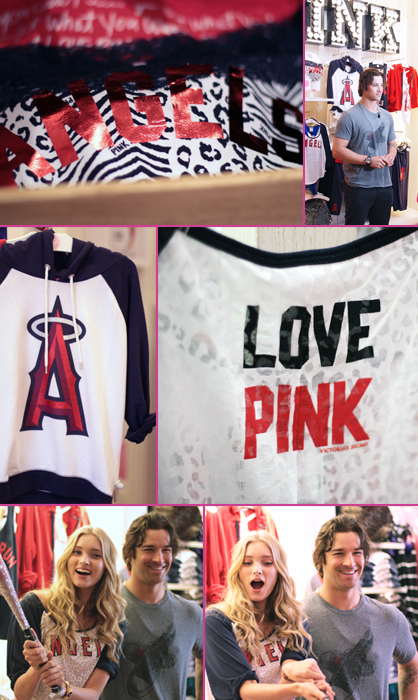 "It's very flirty. I think there's definitely something for everyone, not just for young girls," the Victoria's Secret PINK model said. "I love this shirt that I'm wearing. It's kind of a see-through leopard print. It's very cool and comfortable."
Please click here to shop the Victoria's Secret PINK MLB Collection online.

Tagged in: lux exclusives, lifestyle, fashion island, collaboration, newport beach, grand opening, elsa hosk, major league baseball, mlb, victoria's secret, anaheim angels, c.j. wilson, victoria's secret pink mlb collection, victoria's secret pink,