Vogue's March cover discovered: Lady Gaga
A powerful gaze emits from the powdered face topped with a pale pink wig. The woman looks slightly unfamiliar in the romantic, unpretentious Haider Ackerman ensemble, but a closer look and it's no mistake: It's Lady Gaga.
Vogue's March issue features an exclusive interview with the pop icon, who has become nearly as famous for her fashions as she has for her music. Seeing her in a girly, silky frock could be more daring, since it's such a far cry from the meat suit and red plastic dresses she dons onstage.
Vogue's story brings out an interesting juxtaposition to Lady Gaga. Although "Gaga," which she goes by most frequently, is defined as overexcitement, the "Lady" in her has remained a mystery to many.
The photo shoot almost disguises Lady Gaga by making her features more apparent. She is accustomed to using her getups to distract and disguise, making it difficult to see what the Lady Gaga that wakes up every morning really looks like.
The shots, by Mario Testino, bring out her androgyny and arresting presence. Lady Gaga will probably never pose for Playboy, and this issue of Vogue might be the closest we ever get to seeing her bare.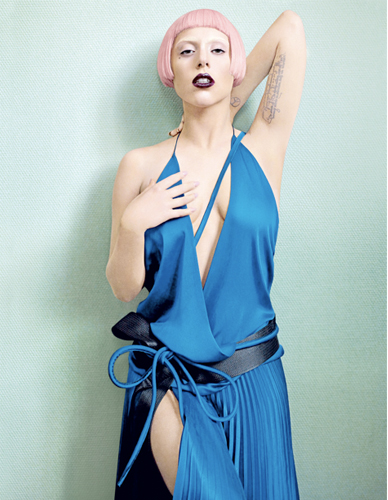 Tagged in: vogue, lady gaga, cover, march 2011,