Wearable Technology: A Quickly Growing Industry
Since our world has been so transformed by technology, it may come as no surprise that it is transforming the fashion industry as well. Wearable technology is on the verge of making it big, reported WWD.
"Technology's so integrated in our lives, it's like a second brain to us," Kit Yarrow, a consumer psychologist at Golden Gate University, said to WWD. "It's just a no-brainer [that it will be integrated into fashion]. There's a craving for that on the part of consumers. It's a 'postable' moment when you can have special clothing that sort of boosts who you are. It's interesting to other people. It gets your attention."
The possibility of 3-D printers looms, machines that would permit shoppers to create three-dimensional products from the safety of their home. Iris van Herpen unveiled a pair of printed platform shoes at her latest Paris show and Stephen Jones is in the process of creating a 3-D printed hat.
"The fashion designers kind of gave up the fashion business once on the manufacturing side because our factories couldn't retool fast enough, etc., and a lot of it was done offshore. I think technology is going to stop mass production to some degree. They're learning how to 3-D print cloth," Robin Raskin, founder of Living in Digital Times, which produces technology conferences, said.
The industry is still in the process of development. Shapeways owns two production facilities, one in New York and one in The Netherlands, which have huge 3-D printers capable of working with 30 kinds of materials, from ceramics to silver and plastics. These printers process one type of material at once, producing smaller fashion products such as jewelry and handbags.
Suzanne Lee, founder and director of BioCouture, a company attempting to create ways of using microbes to grow material for clothing, said this new possibility "requires a shift in thinking. It calls into question everything about why we wear clothing and what we want our clothing to say about ourselves."
"The real competition is really between you and your imagination," said Steve Zades, founder and CEO of The Odyssey Network, a consultancy business. "There's a monster gap between what is technically possible today and what the consumer can buy on the shelf. It's a team sport. It's very collaborative. You're not going to get there on your own with this kind of innovation."
At a recent symposium held at the Fashion Institute of Technology, "Cross-Pollination: Fashion and Technology," Zades informed FIT students, "Things are going to change big time in the next five years. When you think about who you're going to work for, it may be Samsung."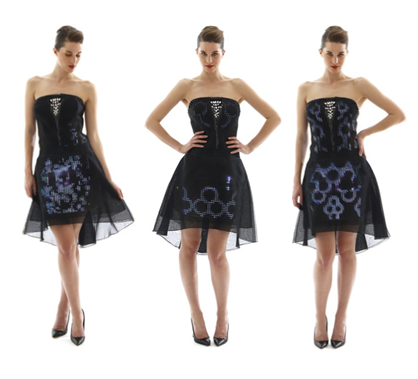 Apple Inc. CEO Tim Cook referred to wearable tech as "incredibly interesting" and "profound area for technology." "I see it as another very key branch of the tree," he said at a recent All Things Digital conference.
In a key nod to the fashion industry, Apple hired Paul Deneve, former CEO of Yves Saint Laurent, who had previously worked at Apple before moving into the fashion world. Some predict he will be working on "wearables."
Apple may be looking into a "smart watch" and Cook declared at the All Things Digital conference, "I think the wrist is interesting."
"For something to work [on the wrist] you first have to convince people it's so incredible that you want to wear it," he said.
At the conference, Cook sported the FuelBand, available for $149 from Nike, applauding the focus of the device, which can sync with smartphones and keep track of the user's activity. Under Armour also produces athletic gear that tracks activity and is rumored to possibly be creating a shirt with a digital display mounted on the sleeve.
Accessories can be a simple foray for technology to make into the fashion world. High-end labels like Prada and Giorgio Armani have created smartphone designs for companies such as LG and Samsung. Quite a few fashion labels have also designed iPad and iPhone cases and laptop bags.
But many want to take it beyond accessories. A few companies are experimenting with fashion styles that can light up.
"Instead of designing patterns flat and static, I design little videos and animations," said Francesca Rosella, creative director of London-based CuteCircuit, which vends a gown with almost 9,000 LED lights that are controlled by an iPhone and are able to switch colors and flash patterns.
Katy Perry was seen in a CuteCircuit light-up dress at the opening of a Met Costume Institute exhibit in 2010, giving the company some serious visibility. CuteCircuit sells a range of washable styles that light up, plus a shirt that remembers the sensation of a hug, sending a similar sensation to a different individual wearing a hug shirt through Bluetooth technology.
"The garments that we make are really unobtrusive, and you feel like you're wearing a normal garment," Rosella said.
Tagged in: tech, radar, technology,