LUX Travel: Winter Adventure Excursions
The temperatures are dropping, the sky is grey and the snow-capped mountains are calling! It's the prime time for all winter sport fanatics to experience some unbelievable and unforgettable expeditions in the cold. These three winter adventures take explorers through Japan's snowy ski trails, the scenic ice mountains of Antarctica and through the foothills of New Hampshire on snowshoes. Brave through the chilly winds and get your winter wonderland adventure on!
Ski in Japan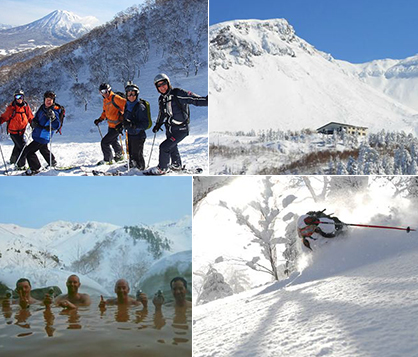 via Hokkaido Power Guides
Combine Japanese culture with snowy adventures this winter! Ski aficionados can explore the scenic volcanic areas known for fumaroles, deep powder snow and birch trees on the northern island of Hokkaido in Japan. Through Hokkaido Power Guides, skiers will experience professional backcountry ski and avalanche course instruction for a one-day or multi-day tour. Guests will arrive at the charming Furano Guest House or the Kamihoro Hot Springs Backcountry Lodge featuring Western and traditional Japanese rooms with Kaiseki style meals. Skiers from around the world can hit the slopes to get a full body exercise on some of the most beautiful and challenging mountains of Japan. After a long day out on the trails, skiers can relax their bodies in the steamy indoor and outdoor hot springs.
Take an Antarctic Adventure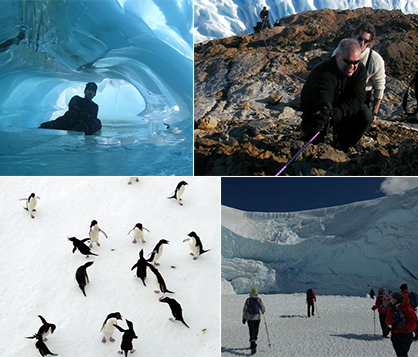 via White Desert
An epic adventure awaits travelers in a winter wilderness known as the "white desert" of Antarctica. With the coldest climate in the world, White Desert offers personal guides with luxury treks through the Antarctic interior to create once-in-a-lifetime journeys. Those hungry for a wild excursion will be flown from Cape Town across the Southern Ocean to a solar-and-wind-powered base consisting of six fiberglass sleeping pods and three living-and-dining tents connected by sheltered passageways. Adventurers will be personally guided through all four types of Antarctic journeys. The Bespoke allows adventurers to custom design the entire group itinerary with jam-packed artic adventures. The Emperors and South Pole combines the magnificent Emperor penguin colony with flying to the Geographic South Pole while the Mountains and Emperors visits the 6,000-strong Emperor colony while trekking over ice mountains. For a shorter journey that still incorporates luxury adventures, the 3-Day safari features ice activities like kite-skiing, ice climbing and also visiting Emperor penguins. The most comfy experience of all? Snuggling inside a heated pod outfitted with cowhide rugs and lush fur blankets.
Snowshoe through New Hampshire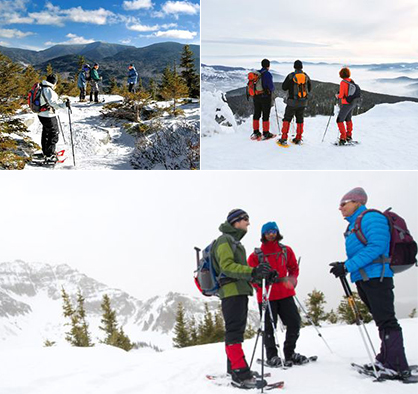 via REI.com
Travelers with a wild sense of adventure can march through the New Hampshire White Mountains on snowshoes for an unforgettable winter excursion! Taking groups on an exceptional loop from the pleasant Crawford Notch to snow-covered Zealand Valley and back, this three-day hut-to-hut snowshoe getaway with REI Adventures is a 21-mile loop route that will offer trekkers the opportunity to explore the serene winter wilderness of New Hampshire. Pack-toting participants stay in heated mountain huts each night for some warm, quality down time after an entire day of wild sight-seeing and snowshoeing in chilly temperatures.
Tagged in: guides, lux travel, luxury travel, winter adventures, winteradventure excursions,