Green fashion hits Vancouver on Feb. 22
At the upcoming Eco Fashion Week, both style and sustainability are required. Top eco-designers from across the globe will be converging on Vancouver for four days to display their environmentally friendly clothing, accessories and shoes during this fashion expo.
The affair, which lasts from Feb. 22 to Feb. 25, will feature a diverse schedule of 32 exhibitors and 22 designers. All the designers in the event consider environmental sustainability, through using recycled, organically grown and locally produced products in their collections.
"My personal hope is to bring more awareness to sustainable fashion in Canada and inspire more fashion designers and artists to strive forward in this moment," said Jeff Garner, the designer of Prophetik and the 2010 Eco Men's Designer of the Year, "and showcase how sustainable fashion can be truly translated on the catwalk."
With his use of natural fibers and dyes, recycled dresses and decision to grow his own plants, Garner—who is presenting on Feb. 25—is right at home at Eco Fashion Week.
Garner is not the only one with high hopes.
"I hope that Eco Fashion Week helps to expand the mind of the general public of what eco fashion actually is," Kim Cathers, a participating designer whose show will be on Feb. 23, said "(and) break the mold that 'eco' means bohemian or hippy."
Her personal eco practices include using reclaimed fabrics and producing everything within Vancouver.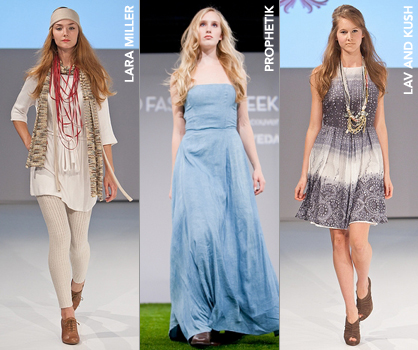 PurpleNeon via Eco Fashion Week
Centering on education, celebrating responsible principles and identifying sustainable practices, organizers hope EFW will lead to encouraging the development of eco-conscious fashion and lead the way toward the dawn of a more green age.
The idea came about when Myriam Laroche, founder of Eco Fashion Week, attended Vancouver's Sustainable Living Expo, EPIC, and heard about the city's Green Action Plan. Something just clicked. This, she believed, would be the way for the fashion industry in Vancouver to make its mark – and for eco-fashion to take off.
Participating designers take the idea of ethical clothing seriously, considering every step from producing to marketing.
"We look for those who partake in fair and ethical trade," Evie Ponce, vice president of Eco Fashion Week, said, "where the goods are produced locally and have a small eco-footprint … We like to work with designers who focus on organic/natural textiles, recycled, reborn and vintage materials."
The shindig gets off to a roaring start with a private gala reception, hosted by presenting sponsor AVEDA, on Feb. 22. VIP passes can be purchased for $85, and individual show tickets are $20. For more information or to purchase tickets, visit www.ecofashion-week.com.
Tagged in: fashion, green, environment, eco fashion week, myriam laroche, vancouver, jeff garner, kim cathers, prophetik,