How To: Decorate for Super Bowl Sunday
Gearing up for the ultimate Super Bowl bash? Create the perfect atmosphere for fun and football by adding a few decorative touches. With some simple football favors and a trip to your local party store, you'll be on your way to a Super Bowl to remember. Here are some festive ideas for the big day.
Team Coozies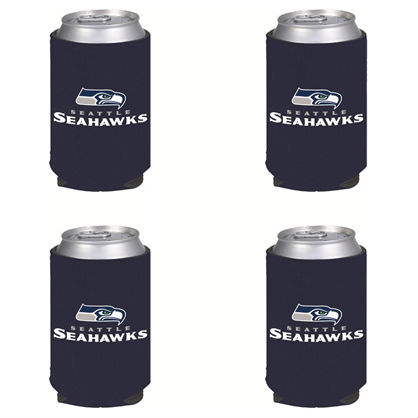 Let fans show their team spirit throughout the day with Super Bowl coozies representing opposing teams. Set them up on a table alongside your beer cooler and have guests choose to start a friendly rivalry.
Super Bowl Photo Booth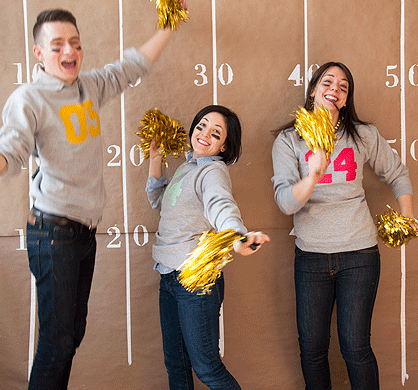 Choose an empty wall in your living or dining room and set up a Super Bowl Sunday themed photo booth. Use butcher paper to create the perfect backdrop and use foam fingers, pom poms, mini footballs and other props for commercial break fun.
Football Table Cover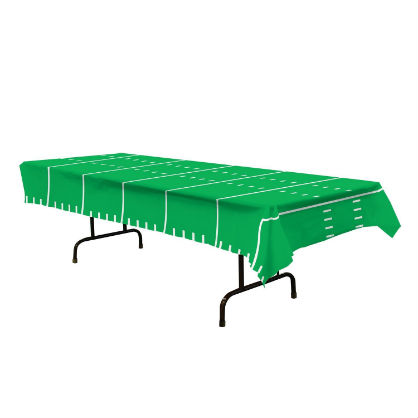 Set the stage for the perfect game day grub with a football field table cover. As the hub of activity throughout the day, the main attraction needs to look festive. Add football confetti and other themed touches.
Game Day Food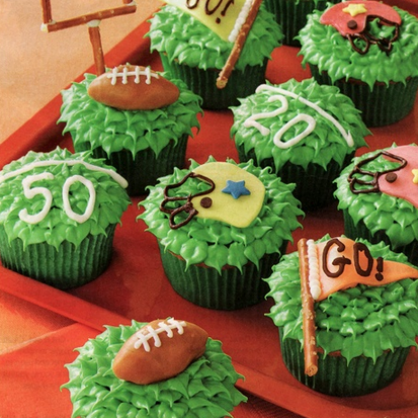 Nothing says Super Bowl Sunday like sliders, potato skins and wings. Check out these 10 winning snacks and appetizers for the perfect menu. Don't forget to throw in some football-decorated cakes or cookies.
Football Serving Bowls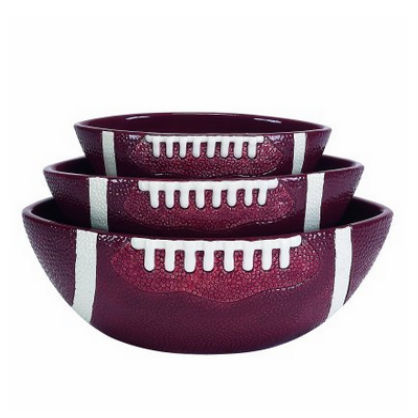 Don't bring out your fine china for football's biggest day, these themed bowls are perfect for chips, munchies and rowdy fans. This hand-painted set comes with three different sized bowls for all your serving needs.
Team Balloons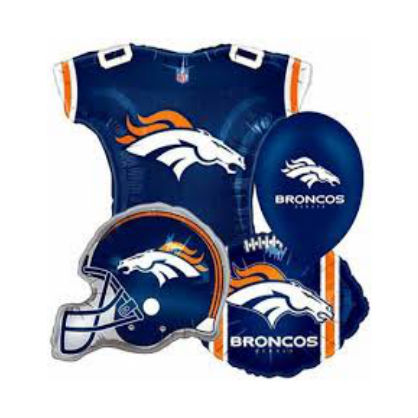 Don't underestimate the power of balloons to create a festive atmosphere. Look to your local party store for team balloons, mascots, footballs and such. If all else fails, two dozen balloons representing both team colors will suffice. Place them at opposite sides of the room for hardcore fans.
Hanging Football Lanterns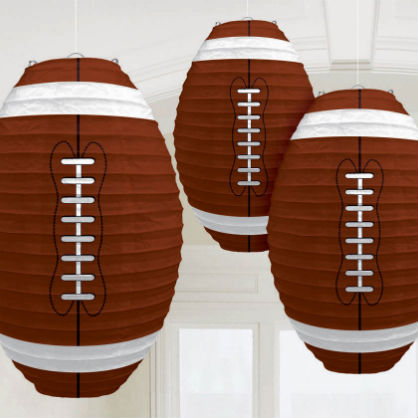 String a set of football lanterns above the appetizer table or even on your back patio for the final decorating touch. Complete with stripes and laces, these realistic footballs can be used year after year.
Read More Entertaining Ideas
Tagged in: home, entertaining, decorating, party,